Plug-In Austin Electric Vehicles
Rebates, Resources, and Fun for EV Drivers and Riders
The electric vehicle EVolution is here! Electric vehicles are fun to ride and drive and can save you money while helping the environment. Now is the time to say goodbye to gas and save with Austin Energy.
EVs Are Easy To...
Use — Plug into a regular outlet at home. Get a rebate for a faster home charger. Use a public charging station for a charge on-the-go.
Maintain — Enjoy more time and money in your pocket. EVs need less maintenance and have fewer moving parts.
Fuel — There are more options than ever for charging your EV. Austin Energy charging ports are powered by renewable Texas wind energy.
Drive — Get the high performance you want in a car, when you choose to lease, buy, or get a used EV.
Ride — Consider multiple electric transportation options, with buses, bikes, scooters, motorcycles, rideshare, and more. Plus, check out higher rebate levels coming for e-bikes in 2023.
Find — Access Austin Energy's EV Buyer's Guide to explore a comprehensive resource for EV research, lease, or ownership.
Conserve — Drive a zero-emission EV to help the environment and keep the air cleaner for EVeryone.
Level 2 Charging Ports
Charge your EV for only $4.17 a month at any of the 1,000+ local Austin Energy level 2 charging ports in the Plug-In EVerywhere public charging network.
Fast Charging Ports
Austin Energy fast chargers are now available and conveniently located near major transit routes. Charge up and get on your way for only $0.21 per minute, plug-in to plug-out.
View maps of Austin Energy's network of EV charging stations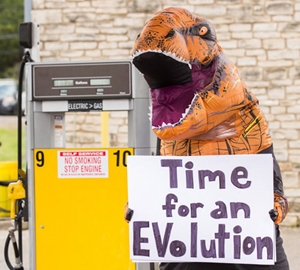 Explore the EV Buyer's Guide. Say goodbye to gas vehicles, forEVer.
How Did We Get Here?
Learn how Austin Energy prepared for plug-in electric vehicles on Central Texas roads.
Stay Plugged In
Date last reviewed or modified:
05/16/2023