Southeast Austin Energy Upgrade
Power Line Replacement Project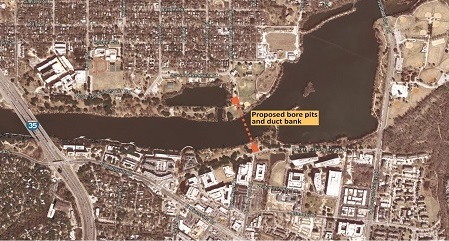 Austin Energy is planning to replace a power line feeding a large portion of southeast Austin. The utility will tunnel below Lady Bird Lake to run two new power lines. The new lines will replace aging infrastructure currently feeding the area and will ensure reliable electricity for southeast Austin well into the 21st century.
Work will begin at Edward Rendon Sr. Metro Park and end at Peace Point at Town Lake Metro Park. The utility plans to begin this project in late spring or early summer 2022. The project is expected to take four months to complete.
Crews will take all necessary safety precautions including the use of flaggers, fencing around entry and exit points, and signage and steel plates over ground holes.
Community Engagement
Austin Energy is working with the Parks and Recreation Department (PARD) and nearby residents and businesses to inform them about parking reroutes, lane closures and short duration outages.
Project Timeline
Late 2021 – Spring 2022 — Project design and community engagement
Late Spring 2022 — Construction to tunnel beneath lake and install new power lines
Summer 2022 — Construction complete and distribution lines energized
Follow Us
Date last reviewed or modified:
11/02/2021