Free Science and Learning Opportunities for Students
New Electrical Safety Resources
Volt, Austin Energy's electricity education mascot, invites you to become an e-SMART kid. Becoming e-SMART means learning about electricity and how to use it safely and wisely. Check out our videos, games, and activities, and you'll enlighten yourself! Be sure to share our new resources with your friends, teachers, and parents. See PowerTown information below for electrical safety presentations.
Classroom Presentations for Grades 3-5
Austin Energy provides experienced presenters to visit third, fourth, and fifth-grade classes to teach them about electricity. Sessions are one-hour each and are available at no cost to schools within the Austin Energy electric service area. They are available both in-person and virtually.
Presentations include:
Power Town — This presentation is designed to teach children basic electrical safety concepts using a model of a town. The model is complete with miniature homes, people, vehicles, recreational areas, and real, low-level electrical currents that demonstrate potential hazards. Small figurines are shocked to demonstrate the results of unsafe electrical practices. Note that the model is not available for virtual presentations. This engaging and safe demonstration is conducted using safety gear and equipment and includes a 20-minute video called "Electrical Safety World" to help students understand how electricity works and how it can be dangerous if not used safely.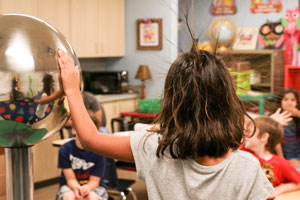 Do you teach third, fourth, or fifth grade? Would you like for your students to learn about electricity and electrical safety? We can help.
Lightning Lab — Lightning Lab is a fun and interactive classroom presentation (available in-person only) for students 2nd through 12th grades where students learn the basic science behind electricity. The learning is then reinforced as the students take part in high-voltage experiments and demonstrations. Participants will be able to perform amazing feats such as making their hair stand on end, levitating small objects, creating lightning, running lights and motors without wires, and much more.
Host a Presentation at Your School
The following information will help you plan your request for classroom presentations.
Scheduling Considerations

Please be considerate of presenters and maintain social distancing around them. Our staff will wear masks and provide wipes and hand sanitizer for all interactive parts of the presentations.
A minimum of two classroom presentations per school per visit is required.
Please limit your request to only one grade level per school.
A teacher must be present during the entirety of all presentations.
Please schedule each presentation for one full hour starting no earlier than 8:30 a.m. Allow at least 5-10 minutes between classes.
We recommend that no more than 25-30 students attend each presentation to allow for optimal interaction and learning.
Materials are limited, so we cannot double up on classes.

Scheduling More than Five Classes

Presenters are available for a maximum of five hours per day.
You may schedule two consecutive days if needed, with afternoon presentation(s) on the first day and morning presentation(s) the second day.

Choosing a Location

The presentation must be set up in one room through which students will rotate.
The presentation is loud so please choose a location that will not disrupt others.
A room that has lots of space and good ventilation would be appreciated.
How to Schedule a Classroom Presentation
Please complete and submit our online form to request classroom presentations at your school. An Austin Energy representative will contact you to verify details and finalize the schedule.
Submit your request for a free Austin Energy classroom presentation at your school
Austin Energy All-Stars Educational Program for Grade 6
Austin Energy provides teachers, students, and their families with the opportunity to explore ways to efficiently use energy with the Austin Energy All-Stars Program. Available for in-person or virtual presentations.
In this program, 6th-grade students learn about the exciting world of electricity, as well as valuable ways to save energy and money at home. Austin Energy provides an in-class curriculum for teachers, and interactive take-home kits full of energy-efficient products for students and their families—all at no cost. This program supports Texas (TEKS) Academic State Standards.
Learn more about Austin Energy All-Stars and enroll
Electric Vehicles (EV) for Schools Available for Grades 6-12
Austin Energy provides students in Central Texas lessons about emerging technologies such as electric vehicles and has partnered with AISD to provide the EVs for Schools Program. This is one of the first public school electric vehicle initiatives in Texas, with a focus on installing electric vehicle charging stations for use and study. Available for in-person or virtual presentations.
Following a successful pilot at four AISD schools, EVs for Schools lessons are now available at 122 schools in Central Texas with the curriculum offered in both English and Spanish. To promote diversity, equity and inclusion in emerging technologies, the four pilot campuses were Title I schools.
Learn more about our Electric Vehicles in Schools Program
Career Day Speakers Are Also Available
Austin Energy has many careers that students can learn about at your school's Career Fair or Career Day events. Our employees are happy to speak with students at schools within the Austin Energy service area. We also can provide you with a video of an Austin Energy employee talking about their respective career instead of an in-person presentation.
Submit your request to have an Austin Energy Career Day speaker at your school
Contact Us
Please email your questions to Austin Energy School Outreach.
Date last reviewed or modified:
09/06/2022