Traditional and Renewable Generation in Our Mix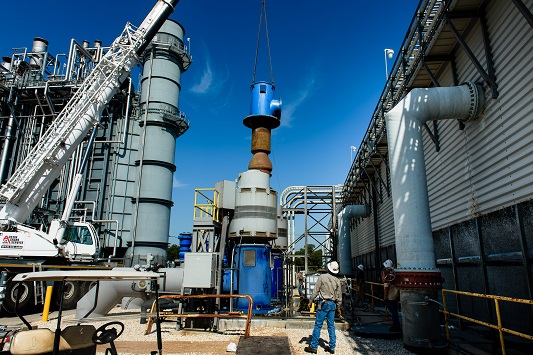 Austin Energy oversees a diverse mix of more than 4,600 MW of total generation capacity and operates three natural gas powered plants in the Austin area.
We are also part owners of two power plants outside Austin — one is powered by coal, the other by nuclear fuel. Purchase Power Agreements are in place for the remainder of our generation portfolio, namely for our renewables.
Decker Creek Power Station
Constructed: 1967-78
Location: Northeast Austin
Fuel: Natural gas; gas turbines
Capacity: 200 MW
Fayette Power Project
Constructed: 1979-1980
Location: La Grange, TX
Fuel: Coal
Capacity: 600 MW (Austin Energy's portion)
Co-owned with the Lower Colorado River Authority (LCRA); Austin Energy portion is 50% of two out of three units; LCRA manages the plant
Mueller Energy Center
Constructed: 2006
Location: Austin, TX
Fuel: Natural gas
Capacity: 4.6 MW
Combined Heat & Power (CHP) Facility
Sand Hill Energy Center
Constructed: 2001-2010
Location: Del Valle, TX
Fuel: Natural gas, combined cycle, gas turbines
Capacity: 595 MW
South Texas Project
Constructed: 1988-89
Location: Bay City, TX
Fuel: Nuclear
Capacity: 430 MW
Co-owner with CPS San Antonio and NRG of 16% of two units, generating 2,700 MW combined; South Texas Project Nuclear Operating Company (STPNOC) manages the plant
Renewable Energy
Source: Wind farms
Location: West Texas, South Texas, Panhandle, and Coastal
Capacity: 1,796 MW
Source: Solar farms
Location: West Texas and Central Texas
Capacity: 966 MW
Source: Solar, local customer-sited distributed generation
Location: Municipal, commercial, and residential installations in Austin Energy's service territory
Capacity: 103 MW
Source: Biomass
Nacogdoches Power Project
Location: Nacogdoches, TX
Capacity: 105 MW
Date last reviewed or modified:
05/23/2022