Reliable, Cost-Beneficial Alternative to Traditional Air Conditioning
District cooling may be right for you if:
Your building is within a few blocks of a plant's piping network
You are considering an HVAC retrofit
You want to reduce up-front capital equipment costs with new or existing construction
You want to reduce ongoing equipment and maintenance costs
You want to reduce the requirement and cost of electrical service
You want to increase your real estate revenue by repurposing your roof and/or mechanical room space
What Is District Cooling?
District cooling provides customers their HVAC requirements through a network of underground pipes. It serves multiple buildings within a particular service area.
A district cooling plant distributes chilled water (approximately 44 to 45 degrees) to the customer's building through a set of heat exchangers located in the customer's mechanical room. A single plant can meet the cooling needs of several buildings.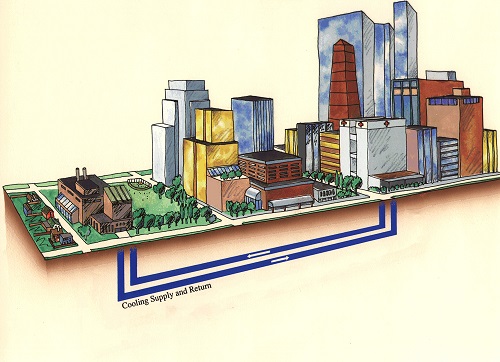 Benefits of District Cooling
Operationally Reliable
System redundancies mitigate risk
Amount of equipment you maintain decreases
Cost Effective
Substantially reduced initial capital investment
Lower operational and energy expenses
Stabilized and predictable long-term costs
Lower electric service equipment costs
Flexible
Use as much or as little cooling water as you need
No need to worry about limited plant capacity
Enhances Your Property Value
Increased effective revenue-generating space — no need for chillers
Reduced noise and potential for environmental hazards
Improved comfort
Increased net operating income for building
Rooftop repurpose to pool, garden area or solar panels
Learn More
Contact Us
Find out how your business can benefit from district cooling and potential future sites.
Email District Energy & Cooling today to request more information or to schedule a professional consultation.
Date last reviewed or modified:
04/17/2020