Community Connections Resource Fair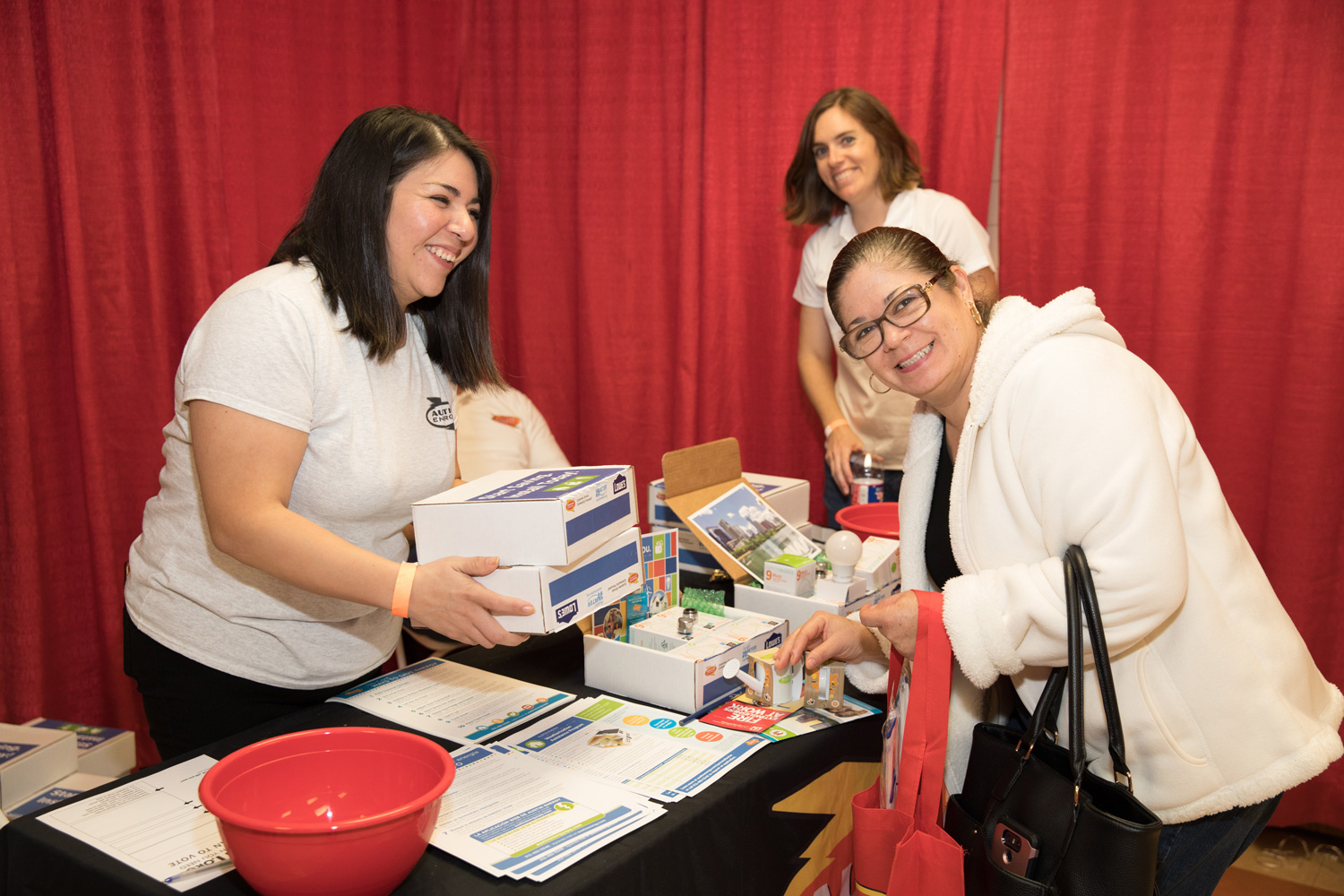 Austin Energy invites non-profit, state, and local government agencies to participate in our annual Community Connections Resource Fair.
Activities and Exhibits
This annual event is a free, family-oriented community fair for low-to-moderate income families who sometime struggle to meet their basic needs.
We aim to gather support resources from a number of civic and non-profit organizations who can offer assistance, share information, and answer questions in an open and casual environment. Each year we plan for several kid-friendly activities to keep it interesting and fun for all ages.
Exhibitors and Partners
After we assess top community needs and referrals, we contact agencies and service providers designed to meet those needs to participate.
We also invite financial assistance partners, other City of Austin entities, Travis County, and State of Texas departments to participate and share information about their services and resources.
The combination of exhibits, presentations, and kids activities makes for a casual, fun, and informative day, drawing an average of more than 600 individuals to the event each year.
Watch time-lapse video of the event set up
Registration Deadline
This year's event will be held Saturday, May 21, at Lyndon B. Johnson High School, 7309 Lazy Creek, 78724. Exhibitor registration for this event has closed.
Past Exhibitors
Access Dental
AGE of Central Texas
Ageless Living Home Health
AIDS Services of Austin
All Smiles Dental Centers
American Diabetes Association
Amerigroup
Any Baby Can
Arbor Dental
ARCIL, Inc.
Ascend Center for Learning
Assurance Wireless
Austin 3-1-1
Austin Animal Center
Austin Area Urban League
Austin Child Guidance Center
Austin Code Department
Austin Fire Dept
Austin Habitat for Humanity
Austin Housing Finance Corporation
Austin HSEM
Austin Police Department
Austin Resource Recovery
Austin Tenants' Council
Austin Travis County Integral Care
Austin Voices for Education and Youth
Austin Water
Austin/Travis County Health & Human Services Department
Austin/Travis County Reentry Roundtable
Blackland Community Development Corporation
Blue Cross and Blue Shield of Texas
BLVD Dentistry
Business & Community Lenders (BCL) of Texas
Capital Area Food Bank
Capital IDEA
Capital Metropolitan Transportation Authority
Caritas of Austin
Catholic Charities of Central Texas
Central Health
Child Support Division - Office of the Attorney General of Texas
City of Austin Sustainability and Austin Transportation Department
City of Austin ADA Office
City of Austin Code Department
City of Austin Emergency Medical Services/Austin-Travis County EMS
City of Austin Equal Employment/Fair Housing Office
City of Austin Office of the Police Monitor
City of Austin Safe Routes to School
City of Austin Watershed Protection
Consulado General de Mexico
Consumer Credit Counseling Service of Greater Dallas-Austin Branch
Dental Republic Braces and Implant Center
DeVry University
District 4 Council Member Greg Casar
East Side Compost Pedallers
El Mundo Newspaper
Emancipet
Foundation Communities
Front Steps
Generation CDC
Goodwill Industries of Central Texas
Greater Mt. Zion Baptist Church
Greater TEXAS Federal Credit Union
HAND
Hapii Dental
HEB Pharmacy
Hospice Austin
Housing Authority of the City of Austin
IT'S TIME TEXAS
KLRU-TV
Latino HealthCare Forum
Latinos in Context Research Program UT Austin School of Social Work
Lee Chiropractic
Lifeworks
Literacy Coalition of Central Texas
Little Engine Homecare, Inc.
Live Tobacco Free Austin
Lone Star Circle of Care
MAXIMUS Inc.
Meals on Wheels and More
Neighborhood Housing & Community Development Office
New York Life
Nexxlinx
North Austin YMCA
On Demand Staffing
PARD - Park Rangers
PelotonU
People's Community Clinic
Phoenix House
Planned Parenthood
Project Collaborate
Project HELP Austin ISD
Proyecto Defensa Laboral
Public Health Preparedness Austin/Travis County HHSD
Rosewood Zaragosa Neighborhood Center
SafePlace
Saint Louise House
Seedling Foundation
Sendero Health Plans
Seton Cancer Screening "The Big Pink Bus"
Shots for Tots / Big Shots
Sierra Club
Skillpoint Alliance
Small Business Development Program
Snap Kitchen
St. David's Healthcare
Superior HealthPlan
Sustainable Food Center Farm-to-School Program
Texas Alcoholic Beverage Commission
Texas Department of Insurance
Texas Gas Service
Texas Museum of Science and Technology
Texas Rio Grande Legal Aid
Texas Voter Registration Volunteers' Society
The University of Texas at Austin College of Pharmacy
The Way to Happiness Power of Hope Chapter
Travis County Health and Human Services & Veterans Services
Travis County Underage Drinking Prevention Program
Unico Healthcare Management Group
United Way of Greater Austin
Vantage College
Ventanilla de Salud
Victory Tutorial
White Lodging
WIC Program
Workforce Solutions Capital Area
YP4's Arrive With 5
Learn More about Customer Assistance Programs (CAP)
Date last reviewed or modified:
10/17/2019