Explore Our Array of Educational Offerings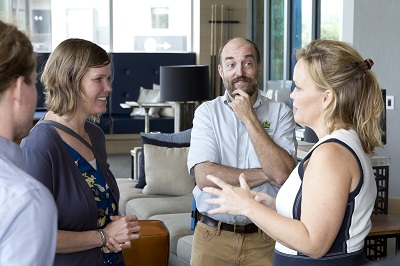 It may be too late to attend these events, but it's never too late to keep learning about Green Building.
Subscribe to our e-newsletter to receive notifications of upcoming seminars and events
Did You Attend an Event? Get Continuing Education Units
Austin Energy Green Building (AEGB) hosts learning opportunities for the public and building industry professionals. Our monthly seminars are registered with AIA and GBCI for continuing education credits.
We also offer AICP learning units on selected seminars. Other events like Green by Design and the annual Cool House Tour are also eligible for continuing education credit.
Request a Speaker
Would your group like to learn more about green building in Austin? Our team loves to share about the legacy and impact of the nation's first green building rating program and discuss specific sustainability topics. We can come to you.
To request a speaker please email us with the following information:
Name of group or event
Desired Date(s) and time
Desired topic
Previous Events
September 12, 2023 — Green Building Ratings from the Ground Up Webinar
Planning is key to meeting projects' sustainability goals. What steps can project teams take early on for success in sustainability rating systems? In this seminar, local experts will discuss how to lay the foundation for a high-performing green building project.
Speakers:
Claire Hempel, Principal, Design Workshop

Kathy Robinson, Central Texas Regional Manager, The ReUse People of America
---
July 11, 2023 — Grid-Interactive Efficient Buildings Webinar
Grid interactive efficient buildings (GEBs) support the reliable, safe and affordable operation of the electric grid. They combine energy efficiency, on-site renewable energy resources, and controls to flexibly modulate how much power they draw from and send back to the grid. The Department of Energy estimates that GEBs could save up to $200 billion and cut carbon emissions by 80 million tons per year by 2030. In this seminar supported by case studies, you will learn the benefits and challenges of GEBs.
Speakers:
Kevin Carbonnier, Senior Technical Associate, New Buildings Institute
Cass Brewer, CEO/President, Ledgestone Development Group
Brandon Rickett, Business Development Manager, IES Energy Solutions
---
May 9, 2023 — Construction Labor Equity Webinar
In keeping with social responsibility as a core value, green building strategies should include the equitable treatment of construction workers. This seminar will explore the Workers Defense Project's Better Builder Program, which seeks to improve working conditions in Texas' construction industry. Speakers will talk about their experiences implementing the program, including successes and challenges.
Speakers:
Andrea Nicholls, Better Builder Director, Workers Defense Project
Luis Contreras, Senior Construction Manager, Foundation Communities
Cheyenne Krause, Chief of Staff, CapMetro
David Smythe-Macaulay, Project Manager, Austin-Bergstrom International Airport
---
May 8, 2023 — Single Family and Multifamily Rating Updates Webinar
Austin Energy Green Building regularly updates its ratings to encourage excellence and innovation in design. Changes in green building technologies, techniques, and revisions to codes and the City of Austin goals influence the rating updates. In this webinar the AEGB Residential team will review the proposed rating updates and feedback received to date. Your feedback is invaluable, and we encourage your participation.
Speakers:
Residential Team, Austin Energy Green Building
---
Green by Design
April 11, 20223 — Session 1: Planning and Design
April 18, 2023 — Session 2: Materials and Landscaping
April 25, 2023 — Session 3: Home Systems
Learn how to build, remodel or buy green homes that improve energy and water efficiency, increase comfort and reduce maintenance. The workshop is designed to provide a choice of topics based on your green building needs. Sessions are hosted by Austin Energy Green Building team members who provide insight and experience on sustainable building practices. Course materials provided.
---
March 21, 2023 — Affordable Housing Success Stories
Successful affordable housing requires creative design principles, community collaboration, and integrated programs such as Affordability Unlocked, Shared Solar, plus missing middle housing typology. In this seminar, we will look at three different affordable housing developments in Austin that are achieving ambitious goals in sustainability while providing much-needed affordable housing in our community. Project teams will share their keys to success and lessons learned.
Speakers:
Jason Haskins, AIA, NRCARB, LEED AP BE+C
Claire Walpole, AIA, LEED AP, Staff Architect, Austin Habitat for Humanity
Ken Johnson, LEED AP, Partner, Michael Hsu Office of Architecture
Matt Beaton, AIA, Associate, Nelsen Partners
---
January 24, 2023 — Making the Case: Financials of Green Building
Green building techniques are often framed as a simple way to reduce energy costs. As we move towards net zero, further gains are requiring increased investment. Speakers will share how to go beyond first costs and why green building choices can pay off over the life of a project.
Speakers:
America Alva, AIA, RID, WELL AP, LEED AP, Senior Associate / Building Sciences Architect, Page
Paul Conrad, Senior Energy Consultant and Board Member, Catalyst Partners
Benjamin Glendenning, Director of Business Development, Catalyst Partners
---
December 13, 2022 — Strategies to Reduce Carbon Impacts of Refrigerants and Concrete
To significantly reduce a building's environmental footprint, project teams can design for refrigerants with low global warming potential and reduce the embodied carbon in concrete. Speakers will discuss approaches to these emerging sustainable strategies in our region, and explain how to source products with lower impacts.
Speakers:
Dirk Kestner, PE, SE, LEED AP BD+C, ENV SP, Director of Sustainable Design, Walter P Moore
Kayleigh Houde, Computational Community Leader, Buro Happold
---
September 13, 2022 — Sustainable City: Infrastructure, Electrification and Transportation
The transportation sector currently accounts for over 35% of emissions in Austin. This seminar will cover ways that Austin is reducing those emissions by transitioning to electric transportation in all sectors. Attendees will learn about Austin Energy's programs and incentives for going electric, the transformation of Austin's mass transit system through Project Connect and the Airport Expansion & Development Program at Austin-Bergstrom International Airport.
Speakers:
Lilly Justman, Utility Strategist, Austin Energy
Rob Borowski, MSCRP, ENV-SP, Sustainability Officer, Capital Metro
Jennifer Williams, P.E., Planning and Development Supervisor, Austin-Bergstrom International Airport
---
July 12, 2022 — Equitable Community Engagement
Equitable development involves supporting underserved communities through programs and policies that foster healthy, vibrant places. Community engagement provides an opportunity for project teams and neighborhood groups to create strong and livable communities together.
In this seminar, local organizations will discuss ways to frame community engagement during project development to bring added value to all project participants. Speakers will share relevant examples and resources while exploring how community input can be so much more than checking a box.
Desmond Odunusi, Assoc AIA, AIA Austin Design Voice Chair; Project Manager, Pfluger Architects
Jason John Paul Haskins, AIA, NCARB, LEED AP BD+C, AIA Austin Design Voice Chair-elect; Director of Architecture, h+uo Architects
Viviana Trevino, Designer, Page
Beau Frail, AIA, Principal & Founder, Activate Architecture
Melissa Henao-Robledo, Business Development, Central and South Texas, Landscape Forms
Nicole Joslin, AIA, LEED AP, Director of Community Development, Capital A Housing
---
June 1 - August 1 — E-Learning Launch
You are invited to test Austin Energy Green Building's first on-demand course pilot. Your feedback will help develop this new online education platform. View recorded webinars, take the quizzes, answer the survey, download your certificate, and earn continuing education credits.
---
May 10, 2022 — Climate Equity Plan: What Does It Mean for Austin?
Austin's Climate Equity Plan was created with input from nearly 200 community members with an intentional focus on engaging racially and economically diverse residents about the challenges, barriers, and opportunities facing historically excluded groups. The Austin Climate Equity Plan includes the bold and aggressive goal of equitably reaching net-zero community-wide greenhouse gas emissions by 2040 with a strong emphasis on cutting emissions by 2030.
Learn about how an equity tool helped account for outcomes related to health, affordability, accessibility, community capacity, cultural preservation, accountability, and a just transition to green jobs.
Phoebe Romero, Environmental Program Coordinator, Office of Sustainability
Zach Baumer, Climate Program Manager, Office of Sustainability
---
April 7, 14 & 21, 2022 — Green by Design (Multiple sessions)
Learn how to build, remodel, or buy green homes that improve energy and water efficiency, increase comfort, and reduce maintenance. The workshops are designed to provide a choice of topics based on your green building needs.
Sessions are hosted by Austin Energy Green Building team members who provide insight and experience on sustainable building practices.
April 7, 2022: Session 1 - Green Planning and Design
April 14, 2022: Session 2 - Green Materials and Landscaping
April 21, 2022: Session 3 - Green Home Systems
---
March 22, 2022 — Resiliency Insights
With a changing climate leading to more frequent extreme weather events, including flooding, heatwaves, and severe winter weather, the planning and architecture profession is facing a sense of urgency around designing buildings and communities that are better prepared to meet rapidly changing conditions.
In this seminar, we will hear about City of Austin resilience initiatives from the Office of Sustainability, as well as exploring case studies and lessons learned from previous events with a view to supporting the health, welfare, and safety of the Central Texas community.
Marc Coudert, Environmental Conservation Program Manager, City of Austin
Trey Farmer, Architect, Forge Craft Architecture + Design
---
January 11, 2022 — 2021 IECC Updates
The City of Austin adopted the 2021 International Energy Conservation Code with local amendments this fall. Austin Energy Green Building will review significant changes to the 2021 IECC and local amendments. Speakers will explore how design teams can navigate various paths of compliance and use partnerships to help their clients in the field. Development Services Department representatives will provide additional updates and potential real-world scenarios resulting from recent code changes.
Garrett Jaynes, Engineer B, Austin Energy
Patricia Chawla, Conservation Program Coordinator, Austin Energy
Mitchell Tolbert, Commercial Plan Review Manager, Development Services Department
Chris Ruddell, Residential Building Inspections - Northeast Supervisor, Development Services Department
---
December 14, 2021 — Lighting Strategies in Building Design
Transitioning to high efficacy lighting provides significant energy savings in buildings. As these gains in fixture efficiency start to slow, how will lighting systems continue to improve? Join us as we explore how interior lighting design affects user comfort and wellbeing, mechanical systems sizing, construction costs and technology costs.
Speakers will highlight a case study of daylight in schools. Learn what the post-occupancy study revealed in user preference and how it led to an extensive study of the ways green-building rating systems are defining daylight metrics. The webinar will also cover how new energy codes and evolving light fixture technology has changed daylight design.
Speakers:
Shivani Langer, AIA, LEED AP BD+C, WELL AP, Principal, Senior Project Architect, Regional Sustainability Leader-US Central, Stantec
Cristy Bickel, AIA, LEED AP, Principal, Senior Project Architect, Stantec
Zach Vaughn, PE, Mechanical Engineer, Stantec
---
October 14, 2021 — Austin Real Estate Trends
Last February, the City of Austin issued the third-highest number of building permits in the U.S. What effect has this growth and the pandemic had on the Austin market? Which trends will influence the City's future? Join us as our speakers discuss the economic outlook, the impact on industry sectors and recovery scenarios. The panel will also highlight trends in development that contribute to strong, vibrant, culturally rich and diverse neighborhood districts.
Speakers:
Mark Sprague, State Director of Information Capital, Independence Title Company
W. Gaines Bagby, First Vice President, CBRE
Roland Galang, Founder and Broker, Skout Real Estate
Christine Freundl, Redevelopment Project Manager, City of Austin | Economic Development Department
---
September 14, 2021 — Energy Efficiency for Older Homes
Construction techniques continue to advance energy efficiency for newer homes, but existing homes can also benefit from the use of these techniques to improve occupant comfort and energy efficiency. Choosing impactful renovations uses design and building science to identify the right measures for a particular home. Speakers will explore the impacts of advancing energy codes and standards through the evaluation of older home performance and suggest ideas and concepts to apply when considering retrofits and renovations.
Speakers:
Meredith Jagger, Business Intelligence Consultant, Data Analytics & Business Intelligence, Austin Energy
Jason Vendever, Building Code Program Manager, South-central Partnership for Energy Efficiency as a Resource (SPEER)
Chip Berry, Residential Energy Demand Team Lead, US Energy Information Administration (EIA)
Bess Althaus Graham, Director/Deputy SHPO, Texas Historical Commission
---
Green by Design
August 10, 2021 — Session 1: Green Planning and Design
August 17, 2021 — Session 2: Green Materials and Landscaping
August 24, 2021 — Session 3: Green Home Systems
Green by Design is now online! Learn how to build, remodel or buy green homes that improve energy and water efficiency, increase comfort and reduce maintenance. The workshop is designed to provide a choice of topics based on your green building needs. Sessions are hosted by Austin Energy Green Building team members who provide insight and experience on sustainable building practices. Course materials provided.
---
July 6, 2021 — Embodied Carbon Matters
Between 2020 and 2050, the carbon embodied in building materials is expected to be 49% of total new construction carbon emissions. Considering carbon during the entire life cycle of buildings and their constituent materials is thus a vitally important task in reducing global climate change. Speakers will provide an overview of considerations related to embodied carbon in building materials, strategies for selecting lower-carbon materials, and emerging ideas about an embodied carbon marketplace.
Speakers:
Martin Torres, Graduate Engineer, Austin Energy Green Building
Brian Just, Manager, Engineering, VEIC
Dr. Wil V. Srubar III, Associate Professor, University of Colorado Boulder, Department of Civil, Environmental and Architectural Engineering
---
June 13, 2021 — Cool House Tour 2021 Webinar
The 25th Annual Cool House Tour is a collaboration between Austin Energy Green Building and the Texas Solar Energy Society (TXSES). This year's virtual tour features a mixed-use condo tower, an affordable multifamily community, two east Austin backyard dwellings, a modern home in west Austin and a suburban home designed for a challenging site. In honor of our 25th anniversary, the tour is FREE to the public this year!
---
June 8, 2021 — Building Electrification Webinar
Electrification is a rapidly growing field, changing the way we monitor, consume and understand energy. This shift is impacting both our buildings and the transportation sector and will continue to be a growth area in the future. Learn how electrification is improving the energy performance of buildings as well as how transportation electrification is shaping the way that the world moves and fuels up. This seminar will cover current and emerging trends, specific projects in Austin and how we can prepare for its future expansion.
Speakers:
Alexi Miller, Associate Technical Director, New Buildings Institute (NBI)
Scott Hinson, Chief Technology Officer, Pecan Street
Caitlin Bullock, Contractor, Austin Energy
Nathan Richardson, Contractor, Austin Energy
---
May 11, 2021 — Healthy Indoor Environment Strategies Webinar
As the community considers expanding its return to buildings, this seminar will discuss strategies to maximize safety, health and wellbeing in shared indoor environments. Our panel will help make sense of some of the seemingly 'miracle' solutions now marketed to building designers, maintenance staff and homeowners, while empowering attendees to make well-informed decisions and avoid scams.
Speakers:
Adele Houghton, President, Biositu
Marwa Zaatari, Partner, D ZINE Partners
Tristan Roberts, Director Technical and Educational Programs, Health Product Declaration Collaborative
---
April 13, 2021 — Indoor Air Quality and Health Webinar
How healthy is the air inside our buildings? The recent pandemic has focused public attention on indoor air quality (IAQ), ventilation and human health while using buildings.
Attendees at this seminar will learn about the variety of ways to achieve good indoor air quality in buildings and why that is important for human health. We will also discuss the role of ventilation and air handling equipment in IAQ, using timely examples from those who are preparing buildings for re-entry.
Speakers:
Megan McNulty, Project Engineer, Servidyne
Randy Schrecengost, Senior Project Manager, Stanley
Vivek Abichandani, Vice President of Facilities, Energy, and Sustainability, Alamo Drafthouse Cinema
---
March 23, 2021 — Sustainability at the Airport Webinar
Over its 21-year operation, Austin-Bergstrom International Airport (AUS) has grown substantially. The number of passengers has tripled during that time, with significant further growth expected over the next 20 years. As part of this growth and expansion, AUS has prioritized sustainability, incorporating it into capital and operations improvements, and reducing the carbon footprint of the facility.
This seminar will include speakers instrumental in the planning, design and installations at the airport and will include on-the-ground footage of the buildings and systems that make the airport sustainable.
Speakers:
David Lynch, AIA, RID, LEED AP, Principal, Gensler
Vineta Clegg, RIAI, Senior Associate, Gensler
Ellen Brunjes-Brandt, Project Manager, Planning and Development, AUS
Tim Harvey, Manager, Austin Energy Customer Renewable Solutions
Cameron Freberg, Utility Strategist, Austin Energy Electric Vehicles and Emerging Technologies
Kane Carpenter, Environmental Manager, City of Austin Department of Aviation
---
March 9, 2021 — Engaging Community for Equitable Development Webinar
Intentional community engagement during project development assists in ensuring and maintaining equity, creating sustainable places for all. Incorporating a wider share of community voice and building allies via community engagement can help achieve more equitable outcomes.
Through real-world success stories, this seminar will provide ways to effectively engage diverse community members, bringing about positive momentum and impactful solutions while advancing equity measures during the development process.
Speakers:
Dr. Kazique Prince, Interim Executive Director, Central Texas Collective for Racial Equity (CTCRE)
Monica Guzmán, Policy Director, GAVA (GO! Austin/VAMOS! Austin)
Jay Hailey, Founding Director and Treasurer, Equidad ATX
Dr. Laura Cortez, CEO & Founder, Cortez Consulting
Sean Garretson, President, Pegasus Planning and Development & Board President, Chestnut Neighborhood Revitalization Corporation
Shoshana Krieger, Project Director, Building and Strengthening Tenant Action (BASTA)
Mandy Lee, Program Manager, NAACP, Centering Equity in the Sustainable Building Sector (CESBS)

Nelson Linder, President, NAACP, Austin Chapter
---
January 12, 2021 — Infrastructure and Public Health Webinar
In recent months, the pandemic has renewed the emphasis on public infrastructure and community-generated ideas that help improve health and safety. Businesses, organizations, and cities are responding with new initiatives and projects.
Join us to hear more about the improvements in city infrastructure and community programs that focus on supporting the well-being of those affected most by the pandemic. Speakers will also discuss the City's efforts to optimize healthy and sustainable transportation to ensure safety and wellness post-pandemic, including Proposition B and Healthy Streets.
Speakers:
Laura Dierenfield, Active Transportation Program Manager, Austin Transportation Department
Anna Martin, Assistant Director, Austin Transportation Department
Kyandra Noble, Founder, Austin Free Fridge Project
---
December 8, 2020: Building Materials: Health, Equity and Environment Webinar
Three local industry experts will interview three guests they have invited for insights into their experiences transforming the field of building materials. The discussion will contextualize local goals around ingredient transparency, carbon and equity. The information will equip listeners with the latest information and inspire attendees to ask the right questions about the materials they are specifying and using. This event offers an opportunity to discover more about this dynamic field through a series of conversations. The webinar will conclude with time for audience questions.
Conversations:
Material Ingredient Transparency
Gail Vittori, Co-Director, Center for Maximum Potential Building Systems
Robin Guenther, Principal, Health at Perkins&Will
Low-carbon Structural Materials
Dirk Kestner, Principal Director of Sustainable Design, Walter P Moore
Kate Simonen, executive director, Carbon Leadership Forum and Chair of the Department of Architecture, University of Washington
An Equity Lens on Building Materials
Phoebe Romero, Environmental Program Coordinator, Office of Sustainability, City of Austin
Yure Suarez, Sustainable Building Advisor, Perkins&Willl
---
October 13, 2020: Permitting and Development Center Virtual Tour
Join us for a virtual tour of the City of Austin's Permitting and Development Center, which recently relocated to a new building in the Highland redevelopment. The Center's new home is situated in the heart of a walkable, transit-friendly mixed-use neighborhood that has emerged from the site of the former Highland Mall.
Speakers:
Rodney Gonzales, Assistant City Manager, City of Austin
Matt Whelan, Principal, RedLeaf Properties
Denise Lucas, Director Development Services, City of Austin
Andy Moore, P3 Program Manager, City of Austin
Sandrine Hitchcock, Associate, Gensler
Eric Lohan, Director of Technology, Sustainable Water
Dirk Kestner, Principal Director of Sustainable Design, Walter P Moore
Stay Connected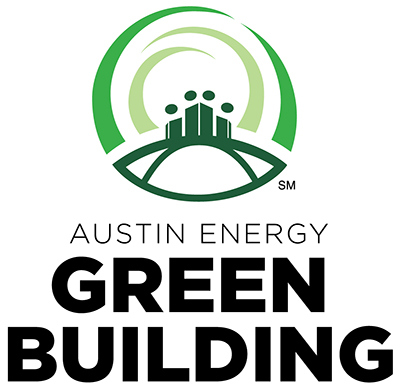 Date last reviewed or modified:
05/02/2023