Get Inspired By These Featured Green Buildings
Are you looking for design inspiration? These featured Austin Energy Green Building (AEGB) case studies showcase the very best in thoughtful, sustainable design and craftsmanship.
Want even more design inspiration? Browse our library of Green Building case studies in our Online Rating System
Tarrytown Transformation
AEGB rating: ★★★★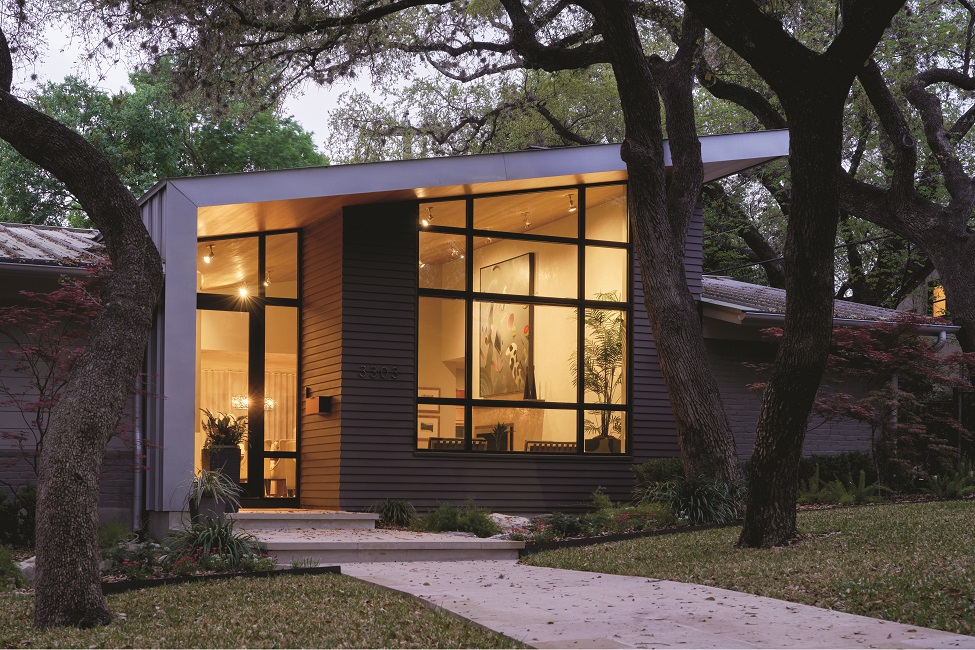 Remodeled, energy efficient home in Tarrytown. ©Leonid Furmansky
Project Description
A typical 1960s ranch home was brought into the 21st century in both form and function while still fitting in with the surrounding old Austin neighborhood.
The house was originally a series of small dark rooms with no connection to the outside and very little natural light. The aluminum windows and doors leaked both air and water, and the exterior walls had deteriorated.
The owners expected to tear down and build anew. The architect ultimately convinced the owners to remodel the house.
Top Features
Preserved live oak trees
Improved thermal envelope with spray-foam insulation and energy-efficient windows and doors
Floating ventilated metal radiant barrier roof
Deep overhangs
100% LED lighting inside and out
Variable speed air conditioner and mini-split HVAC systems
Electric vehicle charger
Download the complete case study for Tarrytown Transformation (pdf)
B-Austin
AEGB rating: ★★★★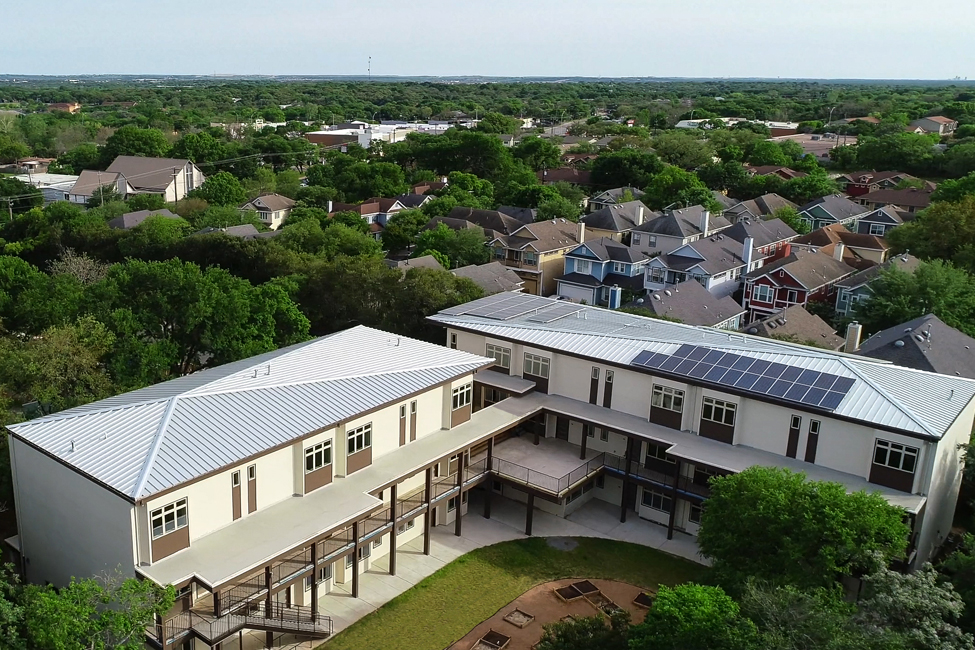 Eco-friendly community in South Austin. AEGB rating: ★★★★ ©Paul Finkel
Project Description
B–Austin is an Intentional Living co–housing project in South Austin designed to foster community in a sustainable, environmentally friendly setting. The three–story mixed-use complex houses 14 residential suites, amenity spaces, and office suites.
The three lease–ready white box offices appeal to health and wellness businesses to integrate with other on-site amenities. The development design minimizes its environmental footprint and maximizes the health of its residents and the planet.
Top Features
Solar array offsets 25% of the facilities' electrical needs and was designed for expansion
Greywater harvesting supplements rainwater system for site irrigation
Urban farm provides food, fosters community, and increases health
Showers and changing rooms encourage bike commutes
Integrated wellness program offers free exercise classes and heath resources
Level two electric car charging stations encourage residents to opt for greener vehicles
Download the complete case study for B-Austin (pdf)
Texas Mutual Insurance Company Consolidated Headquarters
AEGB rating: ★★★★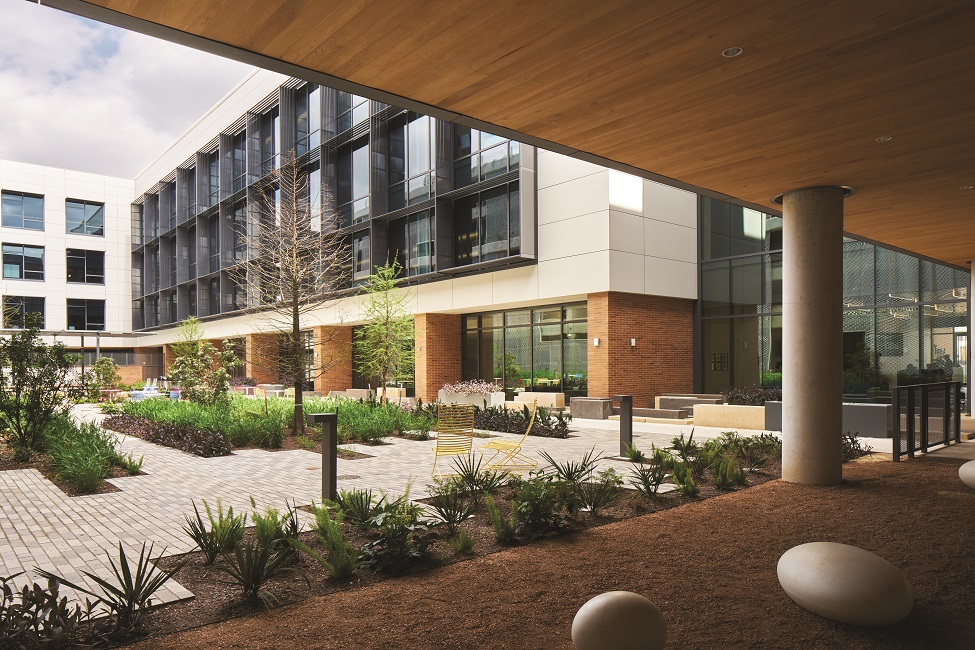 Courtyard in Texas Mutual Insurance Company Consolidated Headquarters. ©Lars Frazer
Project Description
Texas Mutual chose Mueller for its new headquarters because the mixed–use and mixed–income redevelopment of the former municipal airport provides a healthy environment in which to live, work, and play.
The four–story building includes ground floor retail space, currently occupied by restaurant and child care facilities, as well as on–site parking in the adjacent garage.
As one of the first members of Austin Green Business Leaders, Texas Mutual's development of an AEGB 4–star rated and LEED Gold certified building further demonstrates the company's pledge to community and employee health.
Top Features
Highly insulating envelope, LED lighting and Austin Energy chilled water service result in 43.6% modeled energy cost savings
Walkable, bikeable, entertainment and lifestyle hub located in LEED ND Gold certified Mueller neighborhood
Electric sit/stand desks at every workspace increase occupant health
Accessible green roof with views to downtown and an interior courtyard with native plants
Central social staircase with living lichen wall stretches multiple floors
Download the complete case study for Texas Mutual Insurance Company Consolidated Headquarters (pdf)
Want Even More Design Inspiration?
Browse our library of Green Building case studies in our Online Rating System
Stay Connected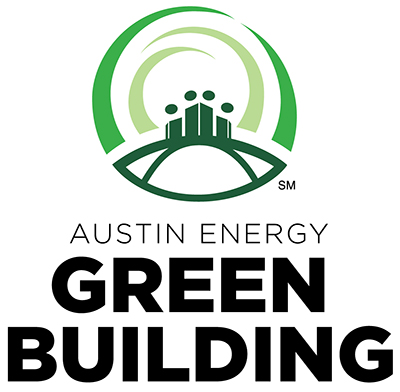 Date last reviewed or modified:
04/21/2020