Save Money with Easy Savings Ideas
Tools and Tips Can Help You Lower Utility Bills During Warm Weather
When temperatures rise, your air conditioner and water use will likely increase as well. This can mean higher electricity and water bills during the warmer months. Austin Energy and Austin Water offer tools and tips to help you monitor your electricity and water use.
Whether you rent or own your home, these resources can help you reduce your consumption and increase your home's overall efficiency.
Why Austin Energy and Austin Water Want Customers to Save Money
As a publicly-owned utility, Austin Energy commits to helping you save money and energy, especially during the hottest months of the year. Helpful savings tips, tools, and rebates help customers lower energy use, improve indoor comfort and air quality, and reduce environmental impacts.
Austin Water shares that commitment. An affordable, safe, and plentiful water supply benefits customers and helps ensure a strong future for the community. When you conserve water through Austin Water's savings, tips, and tools, you can save on your water bills and help save water for future generations.
Monitor Your Usage
Check your energy usage regularly to avoid surprises on your energy bill. You can view your home electric usage anywhere you have internet access by logging in to Online Customer Care. You can compare your usage to the previous month or year or to similar homes in your neighborhood. You can also set alerts for higher billing tiers and receive customized energy savings tips. For an even deeper dive into your usage, including solar panel production info, access the Austin Energy web app.
The Austin Water WaterSmart website can help you save water and money. Available online, the report gives you a customized water use profile for your household, information on your past water use, tips for saving water, and links to Austin Water conservation programs. Use your City of Austin Utilities account number to log in today.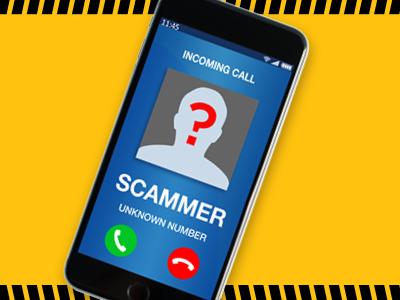 Stop Utility Scammers — Don't Fall for the Call
Scammers have been targeting Austin Energy and Austin Water customers with threats to disconnect your utilities unless payment is made immediately via an untraceable method. Customers can end up paying scammers and losing money. Don't fall for the call!
Report suspicious calls to 3-1-1. Learn how to recognize a scam.
To safely and securely check your account balance or pay your bill, visit Online Customer Care or call 512-494-9400.
Remember These Rebates and Resources
Weatherization Assistance — Take a few minutes to see if you qualify for free home energy improvements.
Thermostat Rebates and Incentives — Earn rebates and incentives when you install smart thermostats and enroll in the voluntary Power Partner program.
Home Performance with ENERGY STAR® — House 10+ years old? Enjoy greater savings by making whole home energy improvements when you need to replace an air conditioner or heat pump. Limited Time Offer! From October 1, 2022, through April 15, 2023, enjoy rebates averaging $2,600 if you do not need a loan or apply for 0% financing.
Heat Pump Water Heaters — Enjoy $800 in rebates on ENERGY STAR certified heat pump water heaters.
Instant Savings — Find in-store discounts on select energy efficient products when you shop at local stores and see the green tag.
Residential Water Rebates — Austin Water provides several rebates to residential customers: up to $1,000 for an irrigation upgrade, up to $120 for landscape survival tools like mulch and compost, up to $150 for a pressure-regulating valve, up to $5,000 for equipment to capture rainwater, up to $40 for hose timers, and more.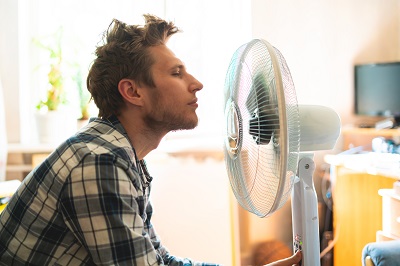 Try These Tips at Home
With local temperatures that reach above 100 degrees, try these tips to stay cool at home and save on your utility bills.
Set your thermostat at 78 degrees or higher in the warm months of the year. Raise the thermostat to 85 degrees when you are away for two hours or more.
Install LED light bulbs. ENERGY STAR® qualified LEDs use at least 75% less electricity, generate less heat, and last about 50 times longer than regular incandescent bulbs, and five times longer than Compact Fluorescent Lightbulbs (CFLs).
Save while streaming. Streaming video on a game console uses 15 times more energy than streaming on digital media players. Streaming on a laptop uses four times more energy than streaming on a tablet.
Point fans in your direction. Fans blowing directly on you can make temperatures around you feel about 4 degrees cooler. Only keep fans on when you are in the room.
Clean your AC condenser/evaporator coils. Clean coils lower your energy costs, extend the unit's life, and provide cleaner air for you to breathe.
Keep debris and high grass away from the condenser. These obstacles block airflow, which makes the condenser work harder and run longer.
Close shades/curtains on windows hit by direct sunlight. This helps to prevent heat from getting indoors.
Provide shade for outside AC units. AC units shaded by trees or structures work more efficiently and use up to 10% less electricity.
Dim the screen. Dim your televisions and computer screens to reduce energy use. Some TVs have a "home" or "standard" setting option to help. This can also help with eye fatigue.
Avoid turning on the oven during the hottest time of the day. Using a microwave or a slow cooker produces less heat.
Unplug appliances, chargers, and electronic devices when you are not using them. They use energy even when they are turned off. Turn off your lights when you leave a room.
See our full energy-saving tips list
Try these indoor and outdoor water saving tips, too:
Water your lawn only on your assigned day and times.
Take shorter showers (five minutes, tops). If you take a bath, fill the tub half full.
Replace bathroom faucet aerators and showerheads. Aerators use 0.5 gallons per minute, and showerheads use 1.5 gallons per minute or less.
Turn off the water. Don't use water while shaving, brushing your teeth, lathering in the shower and shampooing or conditioning your hair.
Only run your dishwasher when full. Scrape food from plates instead of rinsing.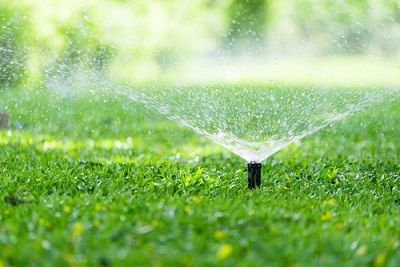 Check for Leaks
Water leaks can cost you money and wastewater. Here is what to do if you suspect a leak:
Check Your Water Meter. Write down a meter reading and check it again a few hours later (make sure not to use any water while performing this test).
Toilets. Check for toilet leaks by adding several drops of food coloring to the tank. If the toilet is leaking, color will appear in the toilet bowl within 30 minutes. Leaking toilets can waste about 200 gallons of water every day.
Faucets & Showerheads. Check all faucets and showerheads for drips. A slow drip can waste as much as 20 gallons of water each day.
Washing Machine & Dishwasher. Look for water on the floor near your washing machine or dishwasher, it could mean a leak.
Water Heater. Water dripping down the side of the tank could mean the pressure relief valve is stuck.
Irrigation System. Check the irrigation system for damage, especially after mowing your lawn. Schedule a free irrigation system evaluation if needed.
Soggy Spots. Soft, soggy, spots in your yard or uneven plant growth might be a sign of a leak in your underground water pipes.
Home Foundation. Standing water around the foundation could mean your underground pipes have become damaged.
For additional details on leak detection, access leak detection resources from Austin Water.
Want to pass these tips along? Share these energy and water savings tips with your loved ones.
En español:
Stay Safe, Indoors and Outside
Protect yourself from heat, dehydration, and the sun's harmful rays. Also make sure to stay safe and avoid outdoor and indoor hazards involving water and electricity.
Remember to follow these heat safety tips, especially when spending time outside:
Look before you lock — Ensure children and pets are not left in hot, unattended vehicles.
Stay hydrated — Drink more water than usual on a hot day and avoid sugary, caffeinated beverages.
Dress for the weather — Wear lightweight, light-colored, loose-fitting clothing.
Protect your skin — Apply sunscreen with at least SPF 15.
Stay out of the sun when possible — Find shade and wear a wide-brimmed hat when outdoors.
Work and play safely — Avoid high-energy activities and exercise during extreme heat, especially during the afternoon.
Protect your pets — Provide your pets with plenty of water and shade.
Check in on elderly family members, friends and neighbors — Make sure they have access to air conditioners and/or fans and clean water for hydration.
Avoid heat illness — Summer heat can dehydrate and overheat you quickly, especially if you are exercising outdoors. Drink cool water regularly to avoid heat exhaustion and heat stroke, which require immediate medical attention.
These simple precautions can help you stay safe around electricity during summer activities:
Make sure your children know to stay away from electrical substations and to never climb a substation fence.
Do not attempt to climb utility poles or trees touching power lines. Also, never try to prune or trim trees touching power lines. Austin Energy can help you safely prune trees around power lines.
Only use extension cords safe for outdoor use to power tools and toys when you're working or playing outside. Remember that extension cords are a temporary, and not permanent, solution for powering appliances. Use only when necessary.
Work on electric pool pumps or underwater pool lights when no one is in the water.
Keep electrical appliances at least 10 feet away from pools or other bodies of water.
Make sure appliances like blenders, mixers, power tools or other appliances with moving parts are switched off before plugging them in.
Swim far away from boat docks, especially docks equipped with electric lights. If swimmers are near your boat, turn all electricity off. If there is faulty wiring, water can become energized and endanger swimmers nearby.
Keep electronics away from the bathtub and shower, especially when plugged in. Phone chargers, hair dryers and similar items pose a risk near water.
Make sure lamps and light fixtures are unplugged or switched off before attempting to change a lightbulb.
Never use silverware or other metal items to retrieve items from a plugged-in toaster.
Use outlet covers when small children are in the home.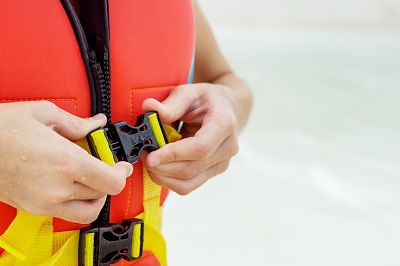 Remember these indoor and outdoor water safety tips, too:
Provide active and constant supervision of children in the water and be a water watcher. Put away phones and other distractions around water. Focus on swimming safety. When in any type of water, toddlers and infants should be no more than arm's length away from their parent or caregiver at all times.
Wear a Coast Guard-approved life jacket that fits properly while enjoying activities on the water.
Teach children to swim and learn to swim yourself. Five essential water safety skills include being able to:

Step or jump into water over one's head and return to the surface.
Tread water for one minute.
Turn around in a full circle and find an exit from the pool.
Swim 25 yards to exit the water.
Be able to exit the water. If in a pool, exit without using the ladder.

Learn CPR and basic water rescue skills so you are prepared in case of an emergency.
Teach children to ask permission to go near water. Teach children to stay away from pool and spa drains.
Practice pool safety. Use physical barriers to prevent children from accessing any source of water. Set alarms on pools and doors/windows leading to pools.
Make sure children stay away from water hazards in your community such as garden ponds, creeks and streams, wells and cisterns, and other bodies of water.
Teach kids that swimming in open water is different than swimming in a pool. Limited visibility, sudden drop-offs, uneven surfaces, currents and undertow can be dangerous.
Do not use foam or air-filled toys, (e.g. floaties, water wings, inner tubes, noodles), in place of a U.S. Coast Guard approved life jacket.
Empty tubs, buckets and kiddie pools immediately after use. This also helps minimize mosquitoes.
Watch for signs of water injury even when the swimming is over.
Never leave a young child unattended in a bathtub. Do not trust a child's life to another child or to aids that help a child sit upright in a tub.
Use safety locks on toilets and keep bathroom doors closed and toilet-bowl covers down when small children are in the home.
If you are going out on a boat or another vessel, dress for the water, not the air. Even when the temperature outside is warm, the water temperature could be chilly.
Prepare a float plan so other people know your schedule on the water, whether you plan to fish, hunt, kayak, or enjoy any other activity on the water.
Stay Safe During a Power Outage
Power outages are the result of a variety of causes—anything from traffic accidents and wildlife interference to severe weather. At Austin Energy, the safety of our crews and customers is our utmost concern. Follow these tips to stay safe during power outages:
Call 9-1-1 if you have a medical emergency or your life is at risk during a power outage. Do not wait for your power to be turned back on.
Report power outages and receive updates by text message. Text REGISTER to 287846 to get started. Austin Energy will send you proactive texts during outages to keep you informed.
Avoid downed power lines. Stay indoors if at all possible during a storm to avoid downed power lines. You must stay at least 35 feet away from any downed lines. If you believe there is a downed power line near your home or business, call 512-322-9100 to report it immediately.
Be aware that limbs, fences, hoses, playsets, and other structures near you can become energized by a downed power line.
If you must travel across the city in the aftermath of severe weather, first consult the Outage Map to view the location and types of known electrical hazards.
Use flashlights or battery-operated lanterns during an outage. Candles and kerosene lanterns are not recommended for lighting because of fire risks and fume hazards.
Follow safety precautions with portable emergency generators. Portable generators may be used to provide limited electrical power during an outage, but take care to ensure that they do not pose a threat to you and your family. Gas-powered generators pose serious fire and carbon monoxide threats.
Never fuel or run a portable generator inside the home, place of business, or garage.
Make sure the generator is equipped with a double-throw transfer switch that protects your equipment and prevents feedback on power lines.
Always operate generators according to the manufacturer's instructions and ensure installation meets proper electrical requirements.
Consider getting back-up power resources to keep personal electronics and phones charged during emergencies, such as a power bank, a portable charger or a fast charging battery pack.
If you have experienced an outage for an extended period of time, turn off lights and electronics and unplug as many items as possible. This will help you avoid cold load pick-up, where circuits become overloaded because of lights, electronics, air conditioners/heaters and thermostats left on prior to the outage, causing a second outage as soon as power is restored.
Remember that, during an outage, gas appliances may not work if the power is off because the equipment may require electricity for ignition or valve operation.
Keep refrigerator and freezer doors closed during an outage. Home refrigerators can keep food cold enough for a day or two without power, if the doors are kept closed. As a rule of thumb, 25 pounds of dry ice will keep a 10-cubic-foot freezer at the proper temperature (32 degrees F) for three to four days. When in doubt, throw it out. Read the USDA guidelines for keeping food safe during outages.
Do NOT attempt to assist emergency and utility crews. It's dangerous work. Let the pros handle repairs and restoration.
Keep in touch with local emergency operations, warnings and assistance by connecting with Warn Central Texas and Homeland Security and Emergency Management. Follow Austin Energy, the City of Austin and other local authorities on social media for information during extreme weather events.
Understand Wildfire Risk
In Central Texas, the peak season for wildfires is April through October. Often, years with extreme winter storms also bring extreme drought conditions during the summer, significantly increasing the risk of wildfires. During windy and stormy weather, swaying and broken tree limbs can rub against and hit or bring down power lines. Such impacts can cause service fluctuations, outages and fires.
Learn More
Date last reviewed or modified:
09/15/2022