How to Identify a Safe, Healthy Pole
Learn the Difference Between Powerlines and Communications Lines
Austin Energy's poles support the distribution lines that allow us to provide safe, reliable power to our customers.
Many of the utility poles around Austin carry wires and equipment for both power (electric energy) and communications providers such as telephone, internet, and cable services.
You can help keep our poles safe and reliable by understanding the parts of a pole, and how a properly-set-up pole should look. Compare this illustration to a pole near you.
Powerlines and Equipment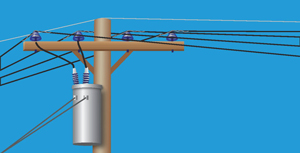 Will always be near the top of the pole.
Will have insulators that protect wires and equipment.
Some utility poles will include a transformer that steps down voltage before electricity is delivered to customers.
All powerlines and equipment should be considered energized and dangerous.
Communications Lines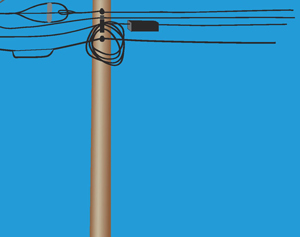 Will usually be 40 inches or more below the powerlines and electric equipment.
Will often include communications wires and equipment such as a splicer box, a "snowshoe", loops of wires, or slackened wiring.
Communications wires and associated equipment are generally not as dangerous as powerlines.
However, all downed lines and equipment should be reported to expedite repairs.
To report issues / violations with communication lines, contact Pole Attachment Operations.
Be Safe! Never Go Near Fallen Powerlines
If there is immediate danger, call 9-1-1. Report all downed powerlines, trees, or tree limbs touching power lines to 512-322-9100.
Date last reviewed or modified:
11/20/2019