Stay Warm, Stay Safe, and Save in Winter Weather
Manage Your Utility Bills with Easy Tools and Tips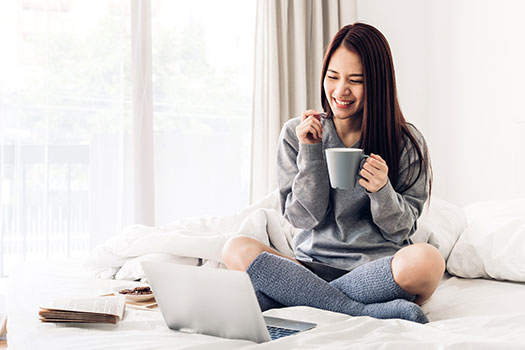 When temperatures drop, we get a much-needed break from the summer heat. However, you could end up using just as much — or more — energy and water in winter months when trying to stay warm. Because it's colder outside, your heater and water heater work harder to keep your home comfortable. Austin Energy and Austin Water offer tools and tips to help you monitor your electricity and water use.
Whether you own or rent your home, these resources can help you reduce your consumption and increase your home's overall efficiency.
We Want Customers to Save Money
As a publicly owned electric utility, Austin Energy commits to helping customers save money and energy year-round. Our resources can help you lower your energy use, improve indoor comfort and air quality, and reduce your environmental impact.
Austin Water shares that commitment. An affordable, safe and plentiful water supply creates a stronger community for customers. When you conserve water through Austin Water's savings, tips and tools, you save on your water bills and help save water for future generations.
Learn about water saving tips and rebates from Austin Water
Find Help with High Utility Bills
The City of Austin has a long history of helping customers with their utility costs. The comprehensive Customer Assistance Program (CAP) channels millions of dollars annually to programs that help customers facing temporary and long-term financial difficulties as well as serious medical problems. Energy efficiency improvements are also available through CAP.
City of Austin services include:
Take Advantage of These Rebates and Resources
Tips for Saving Energy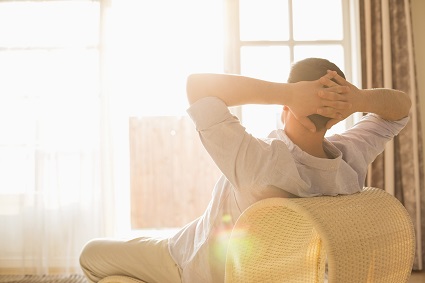 Need to stay warm and help keep bills low? Spending a lot of time at home? Heater working overtime? You might have many reasons for higher utility bills this winter. However, you have the power to make changes at home to reduce your energy use.
Consider these tips and more for saving energy as you look for easy ways to save in winter weather.
Lower your thermostat by a few degrees in colder months. High thermostat settings during winter weather increase energy use because your heater must work harder to maintain that temperature.
Install LED light bulbs. LEDs use 90% less electricity, generate less heat, and last 10-25 times longer than regular incandescent bulbs, and five times longer than Compact Florescent Light bulbs (CFLs).
Let the sunshine in. Open curtains and shades on eastern and southern windows during the day to let in more heat, then close them in the evening.
Add insulation to water heaters and hot water pipes to save energy and money. This is inexpensive and easy.
Caulk and weatherstrip windows and doors. This simple and inexpensive improvement prevents drafts.
Clean or change air filters monthly. Dirty filters make your system work longer than necessary
Cover exhaust fans when not in use. An open kitchen exhaust fan allows cold outside air to come into your home. Low-cost covers are available to cover exhaust fan openings.
Unplug appliances and electronic devices when you are not using them. They use energy even when they are turned off. Turn off lights when you leave the room and use smart power strips to help save energy.
Switch the fans. Switch the setting on ceiling fans to run clockwise at a low speed on a cooler day. This gentle updraft helps push warm air near the ceiling down into your living space. Turn off fans when you leave the room.
Maintain your fireplace. When not in use, make sure your fireplace damper is closed to prevent heat from escaping up the chimney.
Save energy in the kitchen. Energy use in the kitchen can account for as much as 15% of your electric bill. Give your oven and wallet a break by using the oven light to check on the food instead of opening the door. Use a slow cooker or microwave oven to save energy.
Countdown 12 days of energy savings and get tips about saving energy around the holidays (pdf)
Tips for Saving Water
Turn off automatic irrigation. Don't water outside in fall and winter months.
Take shorter showers (five minutes, tops). If you take a bath, fill the tub half full.
Replace bathroom faucet aerators and showerheads. Aerators use 0.5 gallons per minute, and showerheads use 1.5 gallons per minute or less.
Replace older toilets. High-efficiency models use 1.28 gallons per flush. A dual flush model uses even less water.
Turn off the water. Don't use water while shaving, brushing your teeth, lathering in the shower and shampooing or conditioning your hair.
Fix leaky faucets. A slow drip can waste several gallons a day.
Winterize outdoor faucets when temperatures are expected to dip below freezing to prevent broken pipes.
Only run your dishwasher when full. Scrape food from plates instead of rinsing.
Replace your clothes washer with models that use less water.
Get more water-saving tips from Austin Water (pdf)
Tips for Checking for Water Leaks
Water leaks can cost you money and wastewater. Here is what you can do if you suspect a leak:
Check Your Water Meter. Write down a meter reading and check it again a few hours later (make sure not to use any water while performing this test).
Toilets. Check for toilet leaks by adding several drops of food coloring to the tank. If the toilet is leaking, color will appear in the toilet bowl within 30 minutes. Leaking toilets can waste about 200 gallons of water every day.
Faucets & Showerheads. Check all faucets and showerheads for drips. A slow drip can waste as much as 20 gallons of water each day.
Washing Machine & Dishwasher. Look for water on the floor near your washing machine or dishwasher, it could mean a leak.
Water Heater. Water dripping down the side of the tank could mean the pressure relief valve is stuck.
Irrigation System. Check the irrigation system for damage, especially after mowing your lawn. Schedule a free irrigation system evaluation if needed.
Soggy Spots. Soft, soggy, spots in your yard or uneven plant growth might be a sign of a leak in your underground water pipes.
Home Foundation. Standing water around the foundation could mean your underground pipes have become damaged.
Get additional resources on leak detection from Austin Water
Stay Safe — Indoors and Outside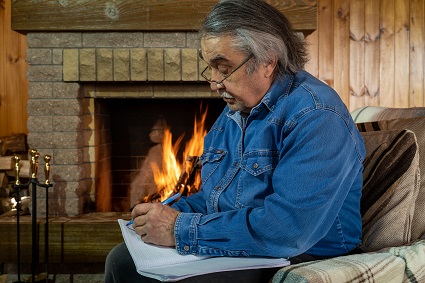 Winter weather in the Austin area can bring sunshine with cool temps one day and freezing rain or snow the next. In frosty conditions, remember to protect people, pets, and plants from the cold and drive safely on slick roads. Sign up for outage alerts and emergency alerts to remain informed during changing weather conditions.
Some simple precautions can help you stay safe in winter weather:
Tips for Safe Heating and Keeping Warm
Follow these winter weather safety tips to use caution with space heaters, heating pads and electric blankets to stay warm. Read product labels carefully and never leave them unattended while in use.
Heat your home safely. To avoid injury and illness, never heat your house with a gas oven or burn anything in a stove or a fireplace that is not vented. Do not burn paper in a fireplace.
Have your chimney or flue inspected every year if you plan to use your fireplace during winter weather. Consider these fireplace safety tips.
Install carbon monoxide detectors and smoke alarms to keep your household safer.
Use electric space heaters with automatic shut-off switches and non-glowing elements. Make sure to keep them away from any flammable materials, like curtains or blankets.
Keep heat sources, like space heaters, at least 3 feet away from drapes, furniture, or bedding. Never cover your space heater.
Never place a space heater on top of furniture or near water. Never leave children unattended near a space heater. Do not use extension cords with space heaters.
Conserve heat. Avoid unnecessarily opening doors or windows. Close off unneeded rooms. Stuff towels or rags in cracks under doors.
Make sure babies and older adults stay warm.
Bring pets and people indoors during extreme cold. If you cannot bring pets inside, provide adequate shelter to keep them warm and make sure they have access to unfrozen water.
Avoid alcohol and caffeinated drinks which cause bodies to lose heat faster.
Tips for Electrical Safety
Make sure your children know to stay away from electrical substations and never to climb a substation fence.
Do not attempt to climb utility poles or trees touching power lines. Also, never try to prune or trim trees touching power lines. Austin Energy can help you safely prune and trim trees around power lines.
Only use extension cords safe for outdoor use to power tools and toys when you're working or playing outside. Remember that extension cords are a temporary, and not permanent, solution for powering appliances. Use only when necessary.
Do not overload power strips or electrical outlets. Do not connect multiple power strips to each other.
Keep electrical appliances at least 10 feet away from pools or other bodies of water.
Make sure appliances like blenders, mixers, power tools or other appliances with moving parts are switched off before plugging them in.
Keep electronics away from the bathtub and shower, especially when plugged in. Phone chargers, hair dryers and similar items pose a risk near water.
Make sure lamps and light fixtures are unplugged or switched off before attempting to change a light bulb.
Never use silverware or other metal items to retrieve items from a plugged-in toaster.
Use outlet covers when small children are in the home.
Winter Weather Prep for Your Home
Weatherproof your home by insulating water lines that run along exterior walls, caulking and weatherstripping doors and windows, repairing roof leaks and cutting away branches that could fall on your home during a storm.
Keep an easy-to-read thermometer inside your home where you will see it frequently. This is especially important for older adults and infants more susceptible to health problems caused by cold.
Create an emergency kit with portable cell phone chargers, extra batteries, flashlights, blankets, windshield scrapers, battery-powered weather radios, extra water and non-perishable food, a first aid kit, road maps, booster cables, cat litter or sand to help tires get traction, waterproof matches and more.
Get your car ready with adequate air pressure in your tires, a full gas tank, windshield wiper fluid with a wintertime mixture, working exterior car lights and having the radiator system serviced and antifreeze level tested.
Pay attention to local weather forecasts whether you plan to be home or away and keep emergency supplies at home. Remember these tips to prepare for a winter storm.
If you must go outdoors, dress warmly and stay dry. Wear layers to help hold body heat and protect you from wind, rain, snow and other weather. Constant shivering is a sign that you need to go inside. Know the signs of frostbite and hypothermia.
Stay off the ice. Walking and driving on ice is extremely dangerous. Many injuries related to cold weather happen from falls on ice-covered sidewalks, steps, driveways, porches and roads, even for folks with great balance. Keep the area around your home as free of ice as possible using rock salt, sand or another chemical de-icing compound.
Know how to shut off the water supply to your home and keep the area clear of debris.
If you must travel across the city in the aftermath of severe weather, first consult the Austin Energy Outage Map to view the location and types of known electrical hazards.
Get to know your neighbors. Knowing who in your neighborhood may need help during extreme weather helps communities stay safer.
Watch for scams. Scammers target utility customers every day, but storms, holidays and emergencies turn into opportunities for scammers because they know you are distracted. Learn how to recognize a scam.
Prepare for a storm by signing up for emergency alerts with Warn Central Texas and downloading the Ready Central Texas app from the Apple App Store or Google Play.
Safety During Power Outages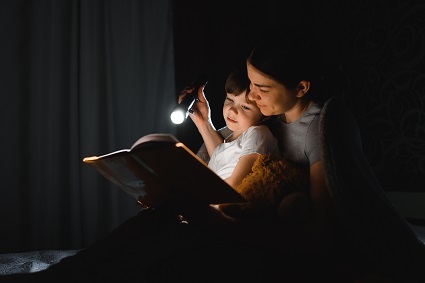 Power outages are the result of a variety of causes — anything from traffic accidents and wildlife interference, to severe winter weather. At Austin Energy, the safety of our crews and customers is our utmost concern.
Follow these tips to stay safe during power outages:
Call 9-1-1 if you have a medical emergency or your life is at risk during a power outage, especially if you are connected to medical equipment that needs power, such as dialysis or breathing machines. Do not wait for your power to be turned back on to seek help.
Report power outages and receive updates by text message. Text REGISTER to 287846 to get started. Austin Energy will send you proactive texts during outages to keep you informed as information becomes available.
Avoid downed power lines. Stay indoors if at all possible during a storm to avoid downed power lines. You must stay at least 35 feet away from any downed lines. If you believe there is a downed power line near your home or business, call 512-322-9100 to report it immediately.
Be aware that limbs, fences, hoses, playsets, and other structures near you can become energized by a downed power line.
If you must travel across the city in the aftermath of severe weather, first consult the Outage Map to view the location and types of known electrical hazards.
Use flashlights or battery-operated lanterns during an outage. Candles and kerosene lanterns are not recommended for lighting because of fire risks and fume hazards.
Keep refrigerator and freezer doors closed during an outage. Home refrigerators can keep food cold enough for a day or two without power, if the doors are kept closed. As a rule of thumb, 25 pounds of dry ice will keep a 10-cubic-foot freezer at the proper temperature (32 degrees F) for three to four days. When in doubt, throw it out. Read the FDA guidelines for keeping food safe during outages.
Turn off major appliances. When major appliances such as air conditioners and heat pumps are left on, they could overload electric lines once power is restored, causing a second outage. This is called cold load pick-up. Instead, leave just a few light switches on, including one or two exterior lights. Gas appliances may not work if the power is off because the equipment may require electricity for ignition or valve operation.
Do NOT attempt to assist or approach emergency and utility crews. It's dangerous work. Let the pros handle repairs and restoration.
To avoid carbon monoxide poisoning, never run a car or truck inside a garage attached to your house, even if you leave the garage door open.
Follow Austin Energy Facebook and Twitter accounts to stay updated on the latest conditions impacting power to your home and community.
Monitor ERCOT grid conditions and public notices for information impacting local and statewide electricity service.
Learn how to stay safe during an outage
Electric Generator Safety
Follow safety precautions with portable emergency generators. Portable generators may be used to provide limited electrical power during an outage, but take care to ensure that they do not pose a threat to you and your family.
Gas-powered generators pose serious fire and carbon monoxide threats. Never fuel or use a portable generator, charcoal grill, camp stove, or other gasoline- or charcoal-burning device inside your home, basement, place of business or garage, or outside less than 20 feet from a window, door, or vent.
Make sure the portable generator is equipped with a double-throw transfer switch that protects your equipment and prevents feedback on power lines.
Always operate generators according to the manufacturer's instructions and ensure installation meets proper electrical requirements.
Learn more about generator safety
Safety Around Water
During storm season, remember to turn around, don't drown. Watch for low-water crossings and local flooding when planning your commute.
If you are going out on a boat or another vessel, dress for the water, not the air. Even when the temperature outside is 60 to 70 degrees, the water temperature could be near freezing. Cold water presents different dangers and needs special safety attention.
Prepare a float plan so other people know your schedule on the water, whether you plan to fish, hunt, kayak or enjoy any other activity on the water.
Wear a Coast Guard-approved life jacket which fits properly while enjoying activities on the water. Read more tips from the Coast Guard to stay safe on the water in winter weather.
Teach children to ask permission to go near water.
Use physical barriers to prevent children from accessing any source of water.
Make sure children stay away from water hazards in your community such as garden ponds, creeks and streams, wells and cisterns, and other bodies of water.
Use safety locks on toilets and keep bathroom doors closed and toilet-bowl covers down when small children are in the home.
Never leave a young child unattended in a bathtub. Do not trust a child's life to another child or to aids that help a child sit upright in a tub.
Learn More
Assistance Programs
Rebates and Incentives
Safety and Preparedness
Date last reviewed or modified:
06/01/2023