Compliance Disclosure Documents for Your Properties
Austin Energy's Multifamily team routinely makes courtesy visits to Austin apartment communities. During these visits, they will provide information and answer questions related to our energy efficiency programs and services that will benefit managers, owners, and residents.
ECAD Compliance and Your Apartment Community
Austin City Code 6-7's Energy Conservation Audit and Disclosure (ECAD) ordinance applies to properties with five or more rental units that are over 10 years of age, are within the City limits, and are inside the Austin Energy service area.
In an effort to increase awareness of and compliance with the ordinance, Austin Energy team members will also deliver updated ECAD disclosure documents for each property.
Multifamily communities may leverage these documents to improve energy efficiency, which not only protects the environment, but also reduces resident turnover and increases the desirability of properties.
Your Personalized ECAD Energy Audit Disclosure Documents
The following documents will be provided as your proof of compliance with the ECAD Ordinance.
| | |
| --- | --- |
| | The Energy Audit Results Disclosure Notice shows areas of the property that have been audited and also identifies opportunities for cost-effective energy efficiency improvements. |
| | The Energy Guide, generated after the ECAD audit, provides an estimated average monthly energy cost, allowing both property owners and prospective residents to compare similar properties. |
| | Energy Audit Exemption certificates are displayed by properties which are less than 10 years old or have completed qualifying energy efficiency improvements. |
How to Display the Disclosure Documents
To comply with the ordinance, audit results must be disclosed to current and prospective residents:
§ 6-7-22 DISCLOSURE REQUIRED. The owner of a multifamily facility must post and provide to current and prospective tenants the results of the energy audit required under this article. The results must be on a form and in locations prescribed by rule. In addition, the owner must provide a copy of the required audit to the director not later than 30 days after the audit is complete.
Source: Austin City Code City Ordinance 20081106-047
The disclosure documents we provide should be placed throughout the common areas in your building,
such as:
Management office
Mailbox areas
Laundry rooms
Club rooms
Exercise rooms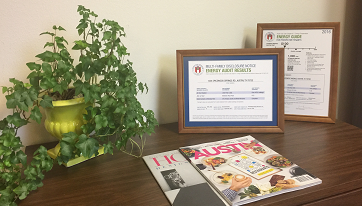 Replacement copies of disclosure documents are available upon request to the property owner, onsite manager or leasing agent.
Measuring Our Combined Success
The Austin City Code 6-7 Energy Conservation Audit and Disclosure (ECAD) ordinance was launched in 2009 with phased implementation in 2011 for multifamily communities.
To date, there are 850 multifamily communities in compliance – encompassing 6,292 buildings and 74.6 million square feet. That's a success rate of approximately 80%. The program goal is 100% compliance.
To meet this goal, Austin Energy will continue to increase awareness of energy efficiency through community outreach, education, and sponsorships. With your help, we can continue to make Austin the most livable city in the country.
Contact Us
If you have specific questions about ECAD disclosures or Austin Energy programs, or to schedule your visit from the Austin Energy Multifamily team, please call 512-482-5346.
Learn More
Date last reviewed or modified:
01/12/2022