Working Together to Help Our Neighbors in Need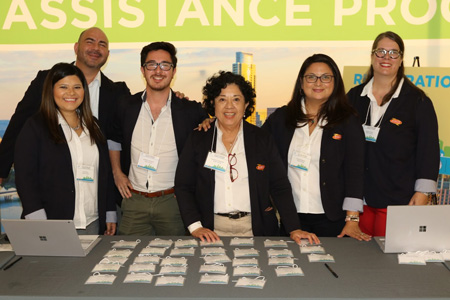 The annual Affordable Energy Summit keeps Austin Energy's community partners and direct service providers up-to-date on programs and changes that could impact low-income customers.
At this annual event, Austin Energy presents updates on our Customer Assistance Program, which provides payment assistance to our customers who face financial difficulties or serious medical problems. Topics include program benefits, residential rates, collections process, and bill options for customers.
By working directly with our community partners, Austin Energy can reach more customers by working with agencies that serve thousands of clients monthly. Community partners include non-profit organizations, faith-based groups, government agencies, advocacy groups, and low-income housing representatives.
2023 Affordable Energy Summit
The Affordable Energy Summit is set for Friday, November 17, 2023 at the University of Texas at Austin AT&T Conference Center. More details to come.
If you have questions, please email Community Connections for more information.
Previous Events At-A-Glance
2022 Affordable Energy Summit
Attendees: 143
Agencies Represented: 58
2019 Affordable Energy Summit
Attendees: 167
Agencies Represented: 72
Presentations
---
2018 Affordable Energy Summit
Attendees: 160
Agencies Represented: 72
Presentations
---
2017 Affordable Energy Summit
Attendees: 167
Agencies Represented: 65
Presentations
---
Community Partners
ADAPT of Texas
AIDS Services of Austin
American Achievement Corp.
Any Baby Can
Arc of the Capital Area
Ascend Center for Learning
Austin Community College
Austin Interfaith
Austin ISD
Austin Tenants' Council
Austin Travis County Integral Care
Austin Voices
Avance Austin
Bethany United Methodist Church
Blackland Community Development Corporation
Capital Area Food Bank of Texas
Capital IDEA
Capstone Real Estate Services
Caritas of Austin
Catholic Charities of Central Texas
Central Presbyterian Church
Child, Inc.
Christian Service Center
COA, Health and Human Services Department
David Chapel Missionary Baptist Church
Downtown Cluster of Congregations and Social Service Agencies
El Buen Samaritano Episcopal Mission
Ending Community Homelessness Coalition
Family Eldercare
Foundation Communities
Foundation for the Homeless
Front Steps, Inc.
Goodwill Industries of Central Texas
Greater Mt. Zion Church-Community Assistance & Referral Ministry
H.A.N.D.
Home of Hope
Hospice Austin
Housing Authority of the City of Austin
Ladies of Charity of Austin
Loaves and Fishes All Saints Episcopal church
Master's Hands No More Chains Ministries
Meals on Wheels and More
National MS Society
Neighborhood Service Unit
New Milestone Foundation Housing c/o Park Property Management
Paradise Oaks Apartments
Prak Property Management
Sacred Heart SVDP
SafePlace
Saint Louise House
Saint Mary Cathedral
Society of St. Vincent de Paul Diocesan Council of Austin
SouthPark Ranch Apartments
St. Albert Catholic Church SVDP
St. Austin Catholic Church
St. Ignatius/San Jose Food Pantry
St. John Neumann SVDP
St. Louis Catholic Church SVDP
St. Matthew's Episcopal Church
St. Paul's Catholic Church SVDP
St. Peters SVDP
Texas Department of State Health Services
Texas Gas Service
Texas RioGrande Legal Aid, Inc.
Texas ROSE
Texas VFW Foundation
The University of Texas at Austin, Student Emergency Services
The Wright House Wellness Center
Travis County Services f/t Deaf & Hard of Hearing
Travis County Health & Human Services & Veteran Services
Trinity Center
WBC Opportunities
Youth & Family Alliance dba LifeWorks
Learn More
Date last reviewed or modified:
08/16/2023