Alternative Renewable Energy Option for Residential Customers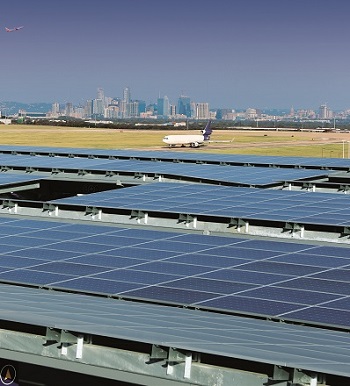 Austin Energy Community Solar Customers Shine
Interested in going solar but can't because you rent or your home is too shaded? When Austin Energy has available spaces in the Community Solar program, you can sign up to choose 100% locally-generated solar energy.
Austin Energy's Community Solar program provides residential customers access to locally generated solar energy — no installation required! When you enroll in Community Solar, Austin Energy invests in solar projects within the Austin community to meet 100% of your electricity needs.
As a Community Solar customer, you:
Local, Home-Grown Sunshine
Austin Energy's Community Solar program now has three project sites:
The Palmer Array (185 kW), located on the Palmer Events Center on Barton Springs Road, between South First and Lamar Boulevard.
La Loma community solar farm (2.6 MW) located northeast of Springdale Road and Airport Boulevard.
Austin Bergstrom International Airport (1.8 MW) located on the roof of the Blue Parking Garage.
Community Solar Availability
Austin Energy's popular Community Solar program is at capacity and not currently accepting new subscribers. You may request to be added to the waiting list at this time.
Community Solar Is Green-e® Energy Certified


Austin Energy's Community Solar program is Green-e Energy certified and meets the environmental and consumer-protection standards set forth by the nonprofit Center for Resource Solutions. Learn more at www.green-e.org.
How to Get on the Waiting List
Call 512-482-5346 or complete and submit the enrollment form below.

Austin Energy will enroll you in the Community Solar program when capacity becomes available and the Community Solar charge will appear on your bill during the next billing cycle.

Community Solar is available on a first-come, first-serve basis. If Community Solar subscription capacity runs out, customers will be placed on a waiting list and enrolled when more Community Solar becomes available.
Date last reviewed or modified:
09/20/2022