Incentives for Solar PV Systems Available
Installing solar on your commercial properties makes great business sense. The benefits range from reducing operating costs to demonstrating social responsibility. Austin Energy even provides incentives and solar bill credits to help reduce the cost.
Is Solar Right for Your Business?
Reduce your operating costs — Commercial solar customers receive monthly solar bill credits for the energy produced by their on-site energy system. Learn more about Austin Energy's Solar Bill Credits
Take advantage of tax benefits — You may apply the Investment Tax Credit (ITC) to eligible projects to make a substantial impact on the payback of your system. A taxpayer who claims the commercial ITC can typically also take advantage of accelerated depreciation (Modified Accelerated Cost-Recovery System, or MACRS) to reduce the overall cost of a PV installation.
Demonstrate social responsibility — Solar panels are a very visible way to demonstrate your commitment to sustainability. Customers are increasingly opting to spend money on products and services provided by companies that care about the environment.
Austin Energy Solar Incentives Help with Installation Costs
Austin Energy offers incentives to help reduce the cost of your solar energy system installation. Depending on the size of your system, you may be eligible to receive a one-time check or monthly bill credits.
Learn more about Austin Energy's Commercial Solar Incentives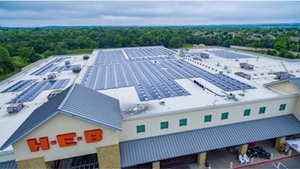 Austin Energy provides incentives to help your business invest in solar power.
Date last reviewed or modified:
10/08/2021