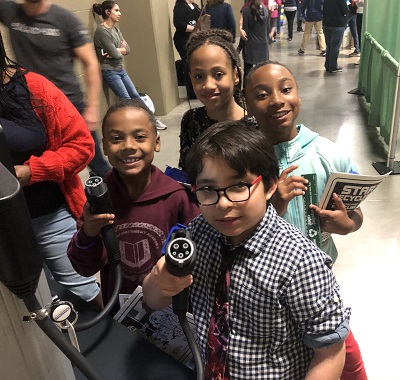 Austin Energy is working with local school districts to introduce the convenience and multiple benefits of electric vehicle (EV) charging. This initiative supports the advancement of electric vehicle science and technology as well as environmental responsibility. Students and teachers now have the opportunity to learn more about the role of electric vehicles in sustainability.
EVs for Schools offers:
EV charging stations for school staff, students, parents, and visitors.
Curriculum designed to meet Texas Essential Knowledge and Skills (TEKS) standards.
Affordable and accessible on-campus charging to increase EV awareness and adoption.
Program Overview
Austin Energy and Austin Independent School District (AISD) are partners in the EVs for Schools program, with support from ChargePoint and Smart Charge America. This is one of the first public school campus electric vehicle initiatives in Texas, with a focus on installing electric vehicle charging stations for use and study.
Following a successful pilot at four AISD schools, EVs for Schools lessons are now available at 122 schools in Central Texas with curriculum offered in both English and Spanish. To promote diversity, equity and inclusion in emerging technologies, the four pilot campuses were Title I schools.
Three engaging lessons that develop skills including project-based learning and design thinking methods are taught by specially trained teachers. Seven additional lessons from EcoRise's Sustainable Intelligence program provide complimentary instruction in energy, transportation and sustainability.
Features and Benefits
On-Campus Charging Stations — Participating schools each have a dual port electric vehicle charging station for use by staff, students, and visitors. Austin Energy takes care of the routine maintenance and operations on the charging stations.
Educational Living Lab — Over 6,850 students have experienced using the school charging station as a living lab for collecting data and measuring usage. Participating schools will receive a teacher kit and specialized training with STEM curriculum about electric vehicle, green energy, and sustainable mobility.
Charging Network Access— EV drivers can charge at level 2 school stations for $4.17/month through Austin Energy's Plug-In EVerywhere℠ program, which provides unlimited charging at over 1,000 local public charging ports.
Sustainable Charging — All Austin area charging stations are powered by 100% renewable Texas wind energy through Austin Energy's GreenChoice® program.
Virtual Reality Experience
As part of Austin Energy's EVs for Schools program, you can access an animated video version of a virtual reality educational tool. The video features a tour of Electric Drive — a real-life mobility showcase in Downtown Austin — where you can experience electric vehicle charging.
Take a video tour of Electric Drive
EVs are for EVeryone
EVs for Schools is part of Austin Energy's EVs are for EVeryone initiative. This work brings electric vehicle programs and support to all community members including low to moderate income groups. The goal is to create a future of mobility that is equitable, affordable, and accessible while helping the environment.
Interested? Austin Energy Can Help Lower Installation Costs
Austin Energy provides a rebate of up to $4,000 or 50% of the cost to install approved Level 2 (240V) charging stations and/or EV Level 1 (120V) outlets. The maximum rebate depends on the selected equipment and whether the station is in an existing or new parking area.
Check out Austin Energy's commercial charging stations rebate options
Get Started
Email Plug-In Austin for more information about electric vehicles, charging technology, and costs. We can help your school district find a licensed and experienced contractor.
Stay Plugged In
Date last reviewed or modified:
07/08/2022