Rebates Available to Install Charging Stations for your Residents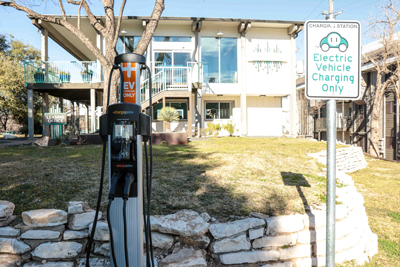 Austin Energy's rebates can help make installing electric vehicle (EV) charging stations at your property more affordable.
Benefits for Property Owners
Take advantage of incentives on EV charging stations.
Attract a growing number of EV drivers in Austin.
Position your property as a leader in EV innovation.
Get reimbursed for licensing renewal fees and electricity used during charging.
Earn an Austin Energy Green Building Innovation Point.
Rebates for EV Charging Stations
DC Fast (480V) stations — up to $15,000
Level 2 (240V) stations — up to $4,000
EV dedicated Level 1 (120V) outlets — up to $700
Rebate Overview
Austin Energy awards rebates to multifamily account holders or their authorized representatives.
Station hosts pay for hardware and installation.
The maximum rebate amount depends on the charging station model and power demand, building site, network compatibility, and Plug-In Austin Program participation. Other terms and conditions may apply.
Choose Your Rebate Option
Option 1 — Independent EV Charging Station Rebate
Choose this option if you plan to manage your own charging stations. Independent station owners can set their own energy pricing and can choose to run their stations on their own or partner with other third-party networks.
For this option, station owners pay for all third-party network fees incurred. Independent station owners can also elect to install non-communicating station(s) and/or set no energy pricing. There is a higher rebate incentive for OCPP (Open Charge Point Protocol) compliant stations.
The Independent EV Station Rebate may be the best choice for some EV charging scenarios like multifamily.
Independent EV Charging Station Rebate
Charging Station Type
Rebate Amount
Level 1 (L1)
Up to $700 per bank of L1
Level 2 (L2) and up
Up to $1,500 per OCPP-compliant station
Up to $1,200 per non-OCPP station
Check eligibility requirements for the Independent EV Charging Station Rebate for multifamily properties
Option 2 — Plug-In Austin Charging Station Rebate
The Plug-In Austin network offers hundreds of electric vehicle charging stations throughout the Austin area. Most Plug-In Austin charging stations are privately owned, though some are also owned by Austin Energy. Station hosts joining the Plug-in Austin network agree to let Austin Energy set station pricing. For this option, Austin Energy also pays for network renewal fees.
Multifamily Austin Energy account holders or their authorized representative are eligible for Plug-In Austin EV Charging Station Rebates if they install a ChargePoint network compatible station and join the Plug-In Austin network. The Plug-In Austin network allows subscribed drivers to charge unlimited for $4.17 per month at Level 2 stations.
Plug-In Austin Charging Station Rebate
Charging Station Type
Rebate Amount
Level 2 (L2)
Up to $4,000 per station at existing construction
Up to $2,500 per station at new construction
DC Fast
Up to $15,000 per station
Check eligibility requirements for the Plug-In Austin EV Charging Rebate for multifamily properties
Stay Plugged In
Date last reviewed or modified:
07/08/2022