Understanding Energy Storage
Making Solar Energy Available When the Sun Doesn't Shine
Energy storage may be the critical technology that will make widespread adoption of renewable energy possible and practical. Incorporating energy storage into a utility's roadmap allows for the flexible dispatch of energy, similar to that achieved with traditional resources for electricity generation.
Energy storage can also address reliability concerns such as voltage variability at the grid level, providing more reliability for customers.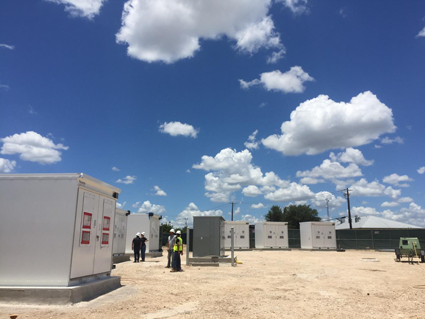 Storing Our Renewable Power Supply to Help Meet Demand
Energy storage improves the way we generate, deliver, and consume electricity. It helps during emergencies like power outages from storms, equipment failures, accidents or other unforeseen circumstances. The game-changing nature of energy storage is its ability to balance power supply and demand instantaneously — within milliseconds — which makes power networks more resilient, efficient and cleaner than ever before.
Energy storage in the form of a battery system greatly supports the integration of renewable energy and can also help cut emissions by reducing the load on fossil-fuel generation. In order to increase the value and adoption of solar energy, it needs to be available even when the sun isn't shining.
Generating electric power during peak periods is one of the most costly aspects of the electric grid. Using energy storage to make existing generation stretch further significantly contributes to our environmental goals and continues to put us on track for energy independence.
Safe, Proven Technology
The U.S. Department of Energy has taken an inventory of safety-related codes and standards for energy storage systems. Lithium-ion batteries are a safe and proven technology, used globally for the last 20 years by people all over the world. They are the principal energy source for cell phones, laptops, other portable electronics, and most plug-in electric vehicles.
Distributed Energy Storage in the Austin Community
The Austin SHINES project includes pairing Energy Storage Systems (ESS) on the residential, commercial and grid-scale levels.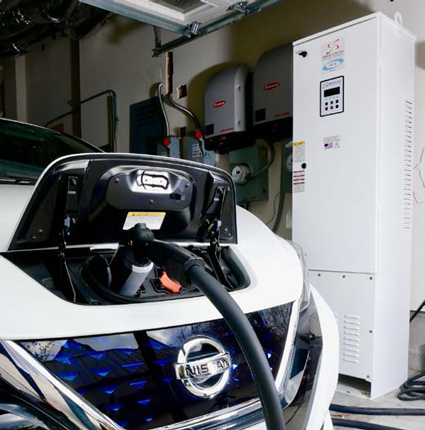 One ESS is connected to a community solar farm in the Airport/Springdale area of East Austin.
The second ESS is located in the Mueller Development, which has over 250 existing residences and businesses with rooftop solar, more than 60 electric vehicle owners, smart appliances throughout homes, and energy-efficient design for all buildings.
Residential and commercial properties also have individual Energy Storage Systems connected to their solar arrays as part of the Austin SHINES project.
Vehicle-to-Grid
Energy research center Pecan Street and Austin Energy have launched a vehicle-to-grid (V2G) research and testing center, which will work on hardware and software innovations to enable connectivity between an electric vehicle and the home. V2G describes the electricity flowing to and from plug-in electric vehicles and the grid to help offset peak demand and provide greater flexibility in accessing energy resources.
Learn More
Date last reviewed or modified:
09/07/2021