Selling or Buying a home? Make sure it's ECAD compliant
August 8, 2022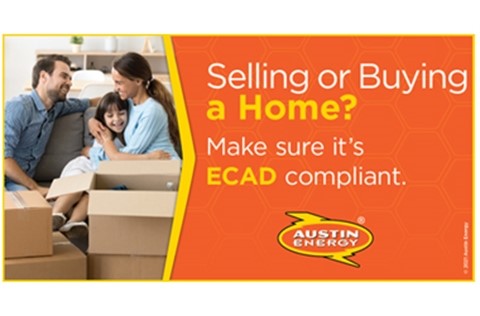 If you're selling or buying a home in the Austin area, make sure it's compliant with the City's Energy Conservation Audit and Disclosure (ECAD) ordinance. The ECAD ordinance requires home sellers to disclose comprehensive home energy details to buyers during a real estate transaction. ECAD helps provide a full picture of a home's energy efficiency, and it helps residents make an informed decision about making home energy improvements.
Austin Energy has launched a new self-service ECAD status portal that gives homebuyers, sellers and real estate professionals easy access to ECAD compliance information. Available at austinenergy.com/go/ecadstatus, this new tool provides visitors with a searchable, online database to check the status of a home's compliance with the ECAD ordinance.
"Austin Energy is committed to helping residents manage their energy usage," said Director of Energy Efficiency Services Sarah Chatterjee. "Performing an ECAD audit at the point of sale helps to both promote the homes energy efficiency and provides perspective buyers insight. Our new self-serve status portal makes it easy for sellers and buyers to check a property's status and navigate the process."
To learn more about the ECAD ordinance, visit austinenergy.com/go/ecad or call 512-482-5346.