Enhanced changes coming to City of Austin Utilities website
January 21, 2021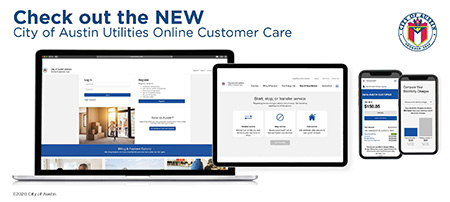 Using the City of Austin Utilities Online Customer Care website is now easier than ever! Beginning Monday, Jan. 25, coautilities.com customers will find an updated interface with improved functionality and enhanced self-service options.
The website has been optimized for a better user experience on any device, at any time. Upon logging in, customers can:
View a dashboard that makes it easy to see your account status
Sign up for billing and payment options like Paperless Billing, Autopay and Budget Billing
Make payments and see your account balance update in real-time
Start, stop, or transfer your utility services online with ease
View usage info for each of the utility services that you receive — electric, water, and wastewater
Register to receive alerts and notifications
Manage multiple accounts from a single login
The built-in energy management tools allow residential customers to see current and historical electric usage in both dollars and kilowatt hours. To dig deeper, customers can take the Home Energy Analysis quiz, where they can receive personalized tips and compare usage with similar homes in their neighborhood.
Customers can log in with existing username and password at coautilities.com, or easily register for an online account if they haven't used the website before.
In order to make these upgrades, coautilities.com will be offline from approximately 1 p.m. Saturday, Jan. 23 to 10 p.m. Sunday, Jan. 24. Customers are encouraged to call Customer Care at 512-494-9400 for service needs.
The website enhancements are part of the City of Austin Utilities' commitment to improve the customer experience and provide easier access to real-time account and usage information.