Austin Energy customers can get up to $155 in rebates and incentives with the purchase of a smart thermostat
November 24, 2021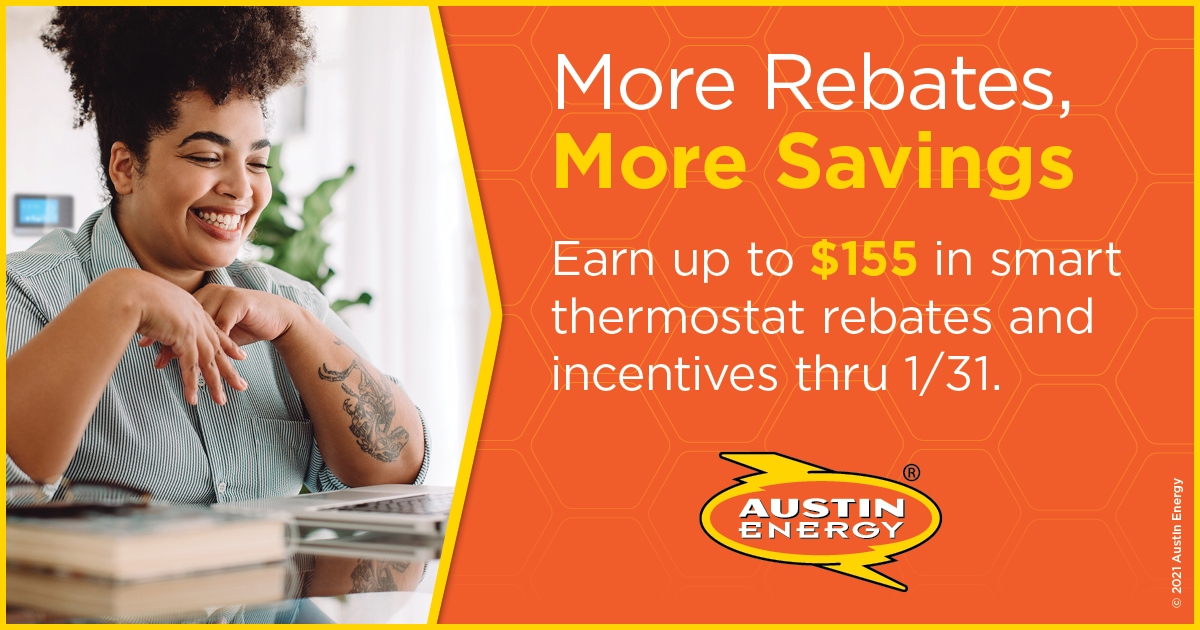 Austin Energy wants to help customers save energy. With more people working from home and traveling less, smart thermostats make a perfect holiday purchase for anyone looking to save energy and save money. Just in time for holiday shopping deals, Austin Energy customers can get up to $155 in rebates and incentives when they purchase and install an eligible smart thermostat and sign up for the Power PartnerSM program.
Here's how it works:
Purchase and install an eligible smart thermostat. Save your receipt and apply for a $25 rebate within 60 days of purchase.
To receive an additional $130 bill credit, connect your thermostat to Wi-Fi and create your account with the thermostat manufacturer using your computer or smartphone. Then enroll in Austin Energy's Power Partner program between today and January 31, 2022.
If a customer already has an eligible smart thermostat, they can still take advantage of the $130 bill credit. The limited time $130 bill credit is an increase from the normal $85. Simply follow Power Partner program enrollment steps above in #2. For a list of eligible thermostats, full program details and rebate applications, visit austinenergy.com/go/powerpartner.
About the Power PartnerSM Program
Power Partner events occur on days when electricity will be in high demand or when there is an emergency. On these days, Austin Energy will issue Power Partner events that briefly adjust your thermostat settings by 2-4 degrees to help manage high energy use throughout the community. As a Power Partner, your participation in these events can increase your energy savings without significantly impacting comfort.
Power Partner events will typically:
Occur between 3-6 p.m. during the summer (June 1 – Sept. 30).
Adjust your thermostat 2 to 4 degrees which may include pre-cooling prior to a summer event to maintain your comfort level through the event.
Occur on weekdays and not on holidays.
Occur no more than three times per week and no more than 25 times during the year.
You can override Power Partner events at any time by simply adjusting the temperature at your thermostat or on the thermostat app. Customers who wish to permanently discontinue their participation in Power Partner events may do so by submitting a Power Partner Opt Out request.
Note: We do not recommend participating in this offering if someone in your home or office is experiencing serious health problems.