Citywide collaboration brings new transportation access and training to vulnerable Austin communities
September 20, 2021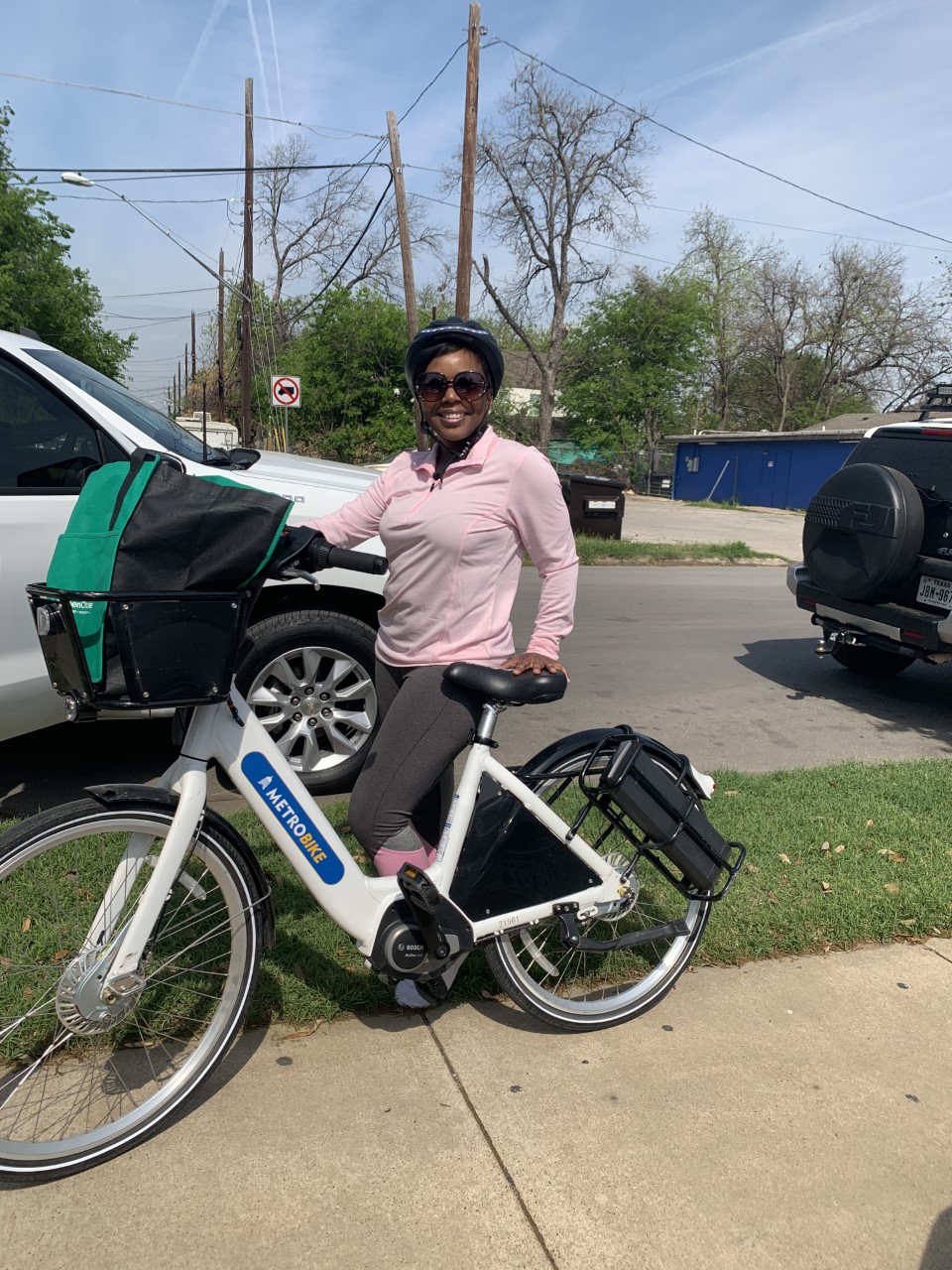 Today, a collaboration of six Austin organizations launched an initiative to introduce electric bicycles to residents of the city's affordable and low-income housing.
Austin Energy developed an education and training program that highlights the benefits of choosing an electric bike as a transportation solution. Partnering with the Austin Transportation Department, the Housing Authority of the City of Austin (HACA), Bicycle Share of Austin, Capital Metro and BikeTexas, Austin Energy is helping to bring Capital Metro's MetroBike electric bikeshare program to HACA residents. The program includes onsite MetroBike stations, free safety helmets, in-person trainings from BikeTexas (when Covid conditions allow), a safety and usage video campaign by Austin Energy and Capital Metro, and MetroBike subscriptions from the Austin Transportation Department. The first 40 HACA residents to complete the training will be eligible for a free MetroBike subscription.
"MetroBike is a great transportation option for those who don't have, or can't afford a car," said Catherine Crago, head of strategic initiatives, HACA. "Families tell us that when they can confidently use affordable, reliable multimodal transportation, family members can access greater education and workforce opportunities."
"The Austin Transportation Department understands the importance of centering equity in all transportation decisions," said Director Rob Spillar. "We're excited about this partnership to expand our MetroBike system to HACA residents and educate our community members. Expanding the program allows for us to add another transportation resource for those community members who may not have many options."
Many higher- and living-wage jobs are far enough from HACA properties that residents would need to own a vehicle to get there. For many Austin families, vehicle ownership represents up to 60 percent of their yearly income. Having more transportation options can empower people to seek opportunities to climb the workplace ladder.
"We know that buses and trains can't take folks every mile of their trip," said Chad Ballentine, Capital Metro vice president of Demand Response and Innovative Mobility. "Making bikeshare available to more people makes it easier for them to get to work, school and wherever they need to go: a first-and-last-mile solution."
Supported by a training series of three video shorts, the program encourages digital literacy by providing access to digitally powered transportation. The videos, filmed in and around Austin, focus on HACA MetroBike station locations and provide safety messaging and how to use the MetroBike system. Two of the three videos will also be used to promote MetroBike to the public.
"A massive paradigm shift in technology and transportation is happening across the world and right here in Austin," said Amy Atchley, Austin Energy senior lead EV equity program. "As emerging technologies evolve, we want to make sure that no communities are left behind. Prioritizing equitable access to new, sustainable mobility options leads to greater employment, education opportunities, and positive health benefits."
The MetroBike network does not operate on a traditional bike rental model but is designed to be used as a station-to-station bikeshare program. There are currently four MetroBike stations at or near several HACA residential locations, with plans to add more:
3rd and Trinity (Convention Center and Lakeside Apartments)
4th and Chicon (Chalmers Court)
2nd and Pedernales (Santa Rita Courts)
Rosewood and Chicon (between Salina Apartments and Rosewood Courts)
The HACA MetroBike training initiative launches on Oct. 5 in conjunction with Austin Energy for National Night Out, and Capital Metro will kick off MetroBike promotions prior to ACL.