Get up to $155 in rebates and incentives with the purchase of a smart thermostat
November 23, 2020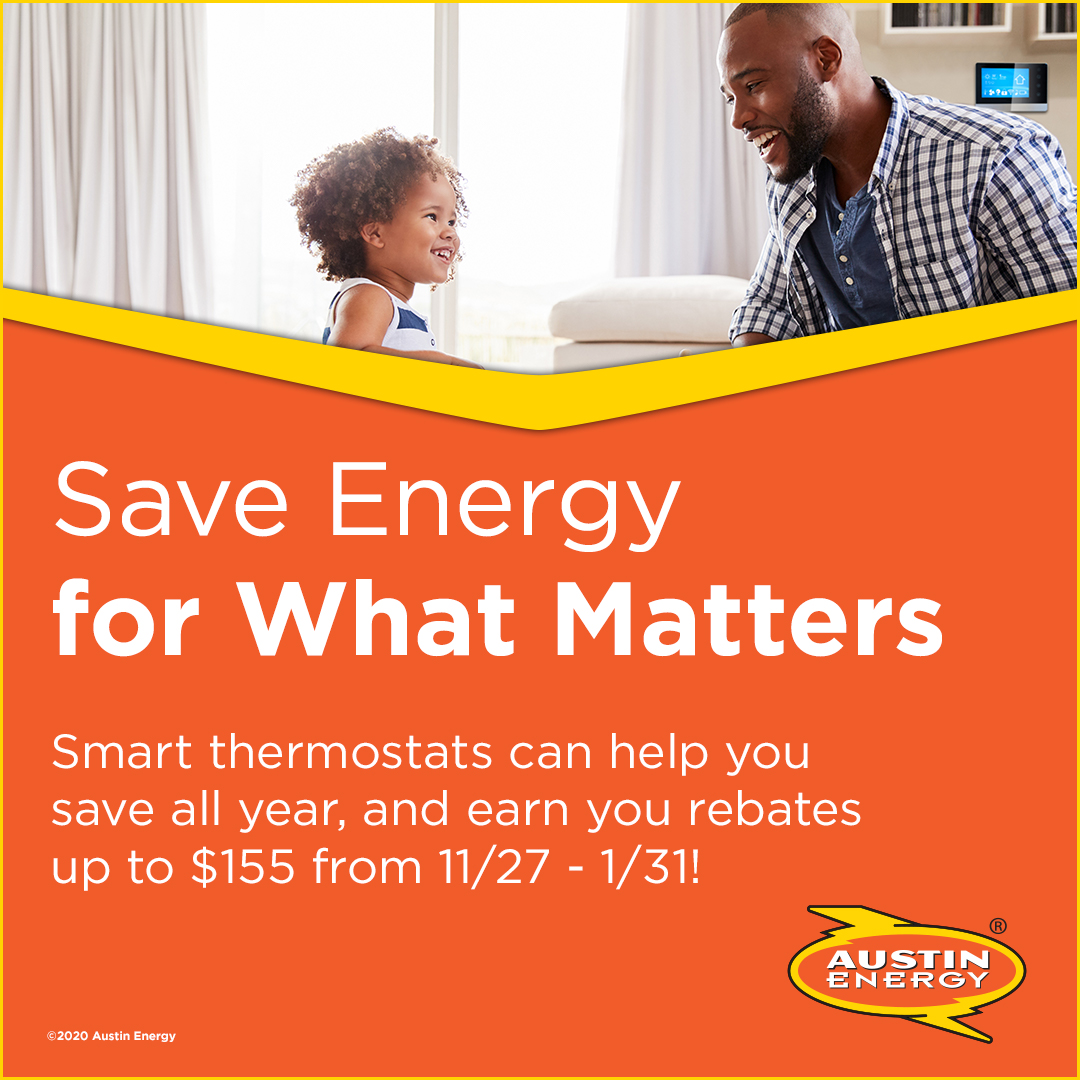 Austin Energy wants to help customers save energy for what matters. With more people working from home and traveling less, smart thermostats make a perfect holiday purchase for anyone looking to save energy and save money. Just in time for holiday shopping deals, Austin Energy customers can get up to $155 in rebates and incentives when they purchase and install an eligible smart thermostat and sign up for the Power PartnerSM program.

Here's how it works:
Purchase and install an eligible smart thermostat. Save your receipt and apply for a $25 rebate within 60 days of purchase.
To receive an additional $130 incentive, connect your thermostat to Wi-Fi and create your account with the thermostat manufacturer using your computer or smartphone. Then enroll in Austin Energy's Power Partner Program between November 27, 2020 and January 31, 2021.
If customers already have an eligible smart thermostat, they can still take advantage of the $130 incentive. The limited $130 incentive is an increase from the normal $85. Simply follow Power Partner program enrollment steps above in #2.

For a list of eligible thermostats, full program details, and rebate applications, visit austinenergy.com/go/powerpartner.
About the Power Partner Program:
To help manage energy use when demand is at its highest, Austin Energy will briefly adjust the setting on participants' thermostats by two to four degrees. This reduces demand on the power grid when the energy and cost savings are needed the most. Power Partner adjustments occur between June 1 and September 30, only on weekdays (never on weekends or holidays), between 3 - 6 p.m., and last no more than two hours. There are no more than 25 Power Partner events per year. Customers can opt out of an individual Power Partner event by simply adjusting their thermostat — either at the wall or through their thermostat app. The Power Partner program benefits our entire region by preventing rotating power outages, reducing the need to acquire additional power generation, and keeping overall energy costs as low as possible for everyone.