Register for outage alerts and be prepared for possible severe weather
April 3, 2020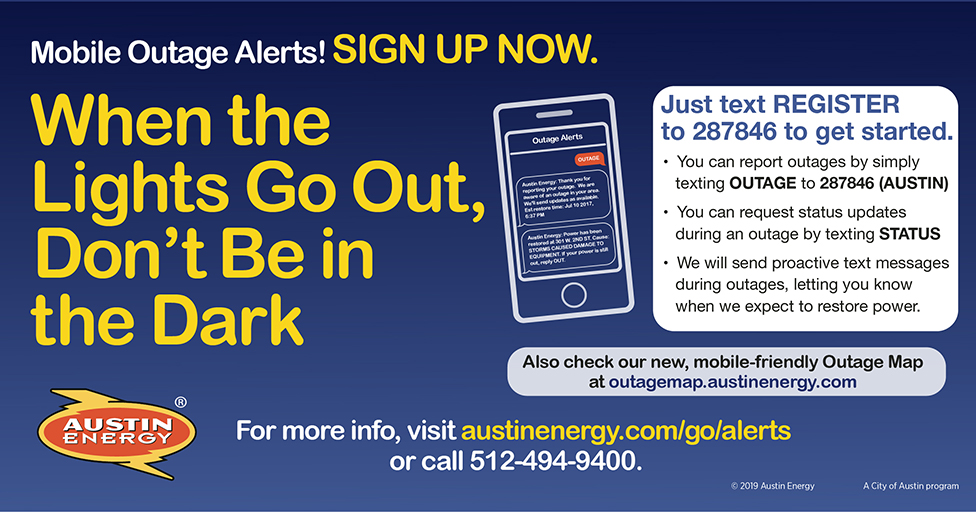 In advance of spring storms, Austin Energy customers are urged to sign up for Outage Alerts in order to quickly and easily report outages and receive outage alert information using a mobile phone. Nearly 71,000 customers have signed up to receive the outage alerts since Austin Energy launched the service in 2017.

Friday's storms could become severe, with large hail and damaging wind gusts, according to the National Weather Service. Showers and storms will extend into next week.

Austin Energy, the City of Austin's electric utility, is prepared and has crews on standby in the event of power outages. Troubleshooters and vegetation management crews are fully staffed, with others on notice that if needed, could be called in to assist with power restoration.

Even as Austinites "Stay Home, Stay Safe," Austin Energy is committed to making sure the community is powered and has safe and reliable power.

With customers spending more time at home, Austin Energy wants to remind everyone to keep their cell phones charged, as well as any portable power banks, in case an outage does occur.

If an outage does occur, customers should keep the refrigerator and freezer doors closed as much as possible to maintain the cold temperature. The FDA says the refrigerator will keep food cold for about four hours if it is unopened. A full freezer will keep the temperature for approximately 48 hours (24 hours if it is half full), if the door remains closed.

For more information about ways to prepare before a power outage, see Be Prepared.

Updated outage information can be found at https://outagemap.austinenergy.com.
Safety Reminders:
If customers see crews in the field, they're reminded to maintain social distancing and give our field crews at least six feet of distance. In the past few weeks, Austin Energy crews have experienced some customers not practicing social distancing. Austin Energy has adjusted our interactions to make sure everyone stays safe, while still providing exceptional customer service.
Additionally, customers are reminded to stay away from downed power lines. Downed lines could be energized and considered dangerous. If you see downed power line, call 3-1-1 to report it. More information on downed power lines.