Austin Energy Regional Science Festival highlights best and brightest
February 19, 2020
Who
Austin Science Education Foundation and Austin Energy
What
The 64th Annual Austin Energy Regional Science Festival, one of the largest city-sponsored science fairs in the country. Austin Energy has sponsored the fest in some capacity for more than two decades and became its title sponsor in 2003. The AERSF covers 12 counties and 23 school districts and is one of the few regional fairs that include elementary school students. This year's Elementary Division Fair is made possible by Dell Technologies' anchor sponsorship.
When
Feb. 19-22, 2020
Where
Palmer Events Center, 900 Barton Springs Road
More
The science festival is divided into two segments. The first two days highlight middle school and high school projects, which are entered 17 categories. Winning Junior/Senior division projects advance to the Texas Science and Engineering Fair in College Station March 27-28. Best of Fair Best of Fair Senior Division projects advance directly to the Regeneron International Science and Engineering Fair (ISEF) May 10-15 in Anaheim, California. Winning projects also will receive close to 40 special awards and scholarships. The second two days are for the elementary school competition. More than 3,000 students will display approximately 1,800 projects in grades 3 through 6.

Several area companies helped sponsor this year's Austin Energy Regional Science Festival. The major sponsors are Dell Technologies (Anchor Sponsor), Synopsis and 3M (Gold Level Sponsors) and Austin Energy (Title Sponsor.)

About the 2019 AERSF Best of Fair Winner, Jack Delli-Santi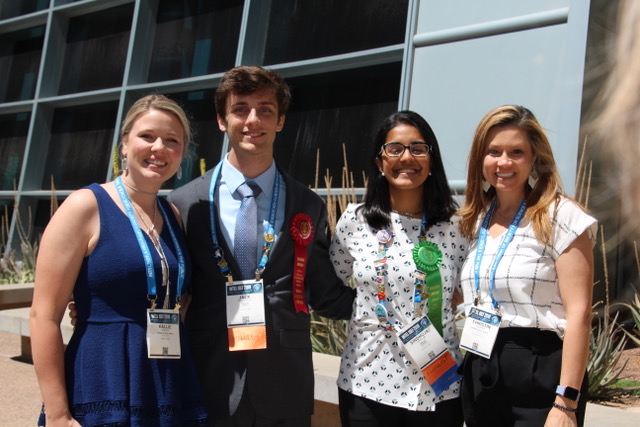 Left to Right: Lake Travis High School teacher Kallie Nichols, Lake Travis High School graduate Jack Delli-Santi, Westwood High School student Sindhuja Uppuluri, and Westwood High School teacher Christin Angirasa.
Former Austin Energy Regional Science Fest participant Jack Delli-Santi, now a freshman at the University of Miami, studying Marine Science and Biology, had never heard about science fest until last year, his senior year at Lake Travis High School.
"I was looking to build my resume and thought I would try to get involved with the Texas Parks and Wildlife Department," Jack said. "I asked my biology teacher (Mrs. Kallie Nichols) if she knew anyone I could contact and she immediately pulled me under her wing…it was our school's first ever science fair entry."
Jack tested a commonly available food additive, carboxymethyl cellulose, which is used as a thickening agent on the invasive Zebra Mussel. Zebra Mussels must siphon and filter large quantities of water to survive, Jack's clever idea was to stop up their siphons with a food thickening agent, essentially suffocating the mussels. This may lead to a future treatment that can safely bring the invasive species under control.
In a year when Zebra Mussels were making headlines in Austin, Jack's project earned much acclaim. He took home Best of Fair at AERSF, earned second place in Texas for the Stockholm Junior Water Prize, 2019 Texas State Champion of life sciences, Conservationist Award from the Texas Master Naturalist Society Genius Olympiad, Second division at the 2019 Intel International Science and Engineering Fair.
Jack plans to continue his project throughout college and said that the Fest has helped him with many aspects of life.
"…In addition to teaching me the skills of presentation, science fest has secured my lifelong passion for STEAM," he said. "My involvement has led to internship opportunities, connections with other scientists around the country, bragging rights at my college, and even being honored at the Texas Capitol, where I had a resolution passed in my name by my state representative."
Jack recognizes that his decision in high school to enter AERSF has helped guide his path.
"Science fest has shaped the rest of my life towards a scientific field and given me the confidence needed to excel in such a competitive area of study," he said. "I only began this project because I wanted to build my resume but it spiraled into more than I could possibly imagine."
Jack offered this advice to younger students entering the Science Fest, "If you have a question, look around online and see if you can find an answer. If no one has an answer, take that idea and run with it; science fair projects do not have to be complicated, or complex, you just need to be able to explain its importance."