Austin Energy commits to electrifying transportation with 24 new fast chargers
October 8, 2020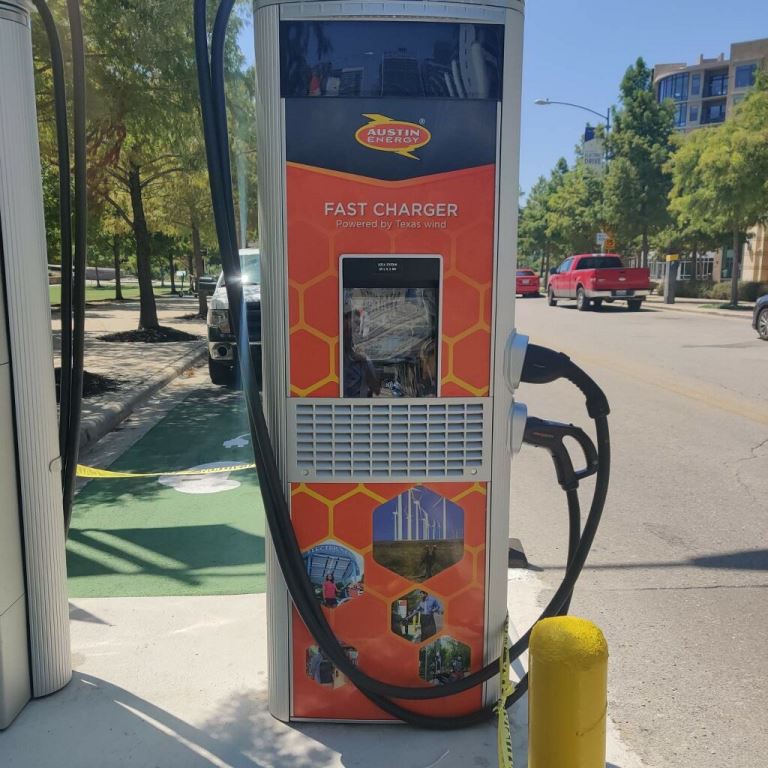 Electric vehicle (EV) drivers will now be able to spend less time charging their vehicle thanks to Austin Energy's installation of 24 new fast chargers across Austin. On average, an EV can get a full charge in approximately 30 minutes using a fast charger. The new fast chargers are partially funded by an $825,366 grant through the Texas Commission on Environmental Quality (TCEQ) Alternative Fueling Facilities Program.
Over the past two years, Austin Energy's Electric Vehicles and Emerging Technologies team worked to identify locations and logistics for the charging sites. The grant allowed for charging stations at six sites, each with four stations.
These are the locations of the new fast chargers:
Plaza Saltillo, 901 E. 5th St., Austin 78701
Austin High School, 2001 W. Cesar Chavez, Austin 78703
Mueller neighborhood, 1801 E. 51st St., Austin 78723
Electric Drive (downtown Austin), 811 Electric Drive, Austin 78703
Village at Westlake, 701 S. Capital of Texas Hwy, Austin 78746
All of the stations, with the exception of the Village at Westlake locations, are now operational. The charging station at the Village at Westlake is scheduled to go live in November. A sixth location is awaiting final approval before it's constructed.
Austin Energy also teamed up with Travis County to install a fast charger at the parking garage at 700 Lavaca St. earlier this year. Several more fast chargers not funded through the TCEQ grant also came online this summer, including locations at Austin-Bergstrom International Airport's cell phone lot and the Austin Film Society. A map of all the locations can be found here.
"EV drivers are really pleased with the look and the convenience of the new stations," Shems Duval, Austin Energy's Product Development Coordinator said. "With the rapidly increasing adoption of electric vehicles, it's important to provide the supporting infrastructure and highlight the benefits and convenience of driving electric."
Fast chargers (which are level 3 and higher) fit the needs of drivers who need to charge up quickly and get going. To do so, drivers can expect to pay $0.21 per minute from plug-in to plug-out. Higher level fast charging can get an EV back on the road in as little as 30 minutes, with drivers spending less than $10 to charge up.
The new rate, which starts on Nov. 1, will help instill good charging habits and will help encourage other networks to provide affordable fast charging infrastructure in Austin.
This fee will be separate from Austin Energy's current Plug-in EVerywhere subscription plan, which covers 1,000-plus level 2 chargers around Austin. Plug-In EVerywhere will continue to give EV drivers unlimited Level 2 charging for $4.17 per month for members and $2 per hour for non-members at Austin Energy-operated charging stations throughout town.
Drivers who use the level 2 chargers will see upgrades at nearly 20 stations this fall. Austin Energy is replacing CT2000 charging stations to the new CT4000 model so customers will have access to the best EV charging options.
Currently, more than 3,000 drivers are enrolled in the plan. As of August, there are nearly 12,000 electric vehicles registered in Travis and Williamson Counties.
Charging stations located in pay-to-park areas are still subject to payment for parking, even while charging. Drivers must follow all posted regulations at each station.
In Austin Energy's commitment to getting drivers to say #Goodbye2Gas, the city-owned utility also launched an EV Buyer's Guide to help educate drivers about the various EV options available to them.
Tips for Fast Charging
Not every EV is capable of fast charging. If you think you'll need a fast charge from time to time, make sure to ask about this option when buying your EV. Do not overuse fast charging.
Using a fast charger all the time could reduce your battery's efficiency and lifespan, so it is best to use one only when you need it.
According to ChargePoint (which manufactures the chargers we use), it is best to unplug when your battery reaches about 80 percent charge when using a fast charger.