Austin Energy Regional Science Festival
Scientists Empowering Future Scientists
Perhaps because Austin Energy is a technical organization with more than its share of scientists, engineers, and technicians, we enjoy empowering the scientists of tomorrow by hosting the Austin Energy Regional Science Festival each February for thousands of students from across our region.
As primary sponsor of the Science Festival since the 21st Century began, Austin Energy commits more than financial resources. Working with the Austin Science Education Foundation and other sponsors, we host the event from start to finish, beginning with teacher orientations in the fall and ending with accompanying winners from our fair to statewide and international competitions.
Students who participate learn the foundations of experimentation, presentation and pursuing knowledge — valuable skills as students today, and as leaders of tomorrow.
We know that science matters and that people who pursue their interest in science and engineering will solve problems for our community. Secretly, some of us hope that some young people will be inspired to continue their studies and come back to join us in the effort to make electricity reliable, safe, affordable, and responsible to a sustainable environment.
Every year, we're amazed by the innovative scientific work the students in our region present at Science Fest and what they continue to do beyond the festival.
The Largest City-Sponsored Science Fair in America
Austin held its first science festival in 1956. We've sponsored Science Fest since 1999 and have been responsible for conducting the Science Fest since 2004.
Every February, almost 3,000 students from 23 school districts in 12 surrounding counties present projects at Science Fest. Students from public, private, and homeschools display more than 1,800 projects that fit into 17 scientific categories, ranging from Animal Sciences to Robotics and Intelligent Machines.
This year the festival will be at the Palmer Events Center, located at 900 Barton Springs Road in Austin, Texas, 78704. Registration and submission deadline was January 26, 2023. The junior and senior division awards ceremony will be February 23, 2023 and the elementary division awards ceremony will be February 25, 2023.
Learn more about Austin Energy Regional Science Festival
Strengthening the Central Texas Economy
We're proud of our role as title sponsor. It's one way we stay customer driven and community focused.
We like to think we're not only investing in our kid's education, but our local economy. Central Texas is growing as a tech center, and as we grow, our need for innovative minds grows.
"The Austin economy attracts the top minds from around the world," said Austin Energy General Manager Jackie Sargent. "These students reflect both the ingenuity and the diversity that makes our community a destination for the world's premiere scientific talent."
So tech companies and newcomers to our area can know their publicly-owned electric utility does more than keep the lights on: we care about our community, the future of our economy, and our world.
Learn More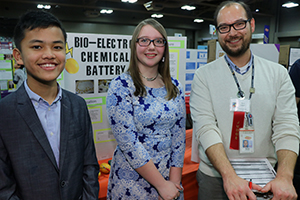 Austin Energy Regional Science Festival is one of our largest community events that relies on the participation of teachers, students, parents, and volunteers.

Want to register your students or get more information for your child? Want to volunteer to be a judge?
Date last reviewed or modified:
09/13/2021