Working to Ensure Fair and Equitable Rates Along with Financial Stability
Austin Energy is a municipally owned electric utility that provides Customer Driven and Community Focused services built on financial stability. This structure allows the community to have a voice in the future of the utility, access the value of public power and ensure the benefits of the utility stay within the community to directly affect the City's growing future.
Austin Energy's Proposed Base Rate Changes
On April 18, Austin Energy published its proposal to change its base rates to address a growing gap between revenues and costs.
Read the full proposal: Austin Energy's 2022 base rate recommendations
New: Impartial Hearing Examiner Recommendation (pdf)
Austin Energy needs a $48 million base revenue increase, based on Fiscal Year 2021 financials. This means Austin Energy's base rates and rate structures are not meeting the costs of serving the community. In particular, current residential base rates do not appropriately recover costs.
This imbalance is not related to Winter Storm Uri. Austin Energy did not need to raise rates because of the storm.
To bring base rate financials back into balance, Austin Energy is proposing to:
Adjust for higher operation and maintenance costs.
Update an outdated residential base rate structure, which does not accurately recover the costs to serve customers.
Better recover fixed costs by relying less on energy sales.
Bring customers closer to what it costs to serve them, establishing more equitable charges as the community continues to grow.
Base rate changes will ensure Austin Energy's financial stability, allowing the utility to continue delivering affordable, reliable electric service to the community.
If approved, Austin Energy's proposed base rate changes translate to an overall base rate increase of 7.6%.
2022 Base Rate Review
Austin Energy policy requires a regular review of the utility's costs and revenues. From this recently completed financial analysis, Austin Energy proposed updates to its base electric rates and launched a base rate review process.
Watch this video to learn about Austin Energy's base rate review:
Ver video en español: Revisión de la tarifa base de Austin Energy (video)
The base rate review will include only those costs that make up Austin Energy's base rates, such as financial obligations and utility operation and maintenance expenses. It does not include a review of pass-through costs such as power supply costs, regulatory costs which help operate the statewide transmission system, or energy efficiency costs.
The 2022 base rate review is a fair and transparent process with several guiding principles:
Establish equitable and fair rates that support Austin Energy's financial stability
Ensure stable bills and simple rates
Protect vulnerable customers
Preserve energy efficiency and conservation
Approved changes will affect customer bills starting in 2023.
2022 Base Rate Review Process
The base rate review process is transparent and open to all Austin Energy customers. It has included Participation in the Formal Impartial Hearing Examiner process as well as opportunities to attend community meetings and submit feedback.
Here's how members of the public have been involved:
Community Meetings — Austin Energy hosted community meetings to discuss the base rate review in online and in-person settings ahead of the May 18 deadline for customers to formally participate. You can still find the presentation from these meetings and fill out a feedback form on Speak Up Austin by July 1, 2022.
Formal Impartial Hearing Examiner (IHE) Process — To take part in the formal Impartial Hearing Examiner process as Participants, customers needed to submit a request to Participate by Wednesday, May 18, 2022. Get details on the formal process
As part of the process still in progress, an Independent Consumer Advocate, who has specialized knowledge and expertise in utility rates, will represent the interests of residential and small business customers.
2022 Base Rate Review Timeline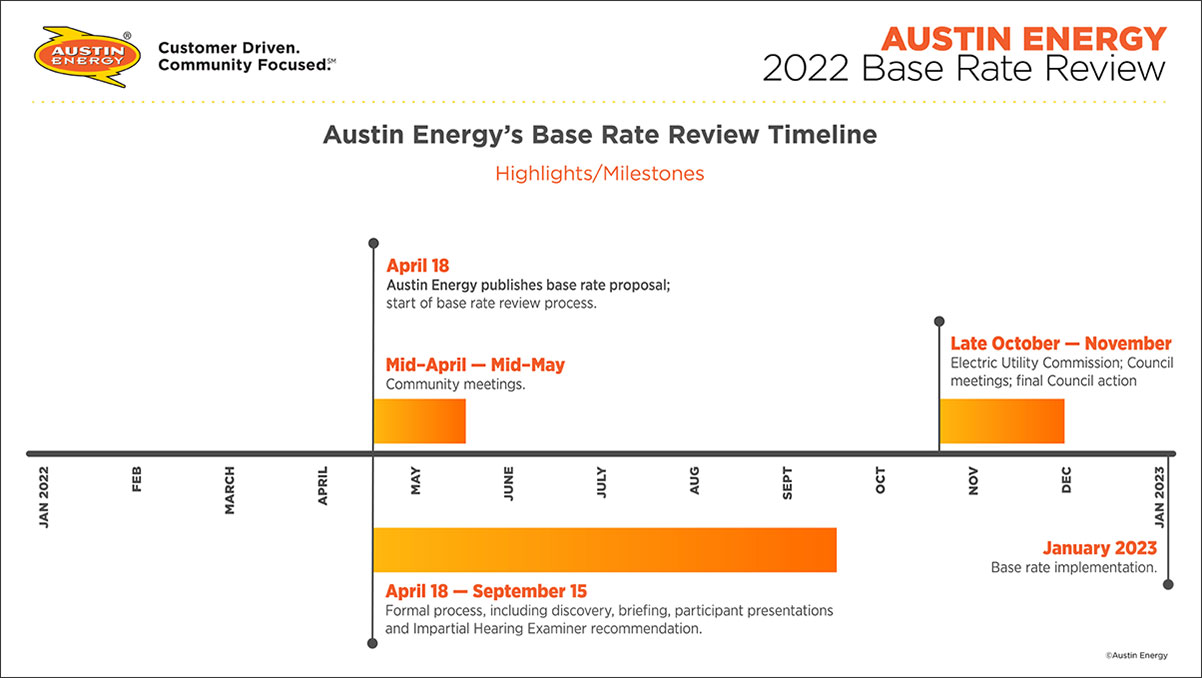 Key Dates
April 18 — Austin Energy published base rate proposal; start of base rate review process
Mid-April - Mid-May — Community meetings
April 18 - September 15 — Formal process, including discovery, briefing, participant presentations and Impartial Hearing Examiner recommendation
Late October - November — Electric Utility Commission meeting; City Council meetings; final City Council action
January 2023 — Base rate implementation
Date last reviewed or modified:
09/19/2022