What Our Customers Are Saying
Jae Koh – Austin Energy Customer
Unlimited Charging is Hard to Beat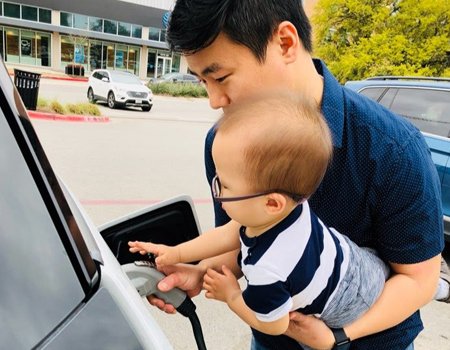 "I participate in Austin Energy's Plug-in Everywhere Network. It's easy to sign up, easy to use, and the chargers are everywhere. It's hard to beat unlimited charging for a fixed cost of $4.17 a month!"
"I did a ton of research before buying my EV and ultimately chose it for the long term affordability, easy maintenance/reliability, and for its clean and quite ride. Its quirky style combined with unmatchable performance, EVs are so much fun to drive and has changed how I feel about my commute."
"Plus, it's so satisfying to hear the "click" when you plug an EV to a charger. By contrast, I don't think I am ever happy when I am at gas station watching the price meter go up as I fuel up the regular ICE car."
StEVie – the EV-Loving T-Rex
Reducing Global Carbon Emissions One EV At a Time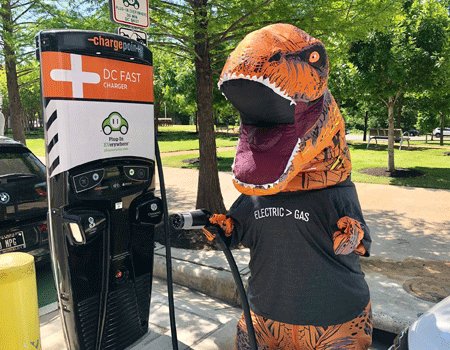 As Austin Energy's Senior Prehistoric Scientist, StEVie the EV-Loving T-Rex brings over 65 million years of field expertise as an energy thought leader.
A ground-breaking scientist, StEVie studies transportation and energy sources. StEVie is driven to accelerate the electrification of transportation in support of reducing global carbon emissions while promoting energy efficiency.
"The electric vehicle EVolution is here! Easy to use and easy to maintain, electric vehicles are fun to drive and can save you money."
Stay Plugged In
Date last reviewed or modified:
09/18/2019