Take a Ride on an Electrified Pedicab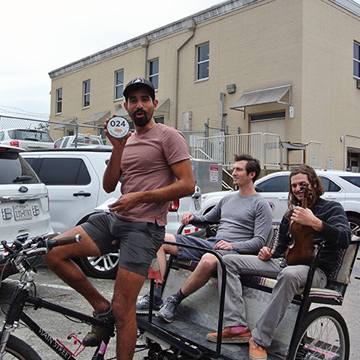 The City of Austin is launching a pilot program so you can take a ride in electric-assist pedicabs. These pedicabs have been outfitted with motors which help the drivers pedal up steep hills and travel longer distances.
Frequently Asked Questions
Why Is This Program Unique?
According to Austin Transportation Department's research, the pedicab electrification pilot is one of the first in the United States. Community feedback is essential to determine whether more electric-assist pedicabs will travel on Austin roads.
Why is Austin Energy Involved?
Austin Energy is a key partner in Austin's Smart Mobility Roadmap and is committed to sustainable energy solutions, emerging technology innovation and shared, electric mobility options for our growing city. Austin Energy supports the electrification of alternative transportation such as electric bikes, scooters, mopeds, and motorcycles with the E-Ride Rebate.
Where Do Residents and Visitors Find Electric-Assist Pedicabs?
The City currently allows licensed pedicabs to operate in an area between 38th 1/2 street and Oltorf Street to the north and south, and Mopac Boulevard and Pleasant Valley Road on the west and east. You are more likely to see them during popular event seasons in Austin.
Who is Managing This Pilot? How Can I Provide Feedback?
Austin Transportation Department is partnering with Austin Energy to support the electric-assist pedicab pilot. Each electric assist pedicab will be inspected to meet safety and operational standards biannually. You may notice a special plate indicating you are choosing an electric-assist pedicab.
Stay Plugged In
Date last reviewed or modified:
11/25/2019