System Overview & Project Benefits
Developing Technologies for a Large-Scale Renewable Energy Platform
Residential solar photovoltaic (PV) systems produce sufficient electricity for customers only when the sun is shining. On cloudy days and at night, the energy generated from solar PV systems is low or nonexistent.
As the number and size of solar installations added to the grid continue to increase, it becomes increasingly important to convert intermittent solar power into a steady, more integrated and reliable source.
The ability to store surplus solar energy that is generated on bright, sunny days delivers maximum value to customers and to the utility. Energy storage also delivers other values, such as peak load reduction, congestion management, and voltage support on our distribution system.
The Technologies Behind SHINES
Four main technology solutions make up the Austin SHINES system: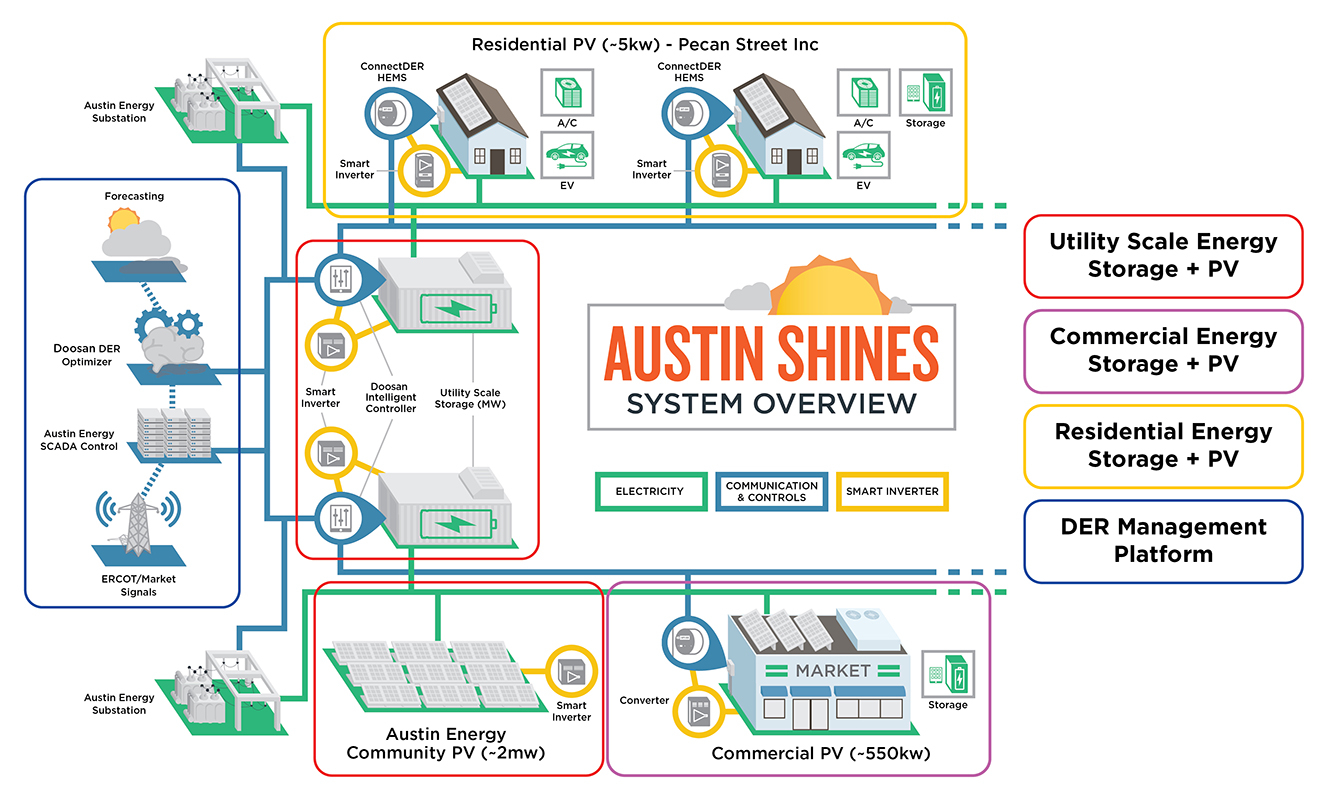 Utility Scale Energy Storage + Solar PV
There are two, grid-scale Energy Storage Systems (ESS):
The La Loma Community Solar Project allows City of Austin residents to utilize solar energy if they do not have access to install their own solar modules.
The Mueller Development has one of the largest concentrations of solar installations in Austin with around 2MW generated in the area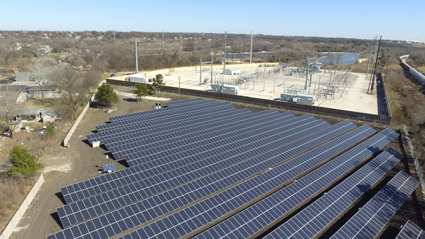 Commercial Energy Storage + Solar PV
ESS is paired directly with rooftop solar at commercial businesses to cut demand charges and provides other value to customers and Austin Energy.
Residential Energy Storage + Solar PV
ESS is paired directly with rooftop solar at residences in the Mueller neighborhood.
Distributed Energy Resource Optimizer™ (DERO™)
DERO is an optimization platform for monitoring and controlling Distributed Energy Resources including solar PV, energy storage, and smart inverters to maximize the value and economic returns of these utility assets.
Project Benefits
Sustainability

Austin SHINES moves Austin Energy closer to meeting the City of Austin's vision of achieving 100% carbon-free energy generation by 2035. This vision includes specific goals for local solar and energy storage.

The Austin SHINES project analyzes and determines best practices for integrating renewable energy and energy storage on the electric grid at utility, commercial and residential scales.
The ability to store energy means we can harness higher levels of renewable solar power like never before, and make it available to the electric grid regardless of available sunshine.
Energy storage can mitigate intermittency and increase reliability and integration of renewable energy.

Technology Development

The Austin SHINES project integrates solar power, energy storage, smart inverters, forecasting tools, market signals, advanced communications and a software optimization platform.

Energy storage improves the way we generate, deliver, and consume electricity; it helps during emergencies like power outages from storms, equipment failures, accidents or other unforeseen circumstances.

The key benefit of energy storage is its ability to balance power supply and demand instantaneously — within milliseconds — which makes power networks more resilient, efficient and cleaner than ever before.

Economics

Using integrated technologies to help collect and place distributed solar energy on the grid helps lower the cost of electricity.

By operating these assets in an integrated system, the Austin SHINES solution will create and demonstrate Distributed Energy Resource (DER) deployment and control methodologies for renewable energy sources.

The objective is to develop a scalable distribution model — one that can be adapted to multiple utility territories that may have different system and resource needs or market structures.

The outcomes from the Austin SHINES project will help The U.S. Department of Energy and its stakeholders learn how to lower the overall System-Levelized Cost of Energy (LCOE) for solar energy and storage. These lessons learned can then be applied to similar technologies nationwide
Learn More
Date last reviewed or modified:
09/07/2021