Winter Storm Restoration and Recovery Work
Crews Working Hard to Bring Power Back On
Austin Energy restored power to all remaining customers who are able to safely receive power following the recent ice storm. More than 99.9% of customers have power. Austin Energy is working directly with a small number of customers who remain without power because of damage on customer-owned equipment that needs a licensed electrician to repair.
Austin Energy has mobilized a reconnect team to work directly with customers to help them through the reconnect process. That will allow Austin Energy to safely reconnect power to their property. Customers with questions about reconnection or who want to check on their reconnect status should call 512-322-9100 or see the information below.
Outages currently on the outage map are not directly related to the storm. Additionally, future outages could be the result of several factors, including vehicle crashes, animal interference, construction incidents or high winds bringing down already compromised tree limbs.
Austin Energy has crews on standby 24/7 to respond immediately to outages. Customers can quickly and easily report outages and receive outage status updates using a mobile device. To register for Outage Alerts, text REG to 287846 or visit austinenergy.com/go/alerts to learn more.
What if I need electrical repairs?
You may need emergency electrical repairs to customer-owned equipment before Austin Energy can restore your electricity. Follow these steps:
Find a licensed electrician to make the repairs.

You can find licensed electricians here.
We encourage you to get multiple bids for the needed work. This will help you compare costs and make the best decision for your situation.

Once you have an electrician, they will work with Austin Energy to disconnect damaged services before any repair work begins.

Your safety is our priority, and no electrical repair work should begin until your service has been disconnected.
You do not need a permit to start work on emergency repairs. If your equipment needs to be rebuilt or repaired, you will need a permit after the damaged service is fixed.

Once repairs are made, your electrician should contact 512-974-2030 for electrical inspections.
With the inspection complete, Austin Energy clears the service request so it can be assigned to a field crew. Crews will restore power as quickly as possible.
If you still don't have power and can see that the service drop is connected and that the meter is installed, please check your breakers and reset as necessary.
If you have questions about this process or reconnection, please call 512-322-9100. Get more information on emergency permits.
How can I get assistance from the state?
The State of Texas disaster declaration means assistance will become available to people and communities with property damage. Report damage through the Individual State of Texas Assessment Tool Damage Survey and include as much detail as possible.
How can I get help with insurance claims?
If your property was damaged and you need your outage history to file an insurance claim, submit your request or call 512-494-9400. Contact the Texas Department of Insurance if you need other assistance with insurance claims. Austin Energy is not able to reimburse for loss of food, refrigerators or freezers. Check to see if your renters or homeowners insurance covers those items.
Where can I find emergency shelter?
For individuals and families without electricity who are unable to secure alternative accommodations, call 3-1-1 or 512-974-2000 to request overnight lodging. The City of Austin emergency shelter has sleeping cots, shower facilities, food/water, pet sheltering and charging stations.
The City of Austin is working with community partners and volunteers to meet requests. After requesting, residents should expect a call from City staff between 7 a.m. and 7 p.m. with information on next steps. The emergency shelter will remain open until all power is restored in the Austin Energy service area.
---
Previous Updates
The safety of our crews and our customers is paramount.
This work is hazardous and requires concentration. Please do not approach the crews to ensure you stay a safe distance away from power lines. If crews feel an interaction is unsafe, they will stop work and resume when it is safe to do so. Slow down when you drive by to keep the crews working near the roads safe.
Why is power restoration taking so long?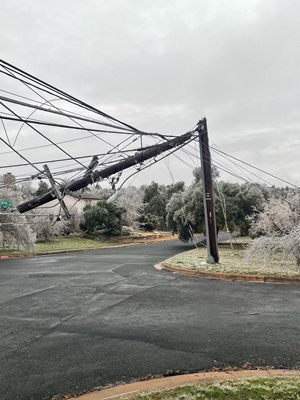 Most of the outages from this ice storm are very complex and take time to repair. The extensive ice accumulation on electric equipment and tree branches caused electrical distribution lines and nearby vegetation to sag, break, or come into contact with one another. When broken equipment is buried under piles of tree debris, this kind of damage is complex to repair. These complex repairs are required all over the city.
Small outages can sometimes take more effort to restore than big outages. Sometimes the only difference is how many customers we can get back online. A two-hour repair could restore power to 1,000 customers, or 10 customers, because of where the outage is on the circuit.
The crews on scene must locate and assess the cause of the outage and communicate with other crews and the control center. Once the right crew is there with the right equipment, they need time to make extensive, repetitive, and methodical repairs that require careful safety measures and expert skill.
For example, when a telephone pole snaps under the weight of ice and the force of falling tree limbs, crews have to establish a safe perimeter, remove the pole, make it safe, set a new pole, install new cross arms, and transfer the remaining equipment over to the new pole. Depending on how much equipment was loaded on the pole, this one instance could be a full day's work for a crew.
What are the crews dealing with?
Multiple hazards with each outage: Severe, prolonged ice storms like this cause complicated repairs. A power line might need 10 different fixes to get it back online and might take multiple days to repair.
Weakened trees and branches: Some trees and branches are still weak. After our crews restore power, compromised vegetation sometimes gives way, causing a new outage.
Obstacles reaching the issue: Some repairs are in areas that are hard for our crews to reach. Large tree limbs could be in the way of a repair truck, or the ground is saturated, hindering access. In one instance, vegetation management crews had to clear a path so crews could take their trucks half a mile into the woods just to reach an outage.
Circuits overloading after coming back on: Because many electronics were on before the outage, they are ready to draw power as soon as it returns. This causes the circuits to work too hard when the power comes back on and can overload the distribution equipment.

Our crews are prepared for these challenges — it just takes time for them to do their work safely.
Why don't I see a crew near my property when the outage map says a crew has been assigned, or that a crew is on location or en route?
Some customers have received a message that a crew is assigned to their outage or that a crew is on location or en route. This message does not mean you will see that crew. The source and resolution of your outage might be miles away.
Why did an Austin Energy truck leave my neighborhood before my power was restored?
It may be that multiple crews are working on different aspects of the problem. For example, repairs may be required at different locations. Smaller crews may leave without restoring power if the problem is so large that more workers are needed to fix the issue. Austin Energy then assigns a larger crew to fix the issue. You may also see a crew leaving because they already checked the power lines for problems and now need to move to a different part of the lines to inspect before restoring power.
What can I do?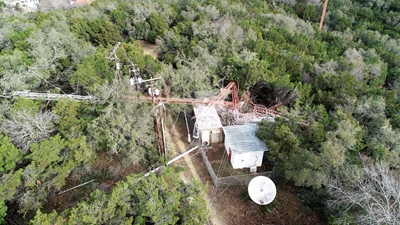 Report any visible hazards on a power line to 512-322-9100. Never touch a downed power line or a tree limb on a downed power line. Assume downed power lines are energized and stay away from them. Do not try to clear trees from lines yourself.
Stay alert to changing weather conditions, especially since vulnerable trees and branches can still fall. Be careful walking under trees. Avoid parking near or under branches that might give way and damage your car or cause personal injury. Avoid leaving children and pets unsupervised in and around trees as this next round of weather comes through our area. When possible, avoid driving in stormy conditions.
Crew members from Austin Energy, Renegade, CenterPoint Energy, Bird Electric, MP Technologies, and Tempest Energy may knock on your door asking to access Austin Energy equipment. Please work with them to allow access.
Report your outage. If your power comes back on then goes off again, contact us to report your outage, especially if you see your neighbors have power, but you don't. If that's the case, you may have a nested outage — more than one issue leading to your power loss.
Please remember to slow down and move over for any utility crews working to restore power and remove debris from power lines.
If your power is not on yet, please unplug/turn off appliances, electronics, thermostats, pool pumps, pool heaters and vehicle chargers left on before the outage to prevent overloading the circuits.
Stay Informed
Date last reviewed or modified:
02/08/2023