City Leading Recovery from 'One of the Most Widespread Ice Storms to Hit Austin'
February 2, 2023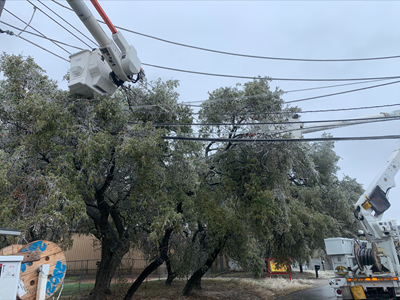 Austin Energy crews are in the field working as safely and quickly as possible to restore power from icy conditions causing falling trees and downed power lines.
The utility has more than 100 crews in service, including several from neighboring utilities that have responded to a request for mutual aid. More crews are expected to arrive from Houston later today.
Because of the forecast of rising temperatures, Austin Energy is expecting to be wrapping up major restoration efforts by Friday evening.
However, as crews continue restoration efforts, melting ice and springing tree limbs that have thawed will pose additional challenges as they work through these dangerous conditions.
The extended outages have been caused by ice weighing down on tree limbs, power lines, and utility poles.
"We are experiencing one of the most widespread ice storms to hit Austin and certainly one of the worst weather-related outages caused by ice accumulation," said Jackie Sargent, General Manager of Austin Energy. "This has been a very frustrating situation for customers without power, and I want you to know that we feel your frustration. We appreciate the community's patience as our crews work to safely restore power."
Despite restoring power to more than 113,000 customers in the last day, Austin Energy was seeing additional ice and tree limbs knock out power again, sometimes on the same circuit crews had just restored. Since the storm began, approximately 265,000 customers have be affected by an outage.
"It's been a challenging and frustrating three days for our area. We feel the trauma of going through yet another winter storm where so many of us are without power. But we've been making steady progress and will continue to do all we can to restore power to everyone," said Austin Mayor Kirk Watson. "Thanks to everyone who is working through these treacherous conditions."
"Our staff is doing everything they can to ensure emergency response and energy crews face fewer obstacles as they respond to your calls and needs," said Travis County Judge Andy Brown.
"I want to first acknowledge the stress and frustration that our entire community is experiencing through this historic freeze," said Austin City Manager Spencer Cronk. "I want to also assure you that hundreds of City and County and community staff have been working through these days and nights, and we'll continue to do so to address the multitude of issues we are facing and quickly address this ever-evolving situation."
For updates on emergency information and City operations visit: http://AustinTexas.gov/Alerts.
Information for Residents
What do I do with a fallen power line?
People should never touch a downed power line or a tree limb making contact with a downed power line, and should assume downed power lines are energized and stay away from them. Residents can call 512-322-9100 to report a downed powerline.
When power is restored, circuits can become overloaded because of lights, electronics and thermostats left on prior to the outage. This is called cold load pickup and can cause a second outage.
Customers currently without power can help avoid cold load pickup by:
Turning off their thermostats.
Turning off or unplugging any fixtures or appliances.
Only leaving on one light to indicate when the power is back on.
What do I do with fallen tree branches on my property?
Icy branches are heavier than you think. They could also be connected to power lines if you can't see them. Be careful. Depending on the situation, it may be safer to wait until ice on the branches thaw before you begin moving them. Once that occurs and you can prepare them for collection, call 3-1-1 or 512-974-2000 to request a collection of down tree limbs due to the severe winter weather. Austin Resource Recovery (ARR) crews will assess and collect them as soon as possible. Have the limbs at the curb ready for collection. Small branches and yard trimmings can be placed in the green compost cart, lawn and leaf bags or a reusable container and set out on the next scheduled collection day.
How do I report trees or debris blocking the street or sidewalk?
Call 3-1-1 or 512-974-2000 to report trees that have fallen in the public right-of-way, including sidewalks and streets. Crews will respond as quickly as possible. For safety reasons, do not attempt to remove large debris or fallen trees from these public areas.
When will my trash get picked up?
Limited collections resume Thursday. Carts, bulk, and brush items should be left at the curb to allow crews to catch up over the next several days. Collections will continue into the weekend, and normal operations will resume on Monday. The Recycle and Reuse Drop-off Center and public brush drop-off at Hornsby Bend Biosolids Management Plant remain closed Thurs., Feb. 2.
If power won't be restored for me until Friday night, what should I do to find a warm place or somewhere to charge my phone?
Cold Weather Shelter has been activated ahead of time, for Thursday and Friday 2/2/23 – 2/3/23.  Registration is taking place at One Texas Center (505 Barton Springs Rd) 5:00 PM – 8:00 PM.
The following Warming Centers will open from 9 a.m. to 5 p.m. today (2/2)
Little Walnut Creek Branch Library, 835 W. Rundberg Ln, Austin, TX 78758  
Terrazas Branch Library, 1105 E Cesar Chavez St, Austin, TX 78702 
Turner Roberts, 7201 Colony Loop Dr., Austin, TX 78724
Central Library, 710 W Cesar Chavez, Austin, TX 78701
Are roads safe to travel?
The last report we have from National Weather Service and Public Works are that road conditions are improving and travel will be safer today than the previous two days. Drivers should still avoid any bridges or overpasses for now as icy conditions are still present. There are also reports of some signals and lights not working due to power outages, and downed trees and debris in roadways. Less-traveled country or county roads may also still have icy conditions. Drivers should still proceed with caution if traveling today. As temperatures continue to rise, more routes will be accessible and travel will be safer. The National Weather Service is promoting the use of http://drivetexas.org/ to check roadways if you must travel but it is discouraged if possible.