Mothers' Milk Bank at Austin Goes Solar: Saves 80 Baby Bottles Worth of Energy per Day
May 11, 2023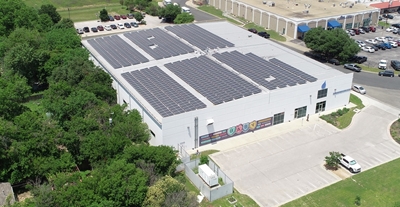 On the cusp of its 25th birthday and just ahead of Mother's Day, the Mothers' Milk Bank at Austin (MMBA) has something else to celebrate: lower electricity bills thanks to its new rooftop solar array.

The nearly 30,000 square foot facility is powered by rooftop solar made possible in partnership with Freedom Solar and generous rebates from Austin Energy and the City of Austin, which saves the MMBA the equivalent of 80 baby bottles worth of milk per day (2,394 bottles of milk per month).

"Protecting the environment and using renewable energy is in our best interests, because we want nature to give us what we need," said Kim Updegrove, MMBA's executive director for the last two decades. "It makes the most sense to use our resources for families in need and use the sun to provide the energy we need to save babies and serve families."

The solar installation reduces operating costs for the building, which houses walk-in freezers, community meeting space and a research lab.

"Austin Energy is proud to support local nonprofits, which are the heart of the communities we serve," said Tim Harvey, Austin Energy customer renewable solutions manager. "As part of our solar incentive program to reduce financial barriers to rooftop solar installations, we've helped nonprofits install a full megawatt of solar, enough to power 130 homes. Austin Energy is excited to continue to work together to build the socially and environmentally sustainable electric system of the future."

The city's electric utility offers multiple solar education and incentive programs for homes, business and more. More information can be found at AustinEnergy.com/go/Solar.

"Austin Energy has worked with MMBA for years and we're delighted with the launch of the new solar array," said Richard Génecé, Austin Energy vice president of customer energy solutions. "Saving money on electricity is always a good thing, especially when it translates into such life-saving work in our city."

Access drone video and photos of the MMBA solar array here.

Project Design Details:
656 solar panels
Total System Size: 269 kW
Estimated Value of Solar Bill Credits: Average Monthly Savings of $2,900 or roughly 98% of electricity costs
Incentives
$268,960 up-front incentive from Austin Energy at $1.00/Watt installed
9.91 cents/kWh Solar Energy Production Credit from Austin Energy
About Mothers' Milk Bank at Austin
The Mothers' Milk Bank at Austin is a nonprofit organization whose mission is to save babies' lives by providing pasteurized donor human milk, primarily to premature and ill infants. Women who are lactating can donate milk to The Mothers' Milk Bank at Austin regardless of where they live. In 2022, the milk bank received donations from 1,100 women and pasteurized and dispensed 850,000 ounces of donor human milk. Prospective donors across the U.S. may call toll-free 1-877-813-6455. Learn more at www.milkbank.org.