City of Austin Utilities Participates in 8th Annual Utility Scam Awareness Day
November 15, 2023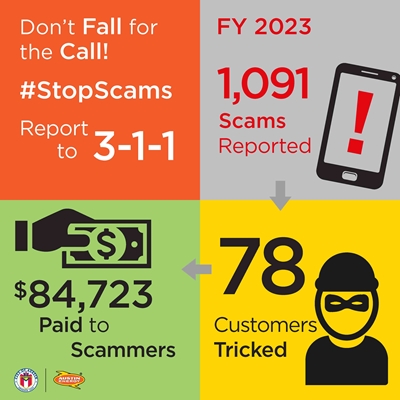 City of Austin Utilities joins Utilities United Against Scams (UUAS) this week to support International Fraud Awareness Week and recognize the eighth annual Utility Scam Awareness Day on Wednesday, November 15. Utility Scam Awareness Day is an advocacy and awareness campaign focused on educating customers about, and exposing, scammer tactics.
In recent years, utilities have seen increased reports of their customers being contacted by scammers who pose as utility workers in an attempt to access their financial information or to obtain immediate payment by threatening service interruptions. These are known as utility impostor scams. The theme of this year's campaign is "Screen the Search," which reflects the rise in utility impostor scams through digital methods, including search engine-related scams.
Digital scam tactics that customers should be aware of include:
Sponsored ads on search engines that lead to an identical—but fake—utility bill payment page.
QR codes that scammers falsely claim link to a utility payment page.
Texts from a scammer claiming to be a utility representative, with a link to an impostor payment page.
In Fiscal Year 2023, 1,091 City of Austin customers reported receiving calls from utility scammers. Unfortunately, 78 of those customers were tricked into paying more than $84,000.
"It's vitally important that we continue to communicate with our customers and ensure they are aware of scam activity," said Jennifer Floyd, City of Austin Utilities Director of Customer Care Services/Utility Contact Center. "As with scammers in other industries like car warranties, bank accounts, taxes and social security fraud, scammers in the utility industry continue to evolve. They use different tactics to engage with our customers but always include the underlying premise of scaring customers with the threat of immediate disconnection."
As a reminder, City of Austin Utilities does not call residential customers with cut-off deadlines. (Note: Commercial customers may receive a courtesy call two days prior to scheduled cut off for non-payment.) We will never ask for credit card or wire transfer information over the phone or ask customers to make payments with a pre-paid debit card, gift card, any form of cryptocurrency. While some customers do pay in cash, the City will never demand immediate payment in person with cash, gift card or Bitcoin.
If a City of Austin customer receives a phone call threatening to interrupt service, demand immediate payment, or requesting credit card or bank account information, hang up and dial 3-1-1 or 512-974-2000 and report the incident immediately. Anyone who has received such a call or email and is uncertain of his or her account status can log onto their account at coautilities.com or call the Utilities Customer Contact Center at 512-494-9400.
UUAS, a consortium of more than 150 U.S. and Canadian electric, water, and natural gas utilities and their respective trade associations, continues to raise customer awareness of common scams and new scam tactics used by utility impostors. Through its work and with the help of customer reporting, UUAS has successfully helped to take more than 14,020 toll-free numbers used by scammers against utility customers out of operation.
"Utility impostor scammers continue to grow more sophisticated in their tactics. Increasingly, we are seeing scammers use digital methods that target both younger and older generations. We encourage customers to stop and verify any unusual utility company requests before making a payment, regardless of whether the customer is contacted via phone, internet, or in person," said UUAS Executive Director Monica Martinez.
Visit austinenergy.com or utilitiesunited.org for information and tips on how customers can protect themselves from impostor utility scams. Follow along with UUAS on Twitter and Facebook, and join the conversation by using #StopScams.