Austin Energy Crews Bring Power to Arizona's Navajo Nation
May 9, 2023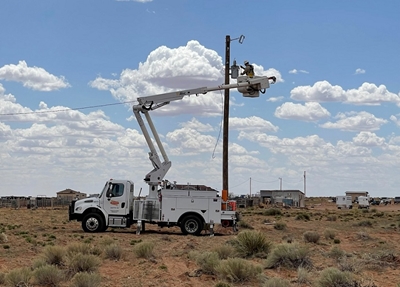 After helping to bring power to homes in the Navajo Nation for the first time in 2022, Austin Energy linework crews traveled to Leupp, Arizona to aid the Light Up Navajo effort once again. Austin Energy crews installed nearly 100 power poles and more than 8 miles of overhead wires to assist in powering homes for the first time.
A total of 11 crew members and 10 Austin Energy trucks traveled 4,152 round-trip miles and worked for two weeks alongside Navajo tribal utilities and other public power providers from across the country.
"Witnessing the pride and gratitude of the Navajo Nation for the work we did is something I'll never forget," said Norris Eason, an Austin Energy distribution electrician supervisor. "Bringing power to those that have never had it makes you realize how fortunate we are and how important it is to help where we can. I'm so proud that Austin Energy joined with other public power providers to invest in this effort and am thankful to be part of a community that values serving others."

See photos of Austin Energy crews working in Navajo Nation.
Austin Energy Light Up Navajo Statistics:
Holes Dug - 124
Pole Installs - 96
Transformer Installs - 12
Meter Installs - 12
Overhead Wire Installed (feet) - 2,216
Total Miles Traveled - 4,152
About the Light Up Navajo Project
Thanks to a partnership between utilities like Austin Energy, the American Public Power Association (APPA) and the Navajo Tribal Utility Authority (NTUA), many Navajo families are turning on the lights in their homes for the first time.
Not having access to electricity has many repercussions for Navajo families: lack of access to running water, reliable lighting, modern forms of home heating and cooling and appliances such as refrigerators and microwaves. Families in the Navajo Nation drive 1 to 1.5 hours once or twice a week to reach watering points where they can fill 250-gallon plastic tanks with water for cooking, cleaning and drinking. To keep food from perishing, families often must use portable coolers filled with ice to preserve their food.
In 2022, eight Austin Energy staff, along with utility providers in nine other states, traveled to Kayenta, Arizona to provide this life-changing service. The lineworkers, crew leaders and supervisory staff worked alongside the NTUA to connect Navajo families to the electric grid.