Austin Energy Celebrates Public Power Week, Oct. 1-7
October 2, 2023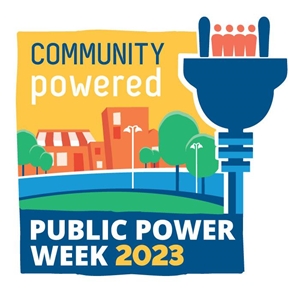 Austin Energy is celebrating Public Power Week along with more than 2,000 other community-powered, not-for-profit electric utilities that collectively provide electricity to nearly 50 million Americans.

"We are proud to safely provide reliable, affordable and sustainable power to our community," said Austin Energy General Manager Bob Kahn. "Because we serve our friends and neighbors, we care a great deal about customer service, helping people save energy and money, and ensuring our customers have a voice in their energy future."

Austin Energy works for Austinites every day of the year to reflect our community's priorities while serving the public good. Public power utilities are community-owned, which means the people of Austin are included in the decision-making of utility operations. Since 1895, Austin Energy has delivered safe, affordable, reliable energy and excellent customer service. Here's how:
Value for customers, not shareholders: Instead of making a profit, Austin Energy uses any revenues to keep the utility running support important city services such as streetlights, parks, libraries and public safety.
Protecting the planet: We are committed to harnessing the power of the sun and the wind to provide carbon-free power to customers. We give our customers the choice to power their homes of businesses with 100% wind energy. Plus, our Community Solar projects give residential customers access to locally generated solar energy – no home installation required.
We're here to help: We are committed to ensuring all customers have access to electricity no matter their financial circumstances. We allocate millions of dollars to help low-income residents pay their utility bills. We also provide emergency financial aid to customers in need, services for the medically vulnerable and weatherization support to help eligible residents improve their homes' energy efficiency.
Celebrate with Austin Energy throughout the week on Facebook and X (formerly Twitter) and enjoy learning how the utility is Proud to Power Austin.