Capital Metro Commits to 100% Renewable Energy for All Transit Facilities and Electric Buses
April 21, 2021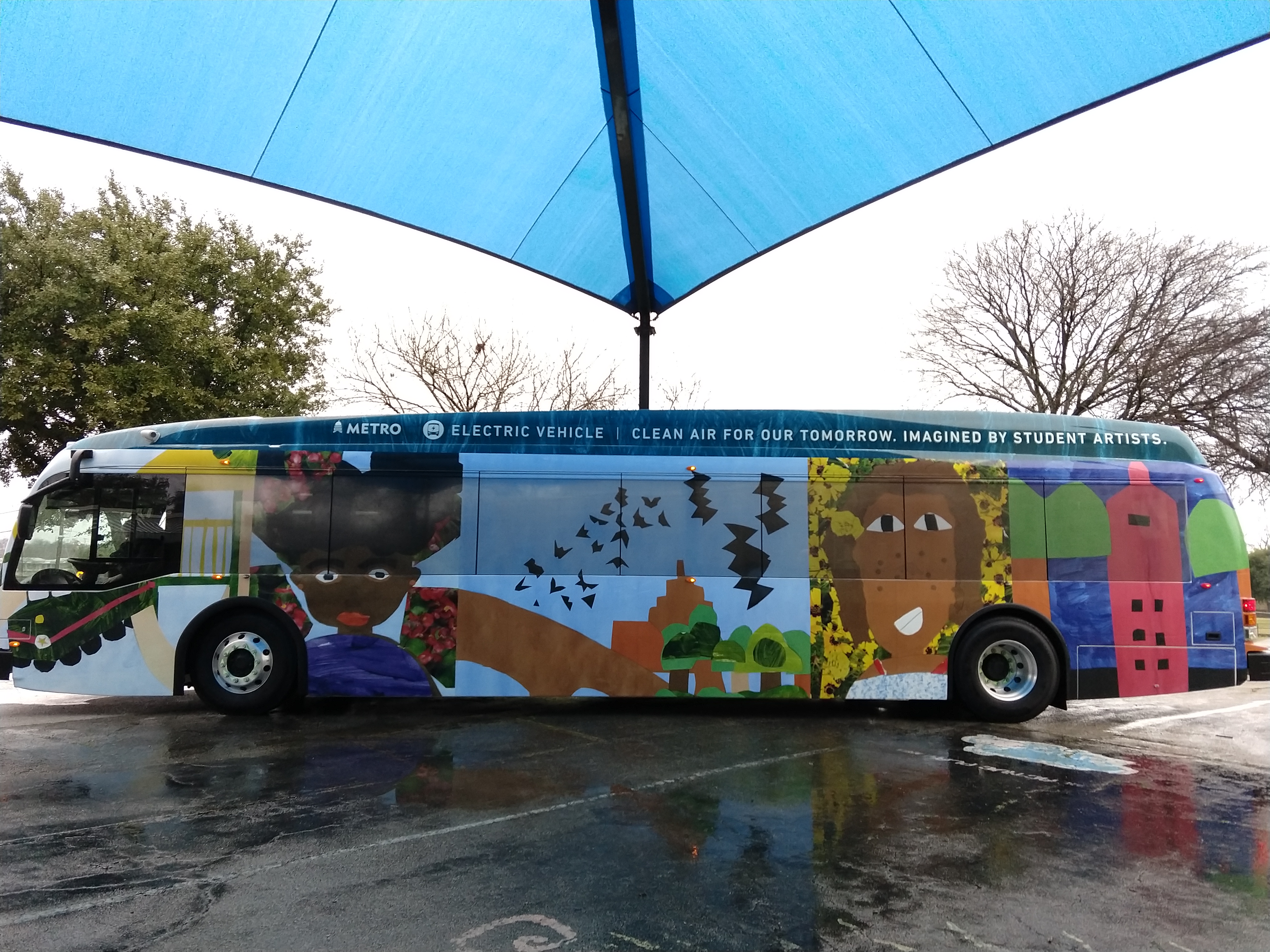 AUSTIN, Texas — In celebration of Earth Day, Capital Metro is highlighting its latest sustainability efforts in its services and facilities. As of 2021, all of the transit agency's facilities, including administrative, maintenance and public, electric buses, staff EVs and MetroBike e-bikes are now powered by 100% Texas wind energy through Austin Energy's GreenChoice program. Energy and transportation are the largest contributors to greenhouse gas emissions. By enrolling in GreenChoice, Capital Metro is investing towards Austin's community goal of 100% carbon free energy by 2035.
Furthermore, through its agreement to purchase GreenChoice energy, Capital Metro will reduce its carbon footprint and offset 7,189 metric tons of carbon dioxide. This program ensures that Austin Energy can supply wind energy to meet 100% of the transit agency's electric energy needs. This commitment is one of the ways Capital Metro and Austin Energy are working together to reduce emissions and meet the region's climate goals.
Through powering its facilities and vehicles with renewable energy, Capital Metro is furthering its commitment to support sustainable transit. The transit agency has already demonstrated this commitment by purchasing 12 electric buses, all of which are currently in use on Austin streets. Over the next five years, Capital Metro plans to purchase over 200 more electric buses, continuing the transformation of its fleet to 100% all-electric vehicles. The North Ops Electric Bus Depot opened in October 2020 and will eventually have the capacity to charge about half of Capital Metro's electric buses.
By replacing its vehicles with the cleanest available options, the transit agency is reducing its impact on air quality. Between 2016 and 2019, Capital Metro reduced its air pollution from vehicles by over 52%, which translates to 154 fewer metric tons per year. This reduction trend will continue as the transit agency reduces its fleet with zero emissions buses.
"From electric buses to investing in renewable energy, we value our partnership with Capital Metro," Austin Energy General Manager Jackie Sargent said. "Austin Energy is honored to work together to make the future of transportation more sustainable."
Capital Metro is also working with Austin Transportation Department and Bike Share of Austin to reduce the region's carbon footprint by expanding MetroBike (formerly BCycle), a program started in 2014. MetroBike has integrated over 200 electric-assist bikes into its fleet. Future improvements will include more E-bikes, stations and improved services outside the downtown core.
MetroBike is for people of all ages and abilities and provides more ways to connect with transit and optimizes the system's first and last mile transit solutions.
"One of the main tenets of Project Connect is its plan for sustainable public transit," said Dottie Watkins Capital Metro Chief Customer Officer. "We are committed to the use of innovative technology to create a more efficient and sustainable transit system, and that technology doesn't stop with our buses and trains. By launching MetroBike and subscribing to Austin Energy's GreenChoice program, Capital Metro is keeping its promise to work towards a cleaner environment for generations to come."
For more information on MetroBike, visit CapMetro.org/MetroBike. For more information on Austin Energy's GreenChoice program, visit austinenergy.com/go/greenchoice.