Austin Energy boosts EV fast charging stations on Electric Drive
August 2, 2021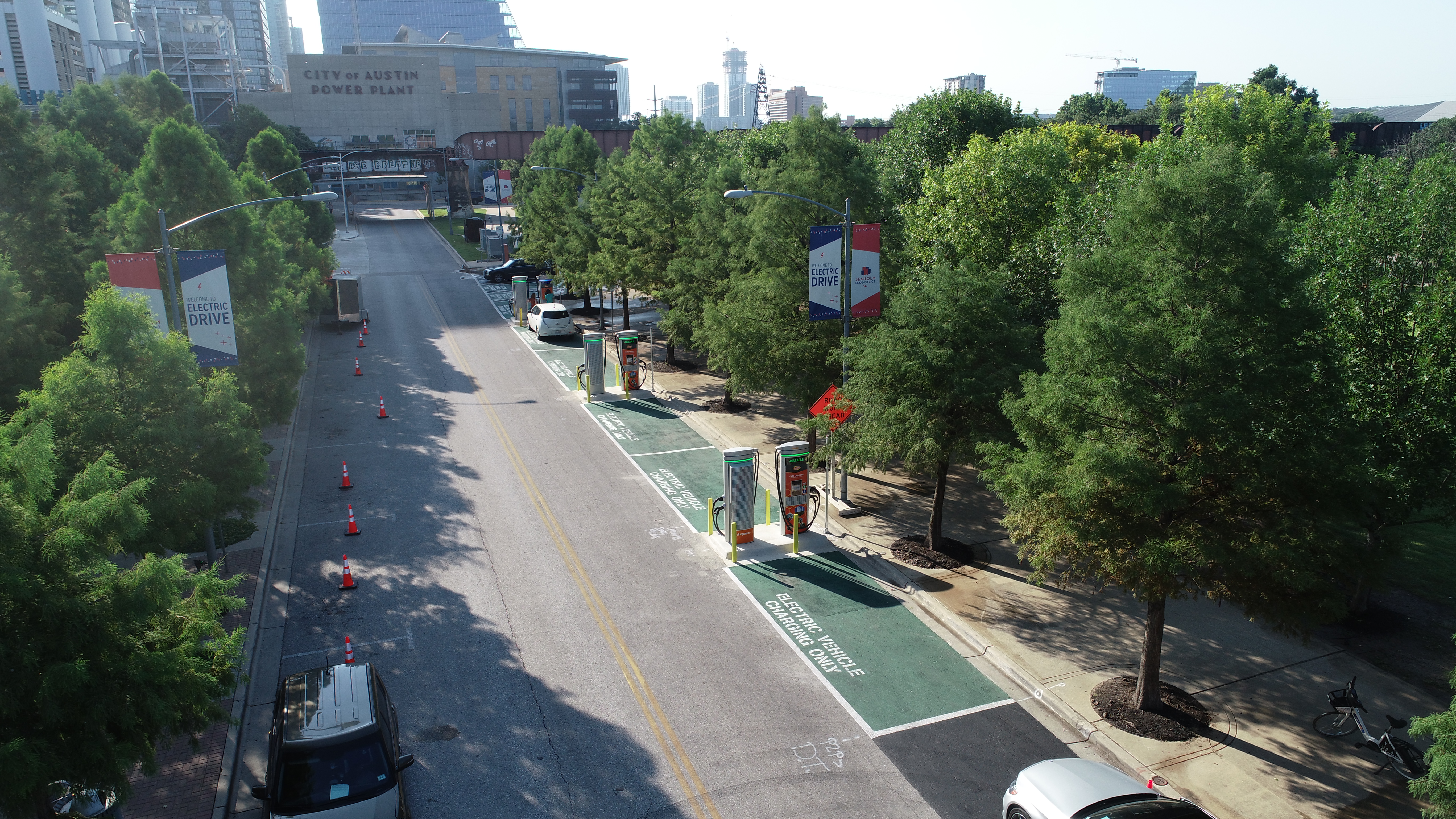 Austin Energy is keeping electric vehicle drivers energized with the deployment of seven new fast chargers at 811 Electric Drive, bringing the total number at this location to eight. With this addition, Austin Energy now operates 29 fast charging stations around Austin—all of which are powered by 100% clean Texas energy through Austin Energy's GreenChoice® program.
Austin Energy and the City of Austin dedicated this section of Second Street as Electric Drive in 2017, making it an electrified hub and sustainable transportation showcase for Austin. Drivers pay $0.21 per minute from plug-in to plug-out when they use Austin Energy's fast chargers.
In collaboration with the Austin Transportation Department, Austin Energy leveraged public parking spaces along Electric Drive to provide this innovative charging solution. The eight parking spots are now marked as "One-hour electric vehicle only zones." Drivers who are paying to charge their EV do not have to pay for parking while on Electric Drive.
Fast chargers fit the needs of drivers who need to charge up quickly and get going. These chargers can get an electric car back on the road in under 30 minutes, with drivers typically spending less than $10 to charge up.
"The new stations at downtown's Electric Drive are a great showcase and part of our commitment to provide more charging and faster charging for the fast-growing number of Austinites choosing to drive electric," Karl Popham, Austin Energy's Emerging Technology and Electric Vehicle Manager said.
The demand for EV charging is growing as more drivers say #Goodbye2Gas. According to Electric Power Research Institute (EPRI), there are 15,029 electric vehicles currently registered in Travis and Williamson counties. To make it easier for customers to learn about EVs and find the right EV for their needs from local dealers, Austin Energy upgraded its EV Buyer's Guide last year.
In the past decade, Austin Energy's commitment to electric vehicle infrastructure included the installation of 1,198 Level 2 charging ports. EV drivers can subscribe to the Plug-In EVerywhere plan and receive unlimited fill-ups at the Level 2 charging stations for only $4.17 per month.
Learn more about Austin Energy's EV programs, including home and business charging station rebates, charging locations and more at pluginaustin.com.