#StopScams: City of Austin Utilities Participates in 5th Annual Utility Scam Awareness Day Nov. 18
November 18, 2020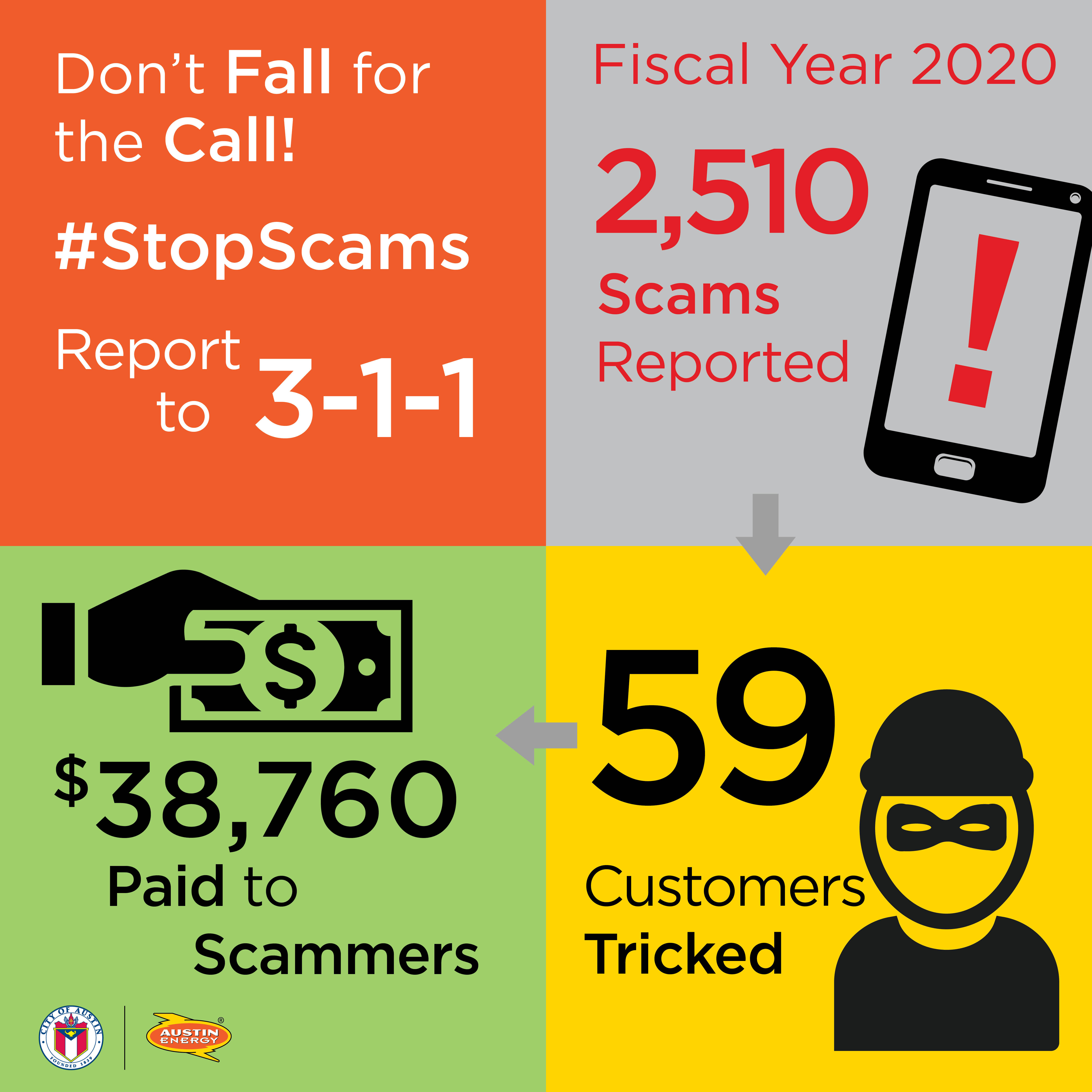 City of Austin Utilities joins Utilities United Against Scams (UUAS) to recognize Utility Scam Awareness Day on Wednesday, Nov. 18. Utility Scam Awareness Day is an advocacy and awareness campaign focused on educating customers and exposing the tactics used by scammers.

In Fiscal Year 2020, more than 2,500 City of Austin customers reported receiving calls from utility scammers. Unfortunately, 59 of those customers were tricked into paying more than $38,000.

"It's important to protect our customers from scammers. I don't want anyone to be impacted and not be able to keep a roof over their head or food on their table," said Jennifer Floyd, City of Austin Director of Customer Care Services/Utility Contact Center.
Throughout the COVID-19 pandemic, scammers have increased calls, texts, emails, and in-person tactics. Scammers often contact utility customers asking for immediate payment to avoid service disconnection. As a reminder, Austin Energy does not call residential customers with cut-off deadlines. (Note: Commercial customers may receive a courtesy call two days prior to scheduled cut off for non-payment.) We will never ask for credit card or wire transfer information over the phone or ask customers to make payments with a pre-paid debit card, gift card, any form of cryptocurrency, or third-party digital payment mobile applications. While some customers do pay in cash, the City will never demand immediate payment in person with cash, gift card or Bitcoin. An unsuspecting City of Austin Utilities customer recently fell for a bitcoin scam.
"Customers need to be on high alert as we continue to see impostor utility scams rise across North America," said UUAS Executive Director Monica Martinez. "Scammers demand money or personal information on the spot — usually with threatening language — and indicate that service will be disconnected immediately. Anyone and everyone, from senior households to small business owners, is at risk of being targeted."
Floyd, who also serves on UUAS' marketing committee, agrees. "Austin Energy puts out as much information as possible when we hear from customers that they are receiving scam calls," she said. "Our goal is to make our customers aware of the potential scams and hopefully keep them from falling for the call. We never want this to happen to any of our valued customers."
If a City of Austin customer receives a phone call threatening to interrupt service, demand immediate payment, or request credit card or bank account information, hang up and dial 3-1-1 or 512-974-2000 and report the incident immediately. Anyone who has received such a call or email and is uncertain of his or her account status can call the Utilities Customer Contact Center at 512-494-9400.
Visit www.utilitiesunited.org for more information and tips on how customers can protect themselves from impostor utility scams, and follow along with UUAS on Twitter and Facebook.