Save Energy, Especially Now: Lower Summer Energy Bills and Avoid Utility Scammers
July 15, 2020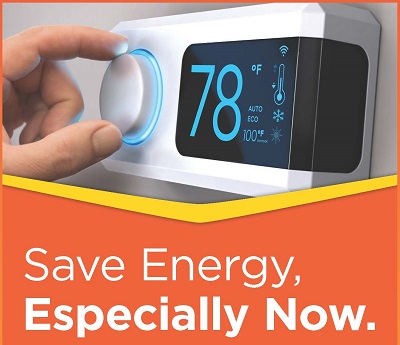 It's no secret that the summer heat is here. When summer temperatures soar, your air conditioner works harder and can drive your electricity bill higher. Extreme heat also attracts scammers, who often prey on City of Austin Utilities customers. The City has tools and tips to help you save energy and avoid being scammed.
Here are some quick and easy energy-saving tips:
Set your thermostat at 78 degrees or higher when possible. Raise your thermostat to 85 when you leave the house. Every degree higher can decrease your bill by 3 percent.
Avoid turning on large appliances like an oven or washing machine during the hottest time of the day. Microwaves or slow cookers produce less heat.
Keep curtains and blinds drawn on windows hit by direct sunlight, which can quickly raise indoor temperatures 5-10 degrees.
Point fans in your direction to help you feel 2-4 degrees cooler. Turn them off when you leave the room. Fans cool people, not rooms.
Unplug appliances, chargers, and electronic devices when you are not using them. They use energy even when they are turned off.
It's not just the temperatures that are on the rise. Last week, City of Austin Utilities heard from more than 100 customers that scammers tried to trick them out of money and personal information. The scammers often try to dupe people by telling them their utility bill is past due and that their utilities will be shut off if they don't make an immediate payment.
Things to know:
All utility disconnects for non-payment are suspended and all late fees are waived until Sept. 30, 2020.
The Utilities Customer Contact Center does not call residential customers with cut-off deadlines. (Note: Commercial customers may receive a courtesy call two days prior to scheduled cut off for non-payment.)
We will never ask for credit card or wire transfer information over the phone.
While some customers do pay in cash, the City will never demand immediate payment in person with cash, gift card or Bitcoin.
If a City of Austin customer receives a phone call threatening to interrupt service, demand immediate payment, or request credit card or bank account information, hang up and dial 3-1-1 or 512-974-2000 and report the incident immediately.
Anyone who has received such a call or email and is uncertain of his or her account status can call the Utilities Customer Contact Center at 512-494-9400.
While walk-in payment centers are currently closed due to COVID-19, payments can be made online at COAUtilities.com or by mailing it to: City of Austin Utilities - Payment Processing, P.O. Box 2267, Austin, TX 78783-2267.
Austin Energy, which manages customer care and billing for all City of Austin utilities, is a publicly-owned utility. The utility is committed to safety, affordability and helping customers save money and energy, especially during the hottest months of the year. For more helpful savings tips, tools and rebates that can help lower energy bills, visit austinenergy.com/go/summer.


Ahorre energía, especialmente ahora
Reduzca las facturas de energía del verano y evite los estafadores de servicios públicos
No es ningún secreto que el calor del verano está aquí. Cuando las temperaturas de verano se disparan, su aire acondicionado trabaja más y puede aumentar su factura de electricidad. El calor extremo también atrae a los estafadores, que a menudo se aprovechan de los clientes de los Servicios Públicos de la Ciudad de Austin. La ciudad tiene herramientas y consejos para ayudarlo a ahorrar energía y evitar ser estafado.
Aquí hay algunos consejos rápidos y fáciles para ahorrar energía:
Ajuste su termostato a 78 grados o más cuando sea posible. Ajuste su termostato a 85 cuando salga de la casa. Cada grado más alto puede disminuir su factura en un 3 por ciento.
Evite encender electrodomésticos grandes como un horno o una lavadora durante los momentos más caluroso del día. El microondas o las ollas de cocción lenta producen menos calor.
Mantenga las cortinas y persianas en las ventanas cerradas que pueden elevar rápidamente las temperaturas interiores de 5 a 10 grados.
Apunte los abanicos en su dirección para ayudarlo a sentirse 2-4 grados más fresco y apáguelos cuando salga de la habitación. Los abanicos enfrían a las personas, no a las habitaciones.
Desenchufe los electrodomésticos, cargadores y dispositivos electrónicos cuando no los esté utilizando. Usan energía incluso cuando están apagados.
No son solo las temperaturas las que están aumentando. La semana pasada, los Servicios Públicos de la Ciudad de Austin escuchó de más de 100 clientes que los estafadores intentaron engañarlos en robar dinero e información personal. Los estafadores a menudo intentan engañar a las personas diciéndoles que su factura de servicios públicos está atrasado y que sus servicios públicos se desconectaran si no realiza un pago inmediato.
Cosas que saber:
Todas las desconexiones de servicios públicos por falta de pago se han suspendido y se cobrará cargos por pagos atrasados hasta el 30 de septiembre de 2020.
El Centro de atención al cliente de servicios públicos no llama a clientes residenciales con amenaza de desconexión. (Nota: los clientes comerciales pueden recibir una llamada de cortesía dos días antes del corte programado por falta de pago).
Nunca solicitaremos información personal de tarjeta de crédito o transferencia bancaria por teléfono.
Mientras algunos clientes si pagan en efectivo, la Ciudad nunca exigirá un pago inmediato en persona con efectivo, tarjeta de regalo o Bitcoin.
Si un cliente de la Ciudad de Austin recibe una llamada telefónica que amenaza con interrumpir el servicio, exigir el pago inmediato o solicitar información de tarjeta de crédito o cuenta bancaria, cuelgue y marque 3-1-1 o 512-974-2000 e informe el incidente de inmediato. Cualquier persona que haya recibido una llamada o correo electrónico de este tipo y no esté seguro del estado de su cuenta puede llamar al Centro de Atención al Cliente de Servicios Públicos al 512-494-9400. Mientras los centros de pago sin cita actualmente están cerrados debido a COVID-19, los pagos se pueden hacer en línea en COAUtilities.com o enviándolos por correo a: Envíe su pago a: City of Austin Utilities - Payment Processing, P.O. Box 2267, Austin, TX 78783-2267.
Austin Energy, que administra la atención al cliente y la facturación de todos los servicios públicos de la Ciudad de Austin, es una empresa pública (publicly-owned utility). Estamos comprometidos con la seguridad, la asequibilidad y la ayuda a los clientes a ahorrar dinero y energía, especialmente durante los meses más calurosos del año. Para obtener más consejos útiles sobre ahorros, herramientas y reembolsos que pueden ayudar a reducir las facturas de energía, visite austinenergy.com/go/summer