Austin Energy helps customers track electricity usage through email alerts
March 22, 2020
Austin Energy has always tried to get the most useful, up-to-date account information to customers, enabling them to make informed choices about their electricity usage and energy efficiency. With the effects of COVID-19, it is even more important for Austin Energy customers to track their usage. Residential electricity consumption will likely increase as the weather heats up and Austinites spend more time at home.
On March 2, Austin Energy rolled out Weekly Electricity Update and High Bill Alert emails providing customers with electricity usage details and energy-efficiency tips. These emails are designed to help customers learn more about their electricity usage patterns and trends. They also contain insights and tips to help customers lower their electricity usage and save on their bills. The Weekly Electricity Updates email compares energy usage rates from week to week, while the High Bill Alerts email lets customers know when their usage is higher than compared to the same monthly cycle from the previous year. These notifications are a free and optional service automatically provided to eligible City of Austin customers with an advanced meter at their location and an email address on file. Customers can unsubscribe at any time.
"Knowledge is power, and knowledge about your power usage saves money," said Jackie Sargent, Austin Energy General Manager. "We began providing this service even before COVID-19, but we now see the value more than ever. As a municipally owned utility, we're always looking for ways to help our customers."
The City of Austin is committed to the health and safety of customers and wants to ensure uninterrupted access to utility services. The City has temporarily suspended all utility disconnects for non-payment and is performing courtesy reconnects to customers who may be without service. Customers should continue to pay utility bills, as they are able, to avoid large balances later. If a customer is having difficulty paying their utility bill due to COVID-19, we want to help. Please call Customer Care at 512-494-9400 for more information. To make an online payment, visit coautilities.com. Austin Energy manages customer care and billing for all City of Austin utilities.
Get more no-cost ways to save energy.
Find COVID-19 updates and additional resources at austintexas.gov/COVID19.

Sample High Bill Alert Email: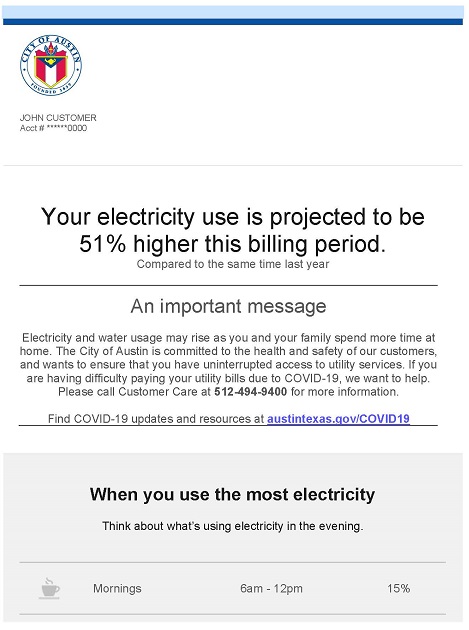 Sample Weekly Electricity Update email: