Mark your calendar for the Austin Energy Regional Science Festival 2020: February 19-22
February 3, 2020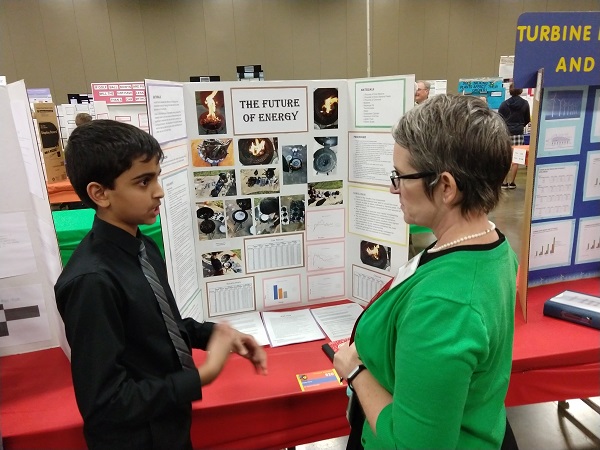 In Partnership with the Austin Science Education Foundation, Austin Energy and anchor-sponsor Dell Technologies are proud to announce that the Austin Energy Regional Science Festival (AERSF) will take place February 19-22, 2020 at the Palmer Events Center. Austin Energy has sponsored the fest in some capacity for more than two decades and became its title sponsor in 2003.
The AERSF is the one of the oldest and largest of 13 regional science fairs in Texas. It serves students in Bastrop, Brazos, Burleson, Caldwell, Comanche, Fayette, Lee, Mill, Travis, Washington, Williamson Counties, as well as northern Hays County, covering 23 school districts. It is one of the few regional fairs that include elementary school students. This year's Elementary Division Fair is made possible by Dell Technologies' anchor sponsorship
In 2019, more than 10,000 people attended the AERSF as students, teachers, parents, judges or volunteers. Events included the public viewing of science projects, educational booths and scientific demonstrations, as well as the award ceremonies.
Students in Grades 3-12 who win at their schools' science fairs are eligible to participate. Middle and high school students who place first, second or third at the AERSF will advance to compete against other Texas students in the Texas Science and Engineering Fair. Six "Best of Fair" high school projects from the regional fair will compete for prizes and scholarships against students from the United States and more than 75 other countries at the prestigious 2020 Regeneron International Science and Engineering Fair in Anaheim, Ca.
The AERSF holds two distinct competitions: the Junior/Senior (middle/high school) and the Elementary Fair. In the Jr/Sr Division, students enter their projects in one of 17 science categories and are judged competitively by subject matter experts. In 2019, 309 students from 29 Central Texas high schools participated with 271 projects, as well as 522 students from 36 middle schools with 428 projects. In the Elementary fair, each project is judged on its own merit. In 2019, 1,825 third – sixth grade students from 179 schools entered 1,595 projects.
The AERSF helps introduce science to students at a young age.
"STEM education has to start in elementary school," said Ingrid Weigand, Executive Director of the Austin Science Education Foundation. "Doing an independent, hands-on science project is a perfect way to take advantage of young children's natural curiosity, teaching them the necessary skills to find answers to their questions of "what happens, if ..."
About The Austin Science Education Foundation
The Austin Science Education Foundation (ASEF), an IRS recognized nonprofit organization, promotes students' knowledge of and involvement in science, technology, engineering and math by enabling participation in the Austin Energy Regional Science Festival and supporting students selected to advance to the Texas Science and Engineering Fair and the Regeneron International Science and Engineering Fair.
About Austin Energy
Customer Driven. Community Focused.
Austin Energy, the City of Austin's electric utility, lights a brighter future for more than 500,000 customer accounts and more than one million residents in Greater Austin. The utility's commitment to providing value powers the community and the innovation and culture that has made Austin a destination city. Austin Energy has powered the community for 125 years, delivering safe, affordable, reliable energy and excellent customer service. The publicly owned utility will continue to shine a light into the future. For more information about Austin Energy, visit austinenergy.com.
About Dell, Inc.
Dell Inc., a part of Dell Technologies, provides customers of all sizes – including 98 percent of the Fortune 500 – with a broad, innovative portfolio from edge to core to cloud. Dell Inc. comprises Dell client as well as Dell EMC infrastructure offerings that enable organizations to modernize, automate and transform their data center while providing today's workforce and consumers what they need to securely connect, produce, and collaborate from anywhere at any time. Partnerships: Dell has dedicated funds, technology and expertise globally to further empower and enable interested youth from around the world to explore STEM fields.