Austin Energy Leads the Charge to Achieve Carbon-Free Electric Power
Pioneer. Innovator. Neighbor. Adopter. Investor. Protector. Community Partner. Leader. Each of these labels describes Austin Energy's commitment to environmental excellence.
Austin Energy is a Customer Driven and Community Focused utility with a forward-looking plan to reduce our carbon footprint. Austin Energy also partners with the community to help individual customers reduce their carbon impact and electric bills through energy efficiency, demand response, energy storage, green power options, and clean transportation. By collaborating with customers, Austin Energy increases grid reliability and maximizes affordability.
Planning Ahead to a Carbon-Free Future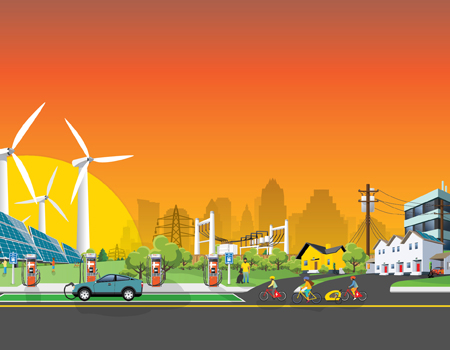 The City of Austin is working toward a community-wide goal to reach net-zero greenhouse gas emissions by 2040, as outlined in the Austin Community Climate Plan. Meeting these carbon reduction targets has a positive effect on the climate and the community.
The benefits of reaching net-zero include reduced air pollution and improved air quality, a thriving local economy, reduced traffic congestion, greater affordability, and improved disaster preparedness.
Leading Utility-Scale Renewable Energy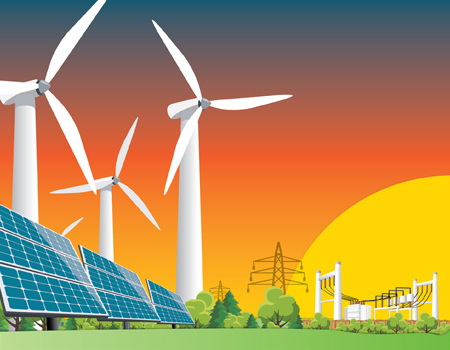 Everything is bigger in Texas, including the innovations in utility-scale wind and solar farms. Austin Energy purchased power from the first commercial wind plant in Texas in 1995, helping create the wind power industry in the state. The utility has not stopped there, leading the development of the solar industry in Texas as well. Austin Energy is supplying more green energy than ever and is creating clean energy jobs along the way to support the economy.
Austin Energy uses Power Purchase Agreements to purchase the wind and solar energy produced at large-scale renewable energy farms across Texas, from West Texas all the way down to the Gulf Coast.
As Austin Energy works toward 100% carbon-free generation by 2035, we continue to add more utility-scale contracts to our portfolio. In Fiscal Year 2022:
50% of Austin Energy's power generation came from renewable sources.
Austin Energy purchased power from seven utility-scale solar farms and 10 wind farms across Texas.
Austin Energy secured utility-scale renewable resource generation capacity of more than 2,866 MW, from wind, solar, and biomass.
Renewable energy generation costs have come down significantly in the past 20 years, but production is still dependent on weather conditions, requiring sunshine and windy days. This can make generating renewable energy more challenging and costly. With this in mind, Austin Energy has proactively and strategically built a renewable portfolio over time to reduce the cost impact on customers, keeping our rates affordable while our power becomes greener. Austin Energy is also leading the way on incorporating emerging technology and energy storage to increase the reliability and sustainability of renewable energy.
See how renewable energy makes us more sustainable and cost-efficient
Giving Customers a Greener Choice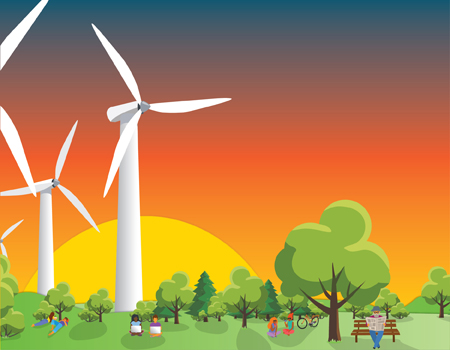 For customers who want to choose 100% renewable energy, Austin Energy offers GreenChoice®, the longest-running voluntary renewable energy program in Texas. Commercial and residential GreenChoice subscribers add clean energy to Austin's grid every day when choosing to meet their electricity needs with 100% renewable Texas wind.
Each municipally-owned building in the City of Austin is powered by GreenChoice. The City of Austin was the first large municipal government in the U.S. to power all City-owned facilities with 100% renewable energy. Plus, GreenChoice wind powers every electric vehicle charging station in Austin Energy's public charging network.
More than 28,000 customers subscribe to GreenChoice, which translates* to:
Removing the same amount of carbon from the air as more than 5.4 million trees.
Avoiding more than 330,000 metric tons of carbon emissions.
Relying less on fossil fuels, reducing air pollution, decreasing water usage, and growing green jobs in Texas.
Subscribe to 100% Texas wind energy with GreenChoice
*The EPA Greenhouse Gas Equivalencies Calculator is used to calculate equivalency numbers.
Helping the Community Embrace Solar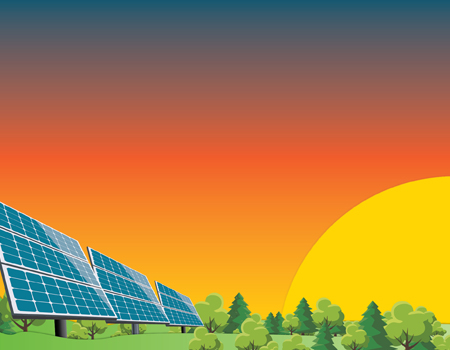 Austin Energy helps customers reap the benefits of the bright Texas sun. Rebates and incentives help customers reduce the cost of installing solar energy systems on their businesses and homes.
Austin Energy's rebate and incentive programs have helped grow the local solar industry. As residential and commercial solar participation increases each year, homeowners, multifamily properties, nonprofits, and schools have a cost-effective way to install more solar.
Austin Energy also provides residential customers with the choice to power their home with 100% locally generated solar energy through our Community Solar program. Austin Energy's Community Solar program now has three project sites: the Palmer Array, located on the Palmer Events Center; La Loma Community Solar Farm in east Austin; and the Austin Bergstrom International Airport.
Empowering the Community to Reduce Energy Use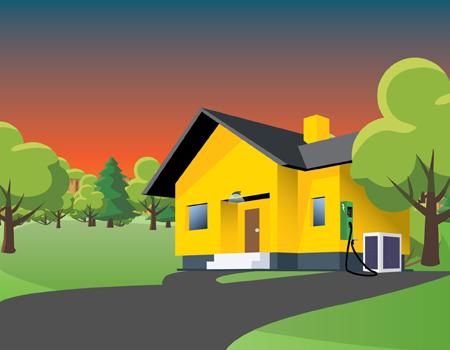 Perhaps the cleanest and least expensive power is the power not used. Energy efficiency saves customers money, advances the economy, and improves the quality of life while helping the environment. According to the Department of Energy, the average residential bill for Austin Energy customers is one of the lowest in the state. This is due to our commitment to ensuring affordable rates and our decades-long focus on energy efficiency.
Austin Energy strives to reach the goal of saving 1,200 MW through energy efficiency by 2030. Austin Energy is on track to meet this goal through a variety of programs. Austin Energy equips customers with tips and tools to lower usage and maintain savings in the long term. Additionally, community volunteers participate in demand-response programs that help consumers save money and keep the electric grid stable during peak demand. Popular energy efficiency and savings initiatives include:
Reduce energy usage and save money with our rebates, incentives, and more
Seeking Sustainability in Building Construction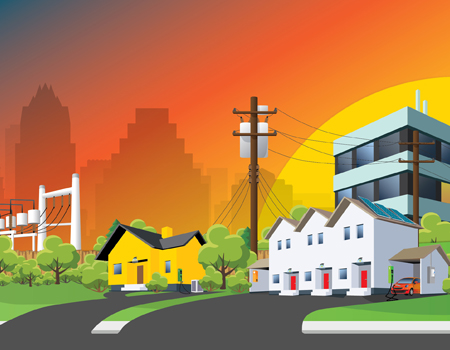 Buildings that use less power are more affordable to operate and have a smaller carbon footprint. The City of Austin created the nation's first green building program in 1990. Austin Energy Green Building is now one of the nation's most successful sustainable building programs, encouraging Central Texans to design and construct more sustainable homes and buildings.
Developing and maintaining our own Austin-specific rating systems helps Austin Energy carry out the City of Austin's ambitious climate protection goals. Austin Energy Green Building uses these ratings to pave the way for energy and building code changes to reduce building energy use.
Austin Energy Green Building contributes to our community-wide sustainability goals:
As much as one-third of all the single-family homes and apartments built in Austin each year are green-rated homes.
Since the start of the program, Austin Energy Green Building has rated more than 19,000 single-family homes.
Nearly all new commercial and multifamily buildings downtown and in large-scale developments are green building rated.
Consider Austin Energy Green Building for your home or business building project
Plugging Customers Into Cleaner Transportation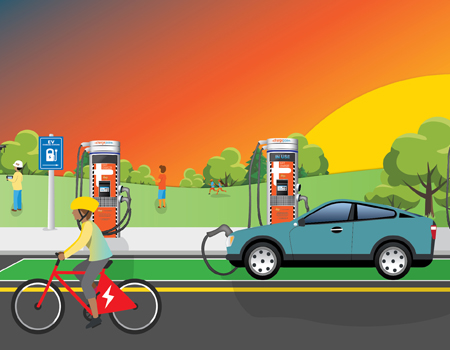 Since motor vehicle emissions are a leading source of air pollutants,* Austin Energy makes it easier for customers to say goodbye to gas and drive electric with zero-emission electric vehicles. Easy to use, easy to maintain, and easy to charge, electric vehicles are fun to drive and can save customers money while helping the environment. Austin Energy provides charging infrastructure rebates and services to improve convenience for drivers, businesses, and developers interested in including EVs on their property. Austin Energy also offers rebates for electric bikes, scooters, mopeds, and motorcycles to make electric transportation more affordable for anyone on the road.
Plus, since 100% renewable GreenChoice wind energy powers the public charging stations in Austin Energy's network, EV drivers can help the environment in many ways.
In 2022:
Drive electric and save on charging and more
*According to the United States National Institutes of Health
Did You Know?
Austin Energy's environmental legacy includes more than 23 years of commitment to renewable energy and a green path forward to meet our 2050 goals. Here's a look at our renewable past, present, and future:
Power purchased from first commercial wind plant in Texas in 1995
Investment in the largest solar installation in Texas at 30 MW in 2011
GreenChoice wind power available for residential and commercial customers
Community Solar sites generate 4.58 MW of power for residential customers who cannot install home solar energy systems
More than 12,000 customers installed solar energy systems for their home and business through 2022
Achieved 77% carbon-free generation in FY 2022 and on track to reach 100% by 2035
Learn More
Date last reviewed or modified:
03/24/2023