Central Texas Grid Connection
Fiber Optic Upgrades Will Connect and Deliver Energy to the Texas Grid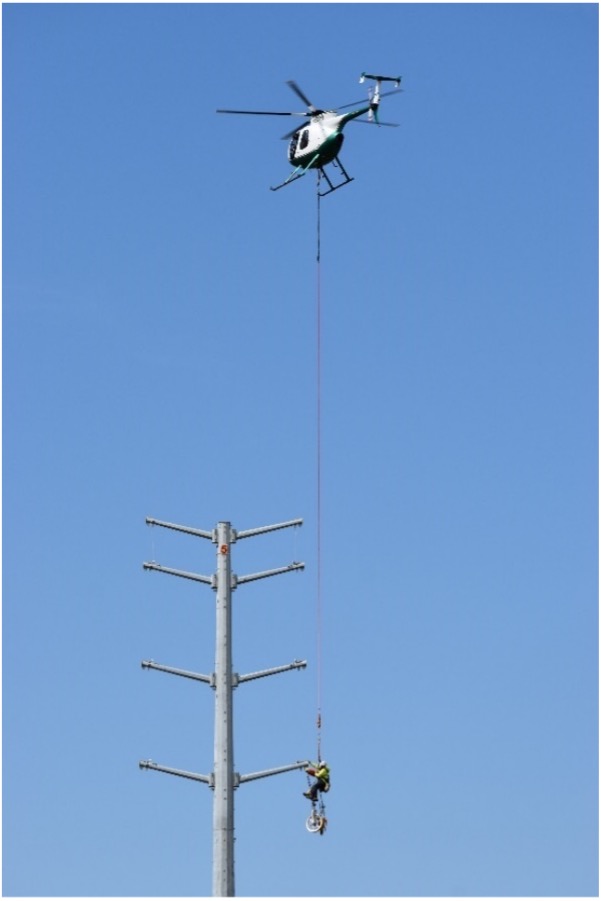 The Electric Reliability Council of Texas (ERCOT) requires transmission service providers like Austin Energy to connect energy generators to the Texas grid, allowing for more generation capacity to power Texas homes and businesses. Under state law, Austin Energy is required to execute a Standard Generator Interconnection Agreement (SGIA) with RWE Renewables, allowing its 1,720-acre solar farm to connect to an onsite substation through existing transmission infrastructure.
The 50-mile fiber optic upgrade will bring the existing transmission line up to the appropriate reliability standard for both communication and line protection. The first half of this line was completed in early 2022 and work on the remaining 25 miles will begin in early Oct. 2022.
Austin Energy is working to upgrade all transmission to this higher standard so that this project can deliver safe and reliable generation to the ERCOT wholesale market.
Building the Cistern Substation to Add Energy for Texas
Austin Energy constructed the new Cistern Substation on approximately 10 acres of land provided by RWE Renewables in Bastrop County.
The energy produced by the new renewable energy solar farm will be used to generate energy for the entire state; it is not for the exclusive use of Austin Energy or its customers. The costs to build new transmission infrastructure are shared by all utilities on the Texas grid.
Modern Transmission Connects the Substation to the Grid
Austin Energy will add a modern fiber optic line to existing transmission poles to connect the Cistern Substation into two existing substations. Addition of this new fiber optic line will include aerial assistance from a helicopter team.
Project Location
Austin Energy will add modern fiber optic lines to tie the Cistern Substation into its service territory. This 50-mile fiber optic line addition will cross three Central Texas Counties: Bastrop County, Caldwell County, and Fayette County.
Construction of this line will include aerial assistance from a helicopter team and will tie into the 345KV Lytton-Holman transmission line at the edge of Austin Energy's service territory.
The 25-mile transmission from Holman Substation to Cistern Substation (Phase I) has been completed. Work on the remaining 25 miles from Cistern Substation to Lytton Springs Substation (Phase II) will begin in October.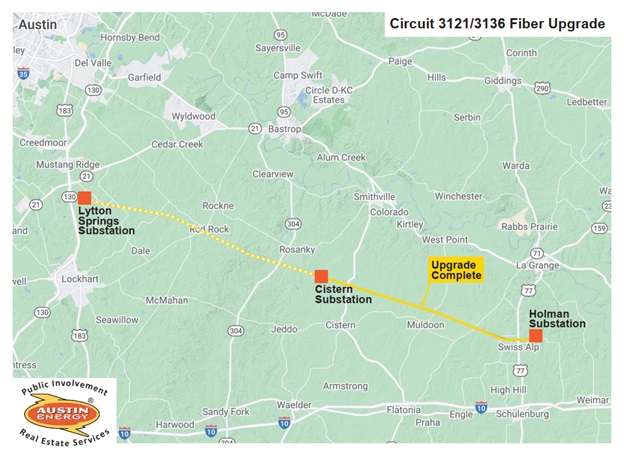 Public Involvement Process
Meet the Contractor — Public Meeting, September 22, 2022
The Austin City Council approved Austin Energy to hire Power Standard to build Phase II transmission for the Central Texas Grid Connection project. A public meeting was held to discuss the project construction and meet the contractor.
Watch the recorded public meeting [video]
Project Timeline
Fall 2020 — Engineering design completed for both fiber optic line and substation
Spring 2022 — Substation construction and Phase I fiber optic upgrades completion
December 2022 — Phase II fiber optic upgrades completion
January 2023 — Project completion
Contact Us
Follow Us
Date last reviewed or modified:
09/29/2022