Programs Available for Electric Bikes, Scooters, Mopeds, and Motorcycles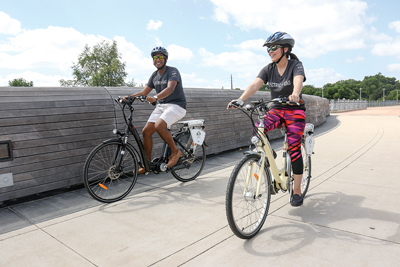 Electric Ride (E-Ride) Rebates Available
Austin Energy electric customers are eligible for qualifying rebates for individual and fleet E-Ride purchases.
Get details about the E-Ride rebate
Electric Ride Options
Speeds on two-wheel electric vehicles can range from 10 mph to over 50 mph. How these two-wheel electric vehicles are powered can vary:
All vehicles are powered with an electric motor.
Some vehicles use a combination of human and electric power.
Some vehicles, like the motorcycle, use only electric power.
Where to Purchase E-Rides
All qualifying two-wheel vehicle purchases must be made through an Austin Energy-approved dealership to qualify for a rebate. Participating dealers carry a variety of makes and models.
MetroBike Access
No bike? No problem. Try a MetroBike and enjoy a smooth ride around town for short trips without buying a bike.
Get quick tips on:
Learn more about Austin Energy's work with CapMetro's MetroBikes
Are you a resident of the Housing Authority of the City of Austin? See how you can get a MetroBike annual pass and access MetroBike stations close to home (video)
Electric-Assist Pedicabs
Take a ride on pedicabs that have been outfitted with motors that help the drivers pedal up steep hills and travel longer distances.
Learn more about the the pedicab electrification pilot
Stay Plugged In
Date last reviewed or modified:
09/20/2021