Customer Driven. Community Focused.
As the electric utility of the City of Austin, we have the privilege of partnering with and giving back to our community. There are many benefits of public power, and one is that we can get out in the community to make a difference. We want our community to be safe, to use less power and have lower energy bills, and to partner with us to reach our community-wide goal of net-zero greenhouse gas emissions by 2050.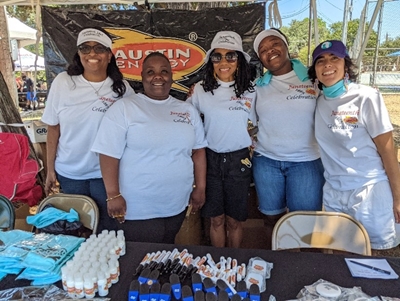 Community Programs
Our Community Programs focus on education and electrical safety. We offer:
School Outreach — We offer free classroom presentations for grades 3-5 to teach our youngest citizens about electricity and how to be safe around it.

For 6th-graders, our Austin Energy All-Stars Program provides free kits and a fun, interactive curriculum to educate teachers, students, and their families about electricity and ways to save energy and money at home.


Solar Site Visits — We refer groups who want to visit a solar power facility to the Webberville Solar Farm outside Austin. Although we purchase all 30 megawatts of power from this facility, we do not own it, so you'll need to register as a visitor on their website. Austin Energy may be able to facilitate a presentation during your visit. Contact us for more information
Community Events
Each year, we participate in an average of 60 outreach events throughout our service area. We attend general community events or job fairs, as well as events organized by other City departments, homeowner or neighborhood associations, and professional associations.
We provide information about energy efficiency rebates and loans, renewable energy, and Green Building, among other topics.
Customer Assistance Program Events
The City of Austin Customer Assistance Program (CAP) sponsors an annual Community Connections Resource Fair to help bring together low-to-moderate income families with a variety of service providers in our service area.
Additionally, CAP hosts an annual Affordable Energy Summit that introduces local non-profit and state and local government agencies to our program benefits, residential rates, and bill options for customers.
For More Information or to Invite Us to an Event
To invite us to an event, please contact us. Your event must be hosted in Austin Energy's service area in order for us to participate.
Date last reviewed or modified:
10/19/2023