Winter Storm: Power Restored to Nearly All Households and Businesses
February 8, 2023
Based on current assessments of our system and weather conditions, Austin Energy still expects to restore power to nearly all remaining customers who are able to receive power by Sunday, Feb. 12. We expect many of our remaining affected customers to have electricity before Sunday. Those who require electrical repairs to customer-owned or maintained equipment may be without power longer.

This estimation is based on the following factors:
A current assessment of weather impacts on the system

Rate of restoration since the start of the ice storm

Number of workers involved in the restoration process

A more detailed picture of the remaining damage
The recent storms did not significantly affect our restoration efforts.

More than 99.5% of Austin Energy customers currently have power. Around 62,000 customers have been restored since Sunday, Feb. 5. Since the start of the storm, we have completed 360,000 restorations.
Crews continue to work through about 300 outage incidents affecting about 1,000 customers. Almost 60% of those incidents affect single customers and 30% affect two to 24 customers. Because most remaining outages affect only a few customers, it may seem like progress has slowed, but crews continue to work as efficiently as possible.
We continue to prioritize outages from largest to smallest and from the longest outage time to shortest. The Austin Energy teams continuously assess how to get the most customers powered up as quickly and safely as possible. Other factors that come into consideration include:
The proximity of outages to other outages

The condition of Austin Energy main circuit equipment

The condition of customer equipment

The availability of additional crews
If a customer is part of a larger outage that was addressed, but the customer's power is still out, or if the power came back briefly, the customer is still in the restoration process.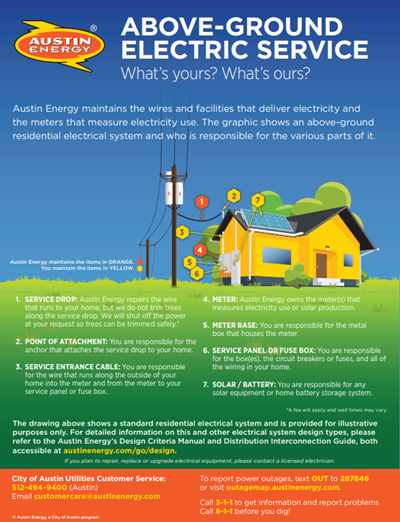 Austin Energy Reconnect Team
If a customer's property has damage to electrical equipment that needs to be fixed by a licensed electrician, Austin Energy may not be able to restore power until repairs are completed. Austin Energy has a team assessing these issues and helping customers through this process. No electrical repair work should begin until electrical service has been disconnected. A customer's electrical contractor should work with Austin Energy to disconnect damaged services before any repair work begins. Once it is safe to reconnect power, Austin Energy will do so. Austin Energy works closely with other City departments through the inspection and safety assessment process. Review information on Emergency Permits.

What's ours and what's yours: austinenergy.com/go/abovebelow

City of Austin Emergency Shelter
For individuals and families who remain without power and cannot secure alternative accommodations, call 3-1-1 or 512-974-2000 to request overnight lodging. The City of Austin emergency shelter has sleeping cots, shower facilities, food/water, pet sheltering and charging stations. The City of Austin works with community partners and volunteers to meet requests. Once a shelter request is received, residents should expect a call from City staff between 7 a.m. and 7 p.m. with information on the next steps. Access to the emergency shelter will remain open until all power is restored in the Austin Energy service area

Visit austinenergy.com/go/restoration for more information about restoration efforts.

---

Tormenta de Invierno: La energía restaurada en casi todos los hogares y negocios

En función de las evaluaciones actuales de nuestro sistema y de las condiciones meteorológicas, todavía esperamos restablecer el suministro de energía a casi todos nuestros clientes restantes que pueden recibir electricidad para el domingo 12 de febrero. Esperamos que muchos de nuestros clientes todavía afectados tengan electricidad antes del domingo. Quienes requieran reparaciones eléctricas en equipos de propiedad de los clientes o mantenidos por ellos pueden estar más tiempo sin electricidad.

Este estimado se basa en los siguientes factores:
Una evaluación actual del impacto del tiempo en el sistema.

La velocidad de restauración desde el inicio de la tormenta de hielo.

El número de trabajadores involucrados en el proceso de restauración.

Un panorama más detallado del daño restante.
Las tormentas recientes no afectaron significativamente nuestro trabajo de restauración.

Más del 99.5% de los clientes de Austin Energy actualmente tienen electricidad. Se ha restaurado el servicio a unos 50,000 clientes desde el sábado 5 de febrero. Desde el inicio de la tormenta, se han completado 350,000 restauraciones.

Las cuadrillas continúan trabajando en más de 300 incidentes de apagones que afectan a más de 1,000 clientes. Casi un 60% de esos incidentes afectan a un único cliente y un 30 % afecta a entre dos y 24 clientes. Aunque seguimos avanzando con los apagones, es posible que le parezca que el avance es lento, ya que las cuadrillas trabajan en cada uno de estos incidentes.

Seguimos priorizando los apagones de los más grandes a los más pequeños y de los más largos a los más cortos. Los equipos de Austin Energy evalúan continuamente cómo devolver la energía lo más rápido y seguro posible a la mayor cantidad de clientes. Otros factores que se deben contemplar incluyen:
La proximidad de los apagones a otros apagones.

El estado del equipo del circuito principal de Austin Energy y cualesquier equipos de clientes dañados, así como otras variables, por ejemplo, si se necesitan cuadrillas adicionales.
Si usted formó parte de un apagón más grande que se abordó, pero usted sigue sin electricidad, o si esta volvió durante apenas un momento, no significa que usted haya quedado fuera del proceso de restauración.

El equipo de reconexión de Austin Energy

Si su propiedad ha sufrido un daño en el equipo eléctrico que necesita que un electricista matriculado repare, es posible que no podamos restaurar la electricidad. Su seguridad es nuestra prioridad y no debería comenzar ningún trabajo de reparación eléctrica hasta que su servicio haya sido desconectado. Su contratista de electricidad debería trabajar con Austin Energy para desconectar los servicios averiados antes de comenzar cualquier obra de reparación.

Austin Energy cuenta con un equipo que evalúa estos problemas y ayuda a los propietarios durante el proceso. Trabajamos estrechamente con el Departamento de Servicios de Desarrollo Urbano durante el proceso de inspección y evaluación de la seguridad. Si reconectar la electricidad es seguro, lo haremos. Repase la información en

Permisos de emergencia

.

Refugio de emergencia de la Ciudad de Austin
En el caso de las personas y las familias que siguen sin electricidad y no pueden conseguir un alojamiento alternativo, llame al 3-1-1 o al 512-974-2000 para solicitar un alojamiento donde pasar la noche. Los refugios de emergencia de la Ciudad de Austin disponen de catres, instalaciones con duchas, agua y comida, refugio para mascotas y estaciones de carga. La Ciudad de Austin trabaja con colaboradores comunitarios y voluntarios para satisfacer las solicitudes. Una vez que se recibe una solicitud de alojamiento, los residentes deberían esperar una llamada de un miembro del personal de la Ciudad entre las 7 a.m. y las 7 p.m. con información sobre los siguientes pasos a seguir. El acceso al refugio de emergencia permanecerá abierto hasta que se restaure toda la electricidad en el área de servicio de Austin Energy.

Visite austinenergy.com/go/restoration para obtener más información sobre los trabajos de restauración