City of Austin Winter Weather Morning Status Update for February 3
February 3, 2023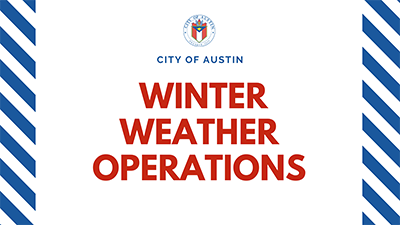 The City of Austin has been working round the clock to restore power and help our community recover from this week's widespread ice storm.
Austin Energy
Austin Energy crews worked throughout the night to restore power to affected customers. Since 5 p.m. Thursday, we have been able to restore power to an additional 31,585 customers, for a total of 172,339 customers restored since the beginning of this historic weather event.

There are now close to 400 lineworkers from Austin Energy and neighboring utilities working to get customers back online. Austin Energy is grateful for the assistance of neighboring utilities, including New Braunfels Utilities, CenterPoint Energy and Renegade.

As crews work to restore power, circuits can become overloaded because of lights, electronics and thermostats left on before the outage. This is called cold load pickup and it may cause a second outage.

Customers currently without power can help us avoid cold load pickup by:
Turning off their thermostats.
Turning off or unplugging any fixtures or appliances.
Only leaving on one light to indicate when the power is back on.
Crews may also be knocking on residents' doors in order to access Austin Energy equipment, such as energy equipment in a backyard or a utility easement located on a resident's property. Austin Energy personnel will be clearly identifiable with badges and in Austin Energy vehicles. Please work with them on allowing access as needed.
Austin Water
This winter weather event has not impacted Austin Water and Wastewater Treatment Plants, and the Water Treatments Plants have continued to meet expected production rates. Water storage levels also remain healthy in the distribution system. Austin Water has continued to work closely with Austin Energy to restore power to pumps and lift stations throughout our service area.

Due to two isolated pump station power outages, Austin Water notified 14 customers in the Glenlake subdivision and 24 in the Mount Larson area of the isolated outages. Customers were asked to boil water as a precaution. Austin Water had crews on the ground to contact customers directly and deliver multiple cases of water. These were isolated events that did not extend to a city-wide boil notice.
Important Safety Information
The city reminds all Austinites that while the temperatures are on the rise, some risks remain.
Staying warm at home if your power is out
Wear several layers of lightweight, warm clothing rather than one layer of heavy clothing.
Wear hats, mittens, and blankets indoors.
Close curtains and cover windows and doors with blankets.
Try to stay together in one room, with the door closed, to keep in body heat.
Fire/Carbon Monoxide Safety
During winter weather, the threat posed by carbon monoxide can be greater due to the practice of warming up vehicles inside garages and the use of various heating elements.
Turning on the stove for heat is unsafe as is indoor use of generators, gas or charcoal grills, and camp stoves
Keep exhaust pointed away from your homes and generators must be at least 20 feet away from the structure
Never run a vehicle inside an attached garage, even with open doors
If utilizing a space heater, opt for a model with automatic shut-off switches and non-glowing elements. Keep the device uncovered and at least three feet away from flammable materials like curtains or blankets and the cord in a position that is neither a tripping hazard nor under carpets or rugs
Ensure your fireplace, wood stove or other combustion heater is up to code and the ventilation is adequate
In the event of a power outage, opt for battery-powered flashlights rather than candles. If candles are your only available source of light, don't leave them unattended
Prevention is key: protect yourself with a battery-operated carbon monoxide detector in your home
Cold Weather Shelters and Warming Centers
Overnight Cold Weather Shelters activations have been extended through Friday, February 3. Anyone in need of shelter can go to One Texas Center located at 505 Barton Springs Road for shelter registration between 6 p.m. and 8 p.m. and call 512-305-4233 for more information.

Operational Austin Public Library and Austin Parks and Recreation facilities will be available as Warming Centers on Friday, though not all locations are open. Find the latest information on closures here:
What to Do with Down Tree Limbs
Call 3-1-1 to request a collection of down tree limbs due to the storm. Please have the limbs at the curb ready for collection at no charge to the customer. ARR crews will assess and collect them as soon as possible. Small branches and yard trimmings can be placed in the green compost cart, lawn and leaf bags or a reusable container and set out on the next scheduled collection day. Learn more about storm debris collection options.
Austin Resource Recovery is temporarily waiving the 15 extra bag limit for extra compost collection due to the winter storm; meaning residents can place more than 15 extra bags out for collection. Residents will be notified when this is reverted back to the 15 extra bag limit.
Residents with physical limitations or financial needs requiring help cleaning up winter storm debris can request volunteer assistance through the Austin Disaster Relief Network.