City of Austin Winter Weather Morning Status Update - February 4
February 4, 2023
Austin Energy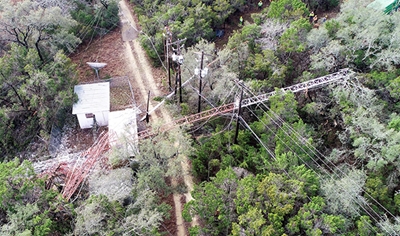 Austin Energy and other utility crews made significant progress overnight, working to restore power to affected customers. Since 5 p.m. Friday, power was restored to nearly 51,000 more customers, for a total of 256,307 customers restored since the beginning of this historic weather event.
In large part, this progress was possible because as temperatures climbed, fewer trees and limbs fell on power lines. However, as crews continue their work, the outage restoration process will become even more complex. Restoring power to a single circuit may be a multi-day effort. This is because equipment may be in hard-to-reach areas like a greenbelt, or it may be buried under extremely heavy debris. One example of this is a 500-foot steel communications tower that crashed down on a three-phase distribution line, four spans of wires and five power poles. Repairing this site alone will take several days.
There are about 400 lineworkers, tree trimmers and other personnel from Austin Energy and neighboring utilities working around the clock to get customers back online. Austin Energy is grateful for the assistance of neighboring utilities, including New Braunfels Utilities, CenterPoint Energy, Bird Electric, Renegade and CPS Energy.
Residents out driving on Austin roads are asked to remember to slow down and move over for any utility crews working in the field to restore power. More: https://youtu.be/k20e4hfBIm0.
Additionally, crews may be knocking on residents' doors in order to access Austin Energy equipment, such as energy equipment in a backyard or a utility easement located on a resident's property. Austin Energy personnel will be clearly identifiable with badges and in Austin Energy vehicles. Residents are asked to work with them on allowing access as needed.
As crews work to restore power, circuits can become overloaded because of appliances, electronics, thermostats, pool pumps, pool heaters and vehicle chargers left on before the outage. This is called cold load pickup and it may cause a second outage.
Customers currently without power can help avoid cold load pickup by:
Turning off their thermostats.
Turning off or unplugging any fixtures or appliances.
Only leaving on one light to indicate when the power is back on.
Austin Water
This winter weather event has not impacted Austin Water and Wastewater Treatment Plants, and the Water Treatments Plants continue to meet expected production rates. Water storage levels remain healthy in the distribution system. Austin Water continues to work closely with Austin Energy to restore power to pumps and lift stations throughout our service area.
Crews continue work to restore power at two small drinking water pump stations. About 40 customers are affected in the Glenlake subdivision and the Mount Larson area. Austin Water has continued to be in contact with these customers about additional needs for bottled water. These were isolated events that did not extend to a city-wide boil water notice.
Austin Water continues to ask customers to conserve water. This helps to reduce demand on the system while we work through intermittent power outages. As the weather warms up and you get back to regular activities, please take it easy with your water use.
Austin Transportation
As of this morning, 74 traffic signals remain dark due to ongoing power outages. Austin Transportation Department (ATD) crews are working in the field to reset dark traffic signals back into operation when power is restored, and they will continue their work until signals are fully operational. ATD crews have reset 187 signals since Monday, Jan. 30.
Because of the ongoing power outages, about 35% of the City's more than 1,100 traffic signals are unable to communicate with ATD's Mobility Management Center – meaning ATD needed boots on the ground to manually check if the signals are functioning. All 413 of the signals out of communication have been checked to see if they are dark, flashing or active. Please treat dark or flashing signals as all-way stops.
Recovery Support
The Central Texas Food Bank is today running two special food distributions to assist Austin area residents experiencing power outages:
9:00 AM – 11:00 AM: Onion Creek Soccer Complex, 5600 E William Cannon Dr.
1:30 PM – 3:30 PM: Nelson Field, 7105 Berkman Drive
Alternatively, anyone needing food can find access Food Bank resources at http://centraltexasfoodbank.org/findfood
Storm Debris Management and Repairs
Downed Tree Limbs: Call 3-1-1 to request a collection of down tree limbs due to the storm. Please have the limbs at the curb ready for collection at no charge to the customer. Austin Resource Recovery (ARR) crews are working tirelessly to collect storm debris and has enlisted the help of three contract crews that will be working alongside City staff to expedite the collection of storm debris materials. Because the damage is widespread throughout the entire City, collections will take some time. Here are some guidelines for storm debris set out correctly and collected as soon as possible.
Typically, ARR will collect the contents of your green cart and up to 15 extra items placed beside the cart but item limits will be temporarily waived for storm debris collection. 
Residents with physical limitations or financial needs requiring help cleaning up winter storm debris can request volunteer assistance through the Austin Disaster Relief Network.
The City's Development Services Department will work retroactively with homeowners, business owners and contractors to permit and inspect emergency repairs to ensure work was completed safely. That means that work can begin quickly on repairs. Learn more about emergency repairs and permits here
News Conference 3:00 PM Today
The City of Austin is hosting a news conference at 3:00 PM Saturday, Feb. 4, at City Hall to provide operational updates on the winter weather response. More information HERE.
Speaking at an operational update for media yesterday evening, Austin City Manager Spencer Cronk, said: "We still have a lot of work ahead of us as we continue to recover and assist residents affected by the storm, and that work also includes assessing our response to this week's storm and identifying ways in which we can do things better in the future."
Local Disaster Declarations
Austin Mayor Kirk Watson and Travis County Judge Andy Brown yesterday signed local disaster declarations for this week's winter storm. This is the first step in the process of seeking state and federal assistance for response and recovery efforts for the community. The City of Austin's declaration, which has been certified by the City Clerk, can be viewed HERE.
Safety Information
Although it is now getting warmer and the roads have begun to be cleared, certain dangers still exist due to the remaining downed power lines. Trees have been weakened and may continue to fall people should remain aware of their surroundings.
Food Safety for Power Outages. Refrigerated or frozen foods may not be safe to eat after the loss of power. Find out what you can do to keep food safe during a power outage, and when you need to throw away food that could make you sick. More information: https://www.cdc.gov/foodsafety/food-safety-during-a-power-outage.html. Autin Resource Recovery customers can dispose of any spoiled food by placing it in their green composting cart for collection, and recycle the glass, plastic and metal containers. Place all plastic wrap, waxy paper and Styrofoam packaging in the trash.